Congrats to Mike Brown for being named the new head coach of the Lakers.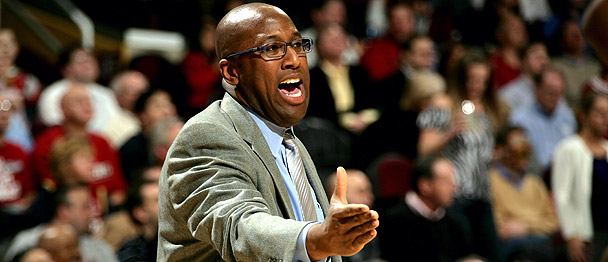 It couldn't happen to a nicer guy, and I mean that quite sincerely. Brown being in the news has me thinking about the awesome character Darryl Dawkins, the sad tale of Lenny Cooke and the ongoing superhero saga of Lebron James.
Let me explain.
I met Coach Brown 10 years ago when he was a Spurs assistant for the Spurs and I was covering the ABCD high school all star camp for Slam. The big event of that camp was the long anticipated showdown between the two elite players: Lenny Cooke and Lebron James. Just typing that sentence makes me sad.
We all know what happened to Lebron and the hoops fiends reading this know what became of Lenny. He was supposed to be the next great New York player, but he flamed out for a million different reasons. I'm not sure where he is now; last I heard he was playing the Philippines. I spent a memorable day cruising around Bushwick, Brooklyn with Lenny for a Slam feature trying hard to get a beat on his elusive personality. I remember the precise day: September 9, 2001. It was a beautiful, crisp blue New York Sunday. Two days later the world seemed like it had come crashing down and writing up the Lenny story over the next few weeks, it seemed like I was documenting a years-old experience.
A decade later, the very idea that Lenny's name was uttered alongside Lebron's seems bizarre. This post lays out Cooke's melancholy tale pretty well and includes some video footage of him circa 2002.
Now back to Coach Brown. This was the lead of the ABCD story I wrote for Slam after several days camped out in the New Jersey gym watching games.
Sometimes you actually can believe the hype. Slam diary keeper Lebron James set the Adidas ABCD camp on fire on day one by saying that he may just become the first high school junior to declare for the draft (a fact reported in Slam 54, but news to the likes of the New York Times). Then he went out and showed why the idea may not be as ridiculous as it sounds. Throughout the four-day camp, James displayed the type of court sense and vision, unselfishness, ball skills, shooting range and precise passing that even an idiot could recognize as greatness.
"The game comes very easy to him, yet he seems to have the demeanor to keep coming at you," said San Antonio Spurs assistant coach Mike Brown. "He has a lot of the intangibles we as coaches can't teach. But he needs to complete his senior year of high school before he even thinks about going pro."

Ironically, just a few years later, Lebron and Brown's careers would end up closely intertwined, with Brown coaching the Cavs and Lebron for five years. He eventually lost his job at the altar of trying to appease LBJ as the Decision neared. Now he'll have another go in the NBA with another superstar to try to build around and keep happy.
After meeting him at that ABCD camp, I spoke to coach Brown with some regularity for several years, as he became a trusted source. I rarely quoted him, but he helped me on quite a few stories and was always courteous, thoughtful and insightful.
Years later, I was in Shanghai for the 2007 China Games between the Cavs and Raptors when I ran into Brown and then-Cavs GM Danny Ferry walking through the lobby of the Ritz Carlton, the NBA's headquarters there. They looked anxious to hit the elevator but I managed to get coach's attention, say hi and reintroduce myself. We had a quick, friendly handshake before the door closed and he zipped upstairs, ahead of the pack of Chinese reporters headed his way.
As I turned away and walked back towards the lobby, I saw a mountain of a man headed my way: the unmistakable Darryl "Chocolate Thunder, Double D" Dawkins. I had profiled him for Slam too, years earlier when he was coaching a minor league (USBL?) team in Pennsylvania's Lehigh Valley. I reintroduced myself and shook hands, half my arm swallowed up in his massive paw, then posed for this picture.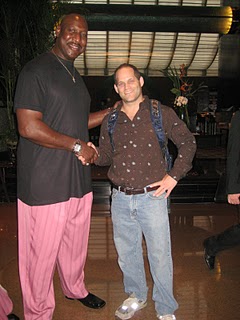 By the way, other participants of that 2001 camp included Chris Bosh, whom I described as a "talented beanpole"; Raymond Felton, Gerry McNamara; Travis Outlaw; and Charlie Villaneuva. There was a lot of buzz around pg Sebastian Telfair. But there was no doubt about who the star attractions were. This is how my piece ended:

The highlight of the regular camp came when Cooke and James went head to head. James won the game with a buzzer-beating trey and outscored Cooke 24-9 while also finding Leon Powe and other teammates for easy buckets whenever the d collapsed on him. Most impressively, he made Cooke work damn hard for every point, as when the senior brought the crowd leaping to their collective feet by shaking James' tight d with a series of lightning fast between-the-legs dribbles, then sinking a tough, leaning, fall-away j.
It was doubtlessly all enough to leave the boatload of college coaches in attendance weeping into their post-camp beers. Neither Cooke nor James is likely to see the inside of a college gym any time soon.
http://alanpaul.net/wp-content/uploads/2014/03/alan-imus-300x158.jpg
0
0
AlanPaul
http://alanpaul.net/wp-content/uploads/2014/03/alan-imus-300x158.jpg
AlanPaul
2011-05-26 17:42:32
2011-05-26 18:21:54
Mazel Tov Mike Brown and why that makes me think of Darryl Dawkins and 9/11