Capt. Dean Ween – rock and roll fishing trips
Ween has been one of my favorite bands for almost 20 years now. My love for the band, which began in earnest with their excellent 2004 album Chocolate and Cheese, led me to write a lot of articles about them, to see several of their mind-bendingly excellent shows, to get to know them and eventually tp spend a fair amount of hanging with Dean Ween, aka MIckey. It's been far too long since I've had a good hang with Mick, but that is going to change soon.
Long a fishing fanatic – as reflected in the band's epic, nautically themed The Mollusk, perhaps their crowning achievement – Mickey is now a certified captain. I will be joining him aboard the SS Minnow soon for a Guitar Aficionado story. Very much looking forward to it. Below are Mickey's most recent fishing reports. For more info, visit mickeysfishing.com.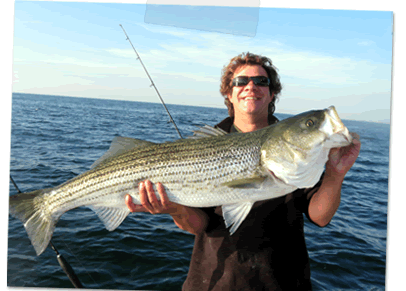 6/27 We had Eric and company aboard Archangel today for an incredible day
of Fluke fishing. 50 or 60 fish came over the rail with 10 keepers total.
Not bad at all.
6/23 We still have a very strong early morning Striper bite up our way
with miles and miles of bunker. This is a very early morning thing, I was
in my truck on the way to the boat at 3am today. I had Zak and Brian in
for their annual Striper Trip and we managed to boat 5 nice Bass within
the first 2 hours and then it shut down. They are still around and there
are some huge fish in the mix.
6/21 After coming so close, so many times, we landed our first 50 lb.
Striped Bass today on Archangel. Fishing was absolutely stellar today, we
had another fish that weighed 46 lbs. and the action lasted all day long.
Thanks to Dan for booking the trip and landing this milestone fish for
us.
6/20 I had Mike and Bill from Chicago as my charter today and the plan was
to try for a big Striper in the morning and then Fluke fish the rest of
the day and everything came together nicely for us. I have 2 more Striper
trips and then it's on to Fluke and Sea Bass for the summer and I'm
looking forward to it. The guys were great company today and fishing was
good.
6/18 I don't know what to expect from these Striped Bass from day to day
right now. We went from Seaside Heights to the Shrewsbury Rocks today and
worked miles and miles of bait before finally finding monster Bluefish up
North. Once again, Mr. Bluefish comes to the rescue!
6/16 Just when I thought the fishing couldn't get any better it outdid
itself again today. I had Ken and his buddy up from Asheville, NC today
for their first time Striper Fishing and the Bass made us look good today.
It's days like this that make me realize how much I love what I do. The
smiles in the pictures and the video tell the whole story. We put on a
clinic this morning out there and had a blast. As a fisherman I am very
superstitious and today I was wearing my green Jingle's Bait and Tackle
t-shirt, when I wear this shirt we always light them up, so thanks for
that Margaret! Check out this great video, it pretty much tells the whole
story:
http://www.youtube.com/watch?v=EMSgwckU4JA
6/14 The Striped Bass fishing rebounded today in a big way. There were
miles and miles of Bunker today with huge Stripers blowing up on them and
feeding on the surface. For those of you who have never witnessed this it
is really something to see. I have no idea why but my camera shot all of
the video in black and white. This is New Jersey Striped Bass fishing at
it's finest. I had to put thye camera down almost every time I started to
film because every rod was getting nailed by a big Striper. Just an
awesome day of fishing.
6/9 Today we had repeat customer Patrick on the boat and we put in some
serious miles on the water. We were rewarded with this monster Striper and
a lot of gigantic Bluefish. It was about 20 degrees cooler on the water
than it was at the dock. I'm seriously hoping that what we are
experiencing is a temporary lull in the Striper fishing because it seems
like they vanished in the night sometime around Tuesday.
6/6 Jim traveled in from Chicago to catch some Stripers and was greeted by
total topwater mayhem the second we broke the inlet. We had 15-20 fish
before 9am today and then we went out to deeper water and played around
with some Monster Bluefish. Just a great day on the water with a lot of
action. Great way to start off the week as we have 5 more trips to go
still. The Striper run is at it's peak it seems.
http://alanpaul.net/wp-content/uploads/2014/03/alan-imus-300x158.jpg
0
0
AlanPaul
http://alanpaul.net/wp-content/uploads/2014/03/alan-imus-300x158.jpg
AlanPaul
2011-06-29 15:33:51
2011-06-29 15:33:51
Capt. Dean Ween – rock and roll fishing trips