A short Big in China Excerpt, with video: What the Chinese blues mean to me – "Wo De Baobei"
An appreciation of Woodie Alan's great bass player Zhang Yong, whom I am proud to call a friend.
From Chapter 22, The House Is Rocking.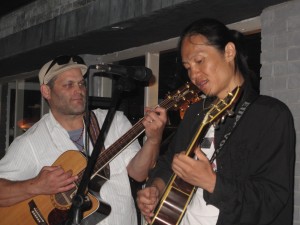 Wanting to feature more Chinese singing, I translated verses from "Beijing Blues" and "Come to the Edge," a new song I had written, and told Zhang Yong that I wanted to try alternating verses in English and Chinese. He took the lyrics with him, but told Woodie that he did not want to do this. He had his own song he wanted to perform instead, and at our next rehearsal he picked up my acoustic guitar and played "Wo de Baobei" ("My Baby").
It was blues based but with a catchy pop essence and a depth that dwarfed its simple, poetic declaration of love—"You're my treasured love and always will be." We rehearsed it for an hour, debuted it the next week, and played it at every subsequent show.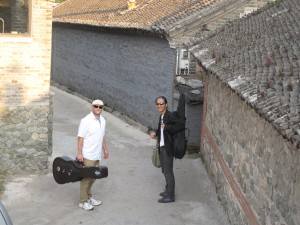 Adding "Wo de Baobei" turned out to be the smartest thing I ever did, and not just because it made us a truly bicultural band. It also completely altered our relationship with Zhang Yong. He was a musical giant who could make any stringed instrument sing and had been playing professionally for sixteen years. Woodie Alan had been another in a long list of gigs, but now he had an ownership stake. He had written "Wo de Baobei" twelve years earlier, but this was the first time anyone
wanted him to sing it.
Becky fell in love with the song the first time she heard it, moved by the melody, Zhang's impassioned vocals, and the unspoken power of having a mixed Chinese/American band perform a great Chinese love song. She joked that if "Wo de Baobei" ever hit the American airwaves, it could help repair U.S.–China relations. Our combination of expats and locals had always been unique, but it became much more pronounced as Zhang Yong stepped to the fore, making it clear that the band was not just a foreigner frontman with hired gun Chinese musicians. We were a true collaboration, which was essential to my understanding of what it took to be a real band.
Excerpted from Big In China: My Unlikely Adventures Raising A Family, Playing The Blues and Becoming A Star in China (Harper). Available now in all formats at all retailers. Copyright 2011 by Alan Paul. 
And here's the song… not a great version or video by any means, but the best one I have for now.
http://alanpaul.net/wp-content/uploads/2014/03/alan-imus-300x158.jpg
0
0
AlanPaul
http://alanpaul.net/wp-content/uploads/2014/03/alan-imus-300x158.jpg
AlanPaul
2011-09-08 17:42:08
2011-09-08 17:42:08
A short Big in China Excerpt, with video: What the Chinese blues mean to me – "Wo De Baobei"