In honor of seeing Furthur at MSG tonight and a recent interview I did with Bob Weir for an upcoming Guitar World feature, I present a great one from the archives: a 2001 interview for the original version of Revolver magazine with Bobby talking about the origins of some of the great songs he wrote for the Grateful Dead. I have always considered his songwriting to be highly underrated.
**
Bob Weir couldn't have known that he was altering not only the course of his entire life, but also the very history of rock and roll when he walked into a Palo Alto music store on New year's Eve, 1964. The 16-year-old part-time guitar teacher was merely seeking the source of the banjo music wafting out from the closed shop. What he found was fellow teacher and local hero Jerry Garcia picking away.
"He said he was waiting for his students and my friend and I apprised him that no one was likely to show up as it was New Year's Eve," Weir recalls. "He said he had the key to the instrument room and asked if we wanted to jam. We played for hours and realized we had enough half-talent to start a jug band, which somehow became successful. A year later we had a rock and roll band, and the rest is pretty well documented."
"The rest" was the Grateful Dead's 30-year reign as America's Merry Pranksters. Through it all, Weir was the band's rhythm guitarist and its crucial second songwriter. Often working with John Barlow, Weir penned many classic tunes, most marked by their ambitious scope, odd time signatures and unusual chord changes.

"Weather Report Suite" (Wake of the Flood, Grateful Dead Records, 1973)
"The fast part was one of the few times Barlow and I sat and wrote words and music simultaneously. The slow part was written completely separately. I liked the music but it sounded like a love song, which is not my forte. Then [folksinger] Eric Andersen and I got a bottle of whiskey and wrote this sappy love song. I always hated what we did, which is why that part of the song vanished for years. Those words couldn't pass my lips without me visibly retching, and I'm not going to do anything that I'm embarrassed about walking into. I do enough stuff that I'm embarrassed about after the fact!"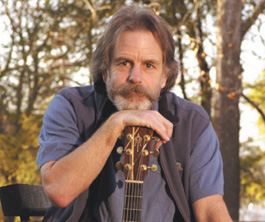 "Lost Sailor/Saint of Circumstance" (Go To Heaven, Arista, 1980)
"I wrote the music in Puerto Escondido, Mexico and took it with me to Barlow's Wyoming ranch. 'Lost Sailor' came readily, but the second part stumped us bad. I was at complete loggerheads with the muse so I headed out for a meditative trot, and kept running faster and harder and more uphill, thinking maybe pain would do it.
"I finally stopped upon reaching the highest point around, 9,000 feet up, the majestic Wind River Mountains stretched out in front of me. When I turned around, I saw the biggest, ugliest rogue elephant thunderstorm following me up the mountain, coming straight at me walking on legs of lightning. I realized that I was going to be the most prominent feature for miles on the tree-less landscape, meaning my ass was grass and I had to grin and bear it. I tossed my watch and just started laughing. Then the line came to me: 'I sure don't know what I'm going for, but I'm going to go for it, for sure.'
"I ran back laughing and singing, with lightning striking within 10 feet of me, the smell of ozone heavy in the air, fences lighting up. Somehow, I was spared, and the song is evidence of that gift."
 "Sugar Magnolia" (American Beauty, Warner Bros, 1970)
"That was my take on Southern Rock, inspired by hanging out with Delaney and Bonnie. I also incorporated ideas from Cajun fiddle music. The song fit right in with what Jerry and [Robert] Hunter were doing on Workingman's Dead and American Beauty. We sort of forgot our roots during our psychedelic era, but as soon as we stopped taking psychedelics with any absurd regularity and put our feet back on the ground, our love of American music took back over and those albums resulted."
"The Other One" (Grateful Dead, Warner Bros, 1971)
" This was my first stab at writing a complete song by myself. The three over four rhythm came first, influenced by Northern Indian classical music. We rehearsed it as an instrumental for about six months, during which it got its name, because we were working on three big tunes and, as it was unnamed, everyone just called it 'the other one.'
"The words started slowly coming to me came on a cold wet night in my hotel room in Seattle or Portland. The 'Spanish Lady' verse happened, then the last lines suddenly arrived and made the whole thing work as autobiographical fantasy: 'The bus came by and I got on. That's when it all began. It was Cowboy Neal at the wheel of the bus to Nevereverland." See, I had roomed with Neal [Cassady, the inspiration for Jack Kerouac's On The Road] at our communal house at 710 Ashbury Street and being around him was like being close to the sun.
"Two days later I got home and somebody told me that Neal had died two nights prior. I realized that at the very moment Neal was dying, I was writing 'The Other One.' Of course, he was there with me. That was Neal. If I sound a little hippie mystical, it's because I am — and I got it from Neal. I know what I'm doing ‑ sometimes. This music takes me places, and I'm always ready to go."
http://alanpaul.net/wp-content/uploads/2014/03/alan-imus-300x158.jpg
0
0
AlanPaul
http://alanpaul.net/wp-content/uploads/2014/03/alan-imus-300x158.jpg
AlanPaul
2011-11-10 11:04:43
2013-09-18 13:32:24
Bob Weir recalls how he met Jerry Garcia, looks back at some of his greatest songwriting moments with the Grateful Dead