I just ordered Jon Campbell's book Red Rock: The Long, Strange March of Chinese Rock & Roll and am really looking forward to getting my hands on it. I met Jon as a drummer in Beijing, who played with the blues band Black Cat Bone and the more experimental Random (ke) with my friend Adam Pillsbury. The guitarist in that band was actually my original link to Woodie (via Adam, whom I had asked for a recommendation on a guitar repair shop). Several members of both bands have become harsh Beijing critics of mine, mostly for bullshit reasons, but that's a tale for another day, and a digression here.
Like most people who had been around the Beijing rock world, Jon was an old friend of Woodie's – I think they may have actually been in a band together at some point – and actually played one early gig with Woodie Alan before Lu Wei came aboard. Aside from being a very good drummer, Jon was an active music promoter, brining mostly European bands to China and helping Chinese bands get abroad (mostly to Europe). He also did some great music writing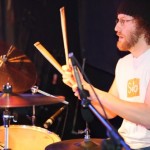 around town, for That's Beijing and others. He knows the history and ins and outs of Chinese rock better than probably anybody and I'm really glad he has put it all into a book.
Now returned to his native Canada, he also maintains this really cool blog on the same topic, featuring many videos and streaming tracks of the same Chinese rock he writes about.
http://alanpaul.net/wp-content/uploads/2014/03/alan-imus-300x158.jpg
0
0
AlanPaul
http://alanpaul.net/wp-content/uploads/2014/03/alan-imus-300x158.jpg
AlanPaul
2012-01-06 19:22:46
2012-01-06 19:32:51
Red Rock: The Long, Strange March of Chinese Rock & Roll