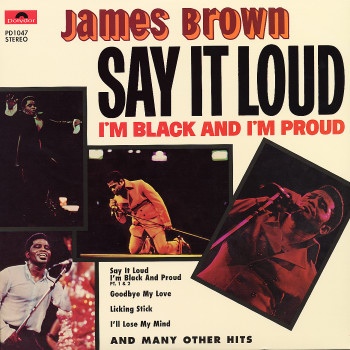 In 1999, Guitar World devoted an entire issue to the 30th anniversary of 1969, which we proclaimed the greatest year in rock. I wrote the histories of several landmark albums, including James Brown's "Say It Loud (I'm Black and I'm Proud)." The best part of the entire project by a long shot was interviewing the great man himself. I am going to try to piece it together and post as a Q-A, but here is the final piece. 
Note how entirely ungracious he was towards Jimmy Nolen, his longtime collaborator and the man who really wrote the book on funk guitar. Brutal.
*
When James Brown released the single "Say It Loud (I'm Black and I'm Proud)" in late '68, he was an artist on a roll, with a huge and expanding audience, both black and white, and a steady diet of hits on both the pop and r&b charts. But "Say It Loud," interpreted by many white listeners as an angry rebuff, was to be his final pop hit.
Today, Brown says that anyone who viewed the song as an angry anthem was way off base. "I was trying to do two things," says Brown, who recently released I'm Back (Private Music). "One, give the power structure –which in America means the white power structure – a way to understand how we felt, and know that we had people who could do things and just wanted a fair shake. Two, I wanted young black kids to wake up and realize that they should be proud of who they were, get an education and try to make something of themselves. Proud and bad are too different things. I never wanted to separate. My thing was to let the pride be there, and to let people get into the skin of a black man and realize that he only wants to be recognized for the contributions that he has made.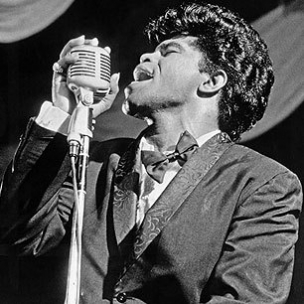 "I was just telling it like it is. Would you rather have someone tell you how they're feeling to your face, or wait till you turn around and whisper their anger behind your back? You got to swing for the fences every time you're at bat; you owe it to your children and grandchildren. That's what I was doing, and I've always been about building, not destroying. I was there when Dr. King was assassinated, telling everyone to cool out, trying to remind everyone that you don't want to destroy your country. You want to build it."
Nonetheless, notes Brown expert Harry Weinger, "That record lost him a big audience. From '65 to '68, he was extremely popular, with his audience getting wider and wider. Then he did this album and lost his white audience, and never had another top 10 single."
What all these listeners were missing is the fact that whatever his politics, Brown's music was just getting leaner and meaner, and ever funkier. The album Say It Loud, which was really a collection of singles recorded throughout '68, also included the impossibly taught "Licking Stick" and the organ-driven instrumental "Shades of Brown."
"Hey, that was just continuing what I started a few years back when I changed the music from being on the 2 and 4, where it had always been to the 1 and changing the emphasis from the downbeat to the upbeat," Brown says. "That's what created funk music – gospel and jazz mixed together by James Brown with a little help from God. And I just kept doing it and innovating it, right on through 'Say It Loud' and further."
The single and most of the album also feature the distinctive sound of Brown's backing band, the JB's featuring guitarist Jimmy Nolen, generally credited as a major funk innovator. Brown says Nolen was great, all right, but he really wasn't all that original. "Sometimes ignorance is bliss," Brown says. "Jimmy Nolen was a man who could play anything I wanted him to play and didn't know enough to play anything but what I wanted. And that's what made him great on 'Say It Loud' and everything else."
http://alanpaul.net/wp-content/uploads/2014/03/alan-imus-300x158.jpg
0
0
AlanPaul
http://alanpaul.net/wp-content/uploads/2014/03/alan-imus-300x158.jpg
AlanPaul
2012-04-19 17:48:11
2013-09-28 21:25:39
Behind the scenes of James Brown's "Say It Loud (I'm Black and I'm Proud)"…Yep, I interviewed him.