Django Reinhardt, 1910-1953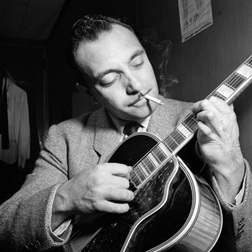 I just came across this tribute to the great guitarist Django Reinhardt I wrote long ago for Guitar world. It inspired me to listen to his timeless music and share it now.
Django Reinhardt
1910-1953
When 18-year-old Gypsy guitarist Django Reinhardt badly damaged two fingers on his left hand in a 1928 fire, he couldn't have known that it was a historic moment in the history of guitar. But forced to deal with his fret-hand limitations – he could not use his fourth or fifth fingers — Reinhardt developed a brilliant playing style that propelled him to the fore of jazz innovators. Pre-amplification, the guitar generally played a rhythmic, support role, but Django's shimmering, harmonically complex, perfectly articulated soloing brought the instrument into the spotlight.
Reinhardt's true impact began when he formed the Quintet of the Hot Club of France with violinist Stephane Grappelli in Paris in 1934. With a unique backing of bass and two rhythm guitars, Django spun glorious leads, often in tandem with Grappelli, whom the guitarist also backed with incredibly propulsive rhythm playing. Like all true jazz greats, Django's music was a remarkable blend of perfect technicality, soulful feel and good humor. Seventy years later, his playing still sounds fresh and original, filled with bent notes and a fantastic vibrato, standard techniques today which were virtually unheard of in his day.
The Quintet split up in 1939, when Grappelli stayed in London to ride out World War Two, while Reinhardt continued returned to his Gypsy caravan. In 1946, he toured America as a featured soloist in the Duke Ellington Band, playing an amplified guitar for the first time. After some unsuccessful attempts to play the newly emerging bebop, Reinhardt returned to swing, playing as powerfully as ever, if less frequently. He died at age 43 following a stroke and is buried at Cimetiere de Samois-sur-Seine, in Fontainebleau, France.
http://alanpaul.net/wp-content/uploads/2014/03/alan-imus-300x158.jpg
0
0
AlanPaul
http://alanpaul.net/wp-content/uploads/2014/03/alan-imus-300x158.jpg
AlanPaul
2012-10-01 17:02:15
2012-10-01 17:02:15
Django Reinhardt, 1910-1953