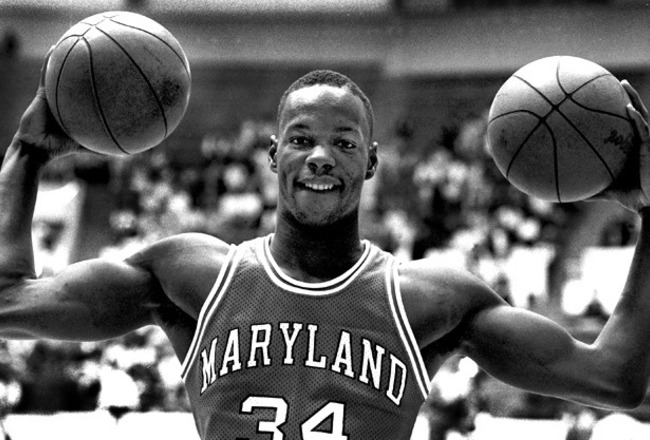 I just realized that Len Bias should have celebrated his 50th birthday today, November 18, 2013. This made me so sad,  and it made me pause and reflect about his loss and remember what a terrific basketball player he was, and how much fun he was to watch.
I wrote this remembrance of Len for Slam in 2000. I forgot that I spoke to Red Auerbach, Dean Smith and Jerry Tarkanian among others for this – but not Left Driesell. I wish I could explain why, but I simply don't recall. Rest in peace, Len, and everyone who knew the man.
• • •
The headline stared at me through the plastic front of the newspaper box in cold, black type, and I read it over and over, literally unable to believe my eyes. I was on a remote island in Lake Michigan. No TV. No phone. No contact with the outside world except this Detroit Free Press box by the ferry dock, and it was sending a message I simply could not comprehend.
 "Basketball Star Len Bias Dead of Heart Attack."
Dead at age 22. Dead just months after he captured the nation's imagination with a remarkable display of dominance in a University of Maryland March Madness loss to UNLV. Dead just two days after being selected second in the 86 Draft by the Celtics. Dead of a massive heart attack brought about by using cocaine. It seemed impossible on June 20, 1986, and it still does today.
Len Bias opened many peoples' eyes to cold, hard reality, but he paid an awful price for doing so. He paid way too much. He paid everything he had, and for this we owe him something. We owe him our continued respect, our undying love for his pure-hearted game, and a tiny piece of our brains dedicated to recalling his brilliance. Because make no mistake, he was brilliant.  If you never got to see Len Bias play, you missed something truly wonderful.
*
Red Auerbach couldn't believe his luck. Coming off his 16th NBA title, the Celtics' legendarily crafty team president had the second pick in the 86 draft courtesy of the Sonics, who had guard Gerald Henderson to show for it. As if that wasn't enough, the Cavs selected North Carolina center Brad Daugherty with the first pick. That meant only one thing: Len Bias was all Red's. The implications were staggering. Bias would join Larry Bird, Robert Parish and Kevin McHale on one of the greatest frontline in league history and the Celtics' dynasty would be refueled, reconstructed and re-energized, primed to extend its dominance for another decade.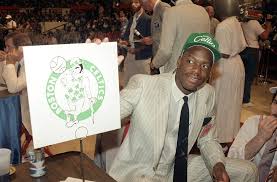 "If Len was available, we were taking him, no question," says Auerbach. "He was our guy. He was going to be a perennial All Star. He had it all. He could shoot it, he could run, he could rebound, he could defend. He was big. And he loved the game and played with passion. The only question was if he would play power forward or quick forward."
This was a question merely because he was both quick enough and strong enough to play either at a very high level. In four years at the University of Maryland, the skinny, athletic guy from nearby Landover had blossomed into a chiseled, 6-8 205-pound scoring machine. He slowly built his game up to a level where he dominated college ball the same way he had ruled in high school, when he as named MVP of the McDonald's All Star game his senior year.
Bias averaged 23.2 ppg and 7 rpg his final season to lead the ACC in scoring for the second consecutive year; good enough to be named conference player of the year. The scoring capped his steady annual improvement, from 7.2 to 15.3 to 18.9 over the previous three seasons. His coach, Lefty Driesell, called him "the greatest basketball player that ever played in the Atlantic Coast Conference." Lefty's hyperbole is the stuff of legend, but it's not an absurd claim, even considering that the ACC was the collegiate home to David Thompson, Bob McAdoo, John Lucas, Michael Jordan and many other luminaries.
"He was a sensational college basketball player his senior year," says Dean Smith, who retired from North Carolina in 1997 as the winningest coach in NCAA history. "He was heavily recruited, so his success wasn't a shock, and he was always dangerous and always possessed all the skills. But his confidence skyrocketed in his final season and that's what elevated him."
Unlike Smith, who saw him twice a year for four years, former UNLV coach Jerry Tarkanian only coached against Bias once, but he saw a sensational performance in what turned out to be the forward's final game ever. Len scored 19 of Maryland's final 21 points. This was enough to capture a nation's attention, and to make a serious believer out of Tarkanian.
"Len Bias was absolutely a phenomenal player, right up there with the best I've ever coached against," says Tark. "He was a great, great player, and he was going to be absolutely fabulous in the NBA."
"He was definitely going to be an All Star," adds Auerbach. "Beyond that, who knows? It's impossible to predict who will rise to be among the very few very special players like Larry Bird, Magic Johnson or Michael Jordan. But I don't know what could have kept him from being an All Star."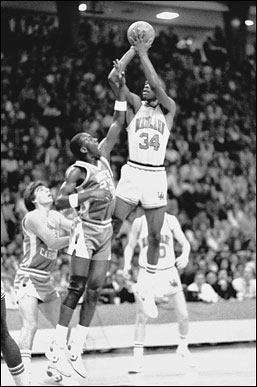 What made Bias unique was his multi-faceted game. As Auerbach said, he almost certainly could have been an All Star at either the 3 or the 4. Most power forwards would have been blinded by his quickness, while small forwards would have been overwhelmed by his strength. And as strong as he was, he was sure to have packed on 10 or 20 pounds of muscle onto his still-thin frame in coming years.
"He was a prototypical forward," says Turner Sports analyst Kenny Smith, who played against Bias while at UNC. "He could really work that baseline. He was tremendously athletic, but what made him a rarity is he did not depend on his athleticism the way most guys of his caliber do. He was one of the first guys to say, 'I can shoot from the outside and I'm athletic, so I can also take off down the lane and sky over your head for a jam. I can do whatever I want.'"
"His game definitely had more than sheer athleticism to it," agrees Dean Smith. "He had a great crossover to get a jump shot and had a lot of skillful moves in the paint. It's generally a misnomer to say any great player relies on raw skill, and that was certainly the case with him."
The Smiths Kenny and Dean have good cause to so thoroughly recall Bias's brilliance, for it was never on display so vividly as it was on February 20, 1986. On that day, he led his Terps to a stunning upset over the Smiths' number-one ranked North Carolina Tar Heels in a game which is a pillar of his legendary status, now regularly featured on ESPN Classic.
Maryland arrived at Chapel Hill's newly opened Dean Dome with a mediocre record of 13-11, just 3-7 in the ACC. UNC was 25-1, led by Daugherty, Smith, the sixth pick in the 87 draft, and Joe Wolf, who was also to be a first-round pick. Bias kept the Terps close in the first half with 17 points, including the final six, which trimmed UNC's 11–point lead to five. He threw down a two-handed power slam, sank two free throws after drawing a foul with a picture-perfect pump fake, then swished a short baseline jumper, highlighting his ability to pick his poison.
The game intensified in the second half and Bias made several spectacular plays, including a gorgeous reverse layup improvised after driving the left baseline and finding his path blocked by the 6-11 Wolf. Still, Carolina led by nine with just under three minutes remaining before Bias swished a 20-foot jumper. Then, rather than retreating upcourt, he darted towards the hoop, cut in front of Smith, intercepted the inbounds pass and powered home a reverse jam over stunned center Warren Martin. It was a remarkable play executed on instinct in the blink of an eye, incredible enough that the game is now filed away in ESPN Classic's archives under "The Sequence."
"It was a great play," Kenny Smith recalls. "He stole a pass out of nowhere and dunked it backward on a 7-2 guy with long arms. It was so memorable that I often talk to people who remember it as a buzzer-beating game winner, though there were actually about three minutes left."
Bias had cut the lead by four in the blink of an eye and decidedly shifted momentum Maryland's way. With 58 seconds left, he nailed another 20-footer from the top of the key to make the score 69-67. With UNC gobbling up the clock, Smith was fouled with 10 seconds left, and the usually reliable pg bricked the front end of a one and one, giving Maryland a chance to tie.
With Bias covered on the baseline, teammate Jeff Baxter knocked down a jumper to send the game into overtime. Bias only scored one hoop in the extra period, but it was huge, a tough jumper in the lane while double teamed to put Maryland up for good, 73-72, just when it seemed likely that UNC was going to run away. Then, with 15 seconds left and his team clinging to a one-point lead, he swatted away Smith's shot to preserve the victory and help hand Carolina its first Dean Dome defeat.
"That game was the best I ever saw him play and it was certainly one of the greatest performances against one of my teams," says Dean Smith.
Adds Kenny Smith, "That game solidified him as being the best player in college basketball, because he wasn't doing it against just anyone, but against the best, on the biggest stage. He made us believe. Before we were like, 'Len Bias, whatever, but we're North Carolina.' But he showed us by taking it to us in our own building."
After the game, Terps pg Keith Gatlin said, "God was with us tonight, and God was Lenny Bias." In the next day's paper, Washington Post columnist Thomas Boswell wrote, "The NBA shouldn't wait to draft this guy. It should put guards around him until he can start filling up NBA arenas."
It's an idea which Auerbach surely would have endorsed. Bias' athleticism would have been welcome on the Celtics, as it was the very quality the team lacked. Their 86 championship squad relied on savvy and muscle rather than speed or quickness, and their big three was growing somewhat rickety, while top frontcourt reserve Bill Walton was teetering on his terminally bum feet.
"The Celtics' weakness was a lack of athleticism and Len Bias was going to solve that problem," says Bob Ryan, longtime Celtics reporter for The Boston Globe. "He was going to be the Celtics' answer to James Worthy [then the Lakers' star forward]."
Jerry Tarkanian agrees with this comparison, but actually takes Ryan's point a step further by saying Bias was actually a better player than Worthy. "He didn't run the floor as well, but he was stronger and more multi-faceted," says Tark. "He was tremendous."
While virtually everyone who watched Bias play his senior year agrees that he would have thrived in the NBA under virtually any circumstances, it's hard to imagine a sweeter scenario for a rookie forward than serving as a key reserve to Bird, Parish and McHale.
"It would have been easy for Len to blossom in the NBA because the burden wouldn't have been placed on him the way it generally is on such a high pick," says Kenny Smith. "Anything that he did would have been a bonus, and it's incredible to have a guy with that much talent as a bonus player. He would have learned a lot from Bird, McHale and Parish and, just as importantly, he would not have entered a losing situation and learned bad habits. He would have had winning habits from the start."
Bias himself was elated to have landed on the Celtics. "I think I could get accustomed to winning," he said with a smile after the draft. "To be able to play for Boston …[is] a dream within a dream."
The feeling was mutual, with the Celtics and their followers convinced Bias would be the next great Boston bball hero.
"Landing Len Bias on the heels of a championship was the apex of the franchise's run of incredible good luck and great success," says Ryan. "He was going to help them transition from one great era to another. He would have served as the fourth frontcourt player for a year or two by which time he would have been an All Star and they would start building around him and be able to trade either McHale or Parish for more great, young players. That was the plan."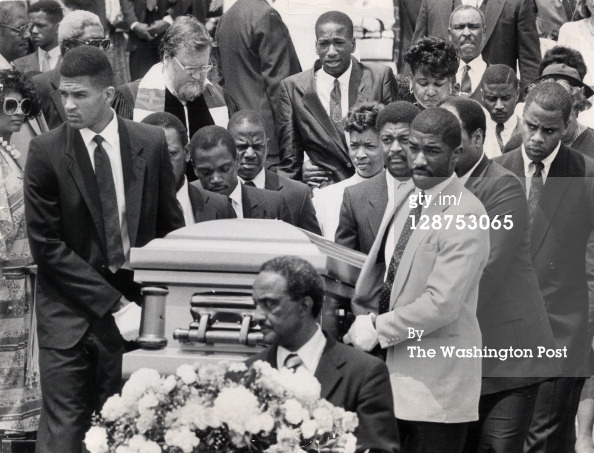 It was a plan that was, of course, thoroughly and completely scuttled. Seemingly on the cusp of another decade of dominance, they haven't so much as sniffed a title in 14 years. The death of Bias, then Reggie Lewis, their first pick in 87, represented the start of a horrible string of bad luck to match the Celtics' many decades of good fortune.
The fact that drugs were involved in Bias' death added to most people's incomprehension. He was an extremely well-liked guy, considered something of a model citizen – a magnetic figure with a 1000-watt smile who was family-oriented, religious and hard working.
"I knew Len well and he was an absolutely super kid," says Auerbach. "I watched some Maryland practices and had dinner with him a few times and I genuinely liked him a lot."
So it was that when the state medical examiner confirmed rumors five days after Bias' death by saying that the player had died of "cocaine intoxication," the shockwaves rumbled all over again.
"What happened was he got exuberant being drafted, which was his lifelong dream," says Auerbach. "And instead of celebrating and getting drunk, he did it the other way, he had the wrong stuff or whatever and poof, he was gone. We examined him a week before and he was clean. The Knicks and other teams examined him. He showed no signs of drugs, so I have to think it was one horrible mistake."
"When Lenny died, it sent shockwaves through every player, but it went deeper than that," says Kenny Smith. "It shocked everyone of that era, even those who didn't know anything about basketball. Everyone remembers exactly where he or she was when they heard Len died because it was such a wakeup call to so many people. One, because of his physical stature, two, because of his ability, and three, because it hadn't really hit most people yet that drugs really kill you. Not only in the long term, after years of abuse, but right now. You can be here today and gone today if you use the stuff."
As stupid as it may seem, Smith is right; too many of us didn't know how dangerous cocaine could be, didn't know that using it was like playing with matches atop a powder keg. It's tragic what it took for us to figure it out. That's why all these years later talking about Bias remains emotional for those who cared about him as a person or a basketball player. Auerbach pauses in the middle of a discussion to collect his thoughts.
"Christ," he says. "Len was really something. He was a hell of a player."
http://alanpaul.net/wp-content/uploads/2014/03/alan-imus-300x158.jpg
0
0
AlanPaul
http://alanpaul.net/wp-content/uploads/2014/03/alan-imus-300x158.jpg
AlanPaul
2013-11-18 14:03:10
2013-11-18 19:23:11
Len Bias, 1963-1986