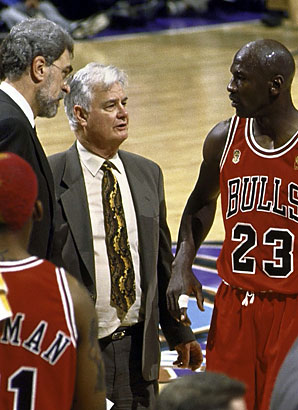 In honor of Derek Fisher's hiring as the New York Knicks new head coach by Phil Jackson, I present this interview with Tex Winter, the mastermind behind the Triangle Offense, so beautifully executed by Phil Jackson, Michael Jordan and the Chicago Bulls. It was conducted for Slam circa 1998. Some of the questions that have me scratching my head now – like asking about Keith Van Horn – must have made sense then.
I forgot that Tex stayed with the Bulls and Tim Floyd when Jackson and everyone else who made the team great moved on. I also forgot just how honest he was. Pretty remarkable.
Winter, who coached Kansas State to the Final Four twice, and became a Bulls assistant when he as about to retire, is alive and well at age 92. He is a member of the Basketball Hall of Fame. Enjoy:
*
Chicago Bulls assistant coach Tex Winter has been on a basketball bench for each of the last 52 years, making him the longest-running active coach in hoops, pro or college. He is the architect of the Bulls' famed triangle offense.
SLAM: It must be great as the innovator of an offense to see it executed to perfection, which you had the pleasure of doing for the last eight years or so.
WINTER: Yeah, it is, but it sort of spoils you. It proves the adage that it's not necessarily what the offense is that matters, but how well you execute the fundamental skills, and Michael and Scottie and everyone else did so to perfection. But I had teams at Kansas State that executed every bit as well, but weren't as gifted of athletes. One of the telltales of the system's success is we won 55 games without Michael when he retired the first time.
 SLAM: You're 77. Why did you come back to endure so much losing this year?
WINTER:  I gave a lot of thought to retiring, but Tim Floyd wanted to keep the basics of the offense in place and asked me to help him teach –and learn – it. I felt like I could really make a contribution, and it's always nice to feel like you're needed and wanted. I'm not sure I would have returned if Michael and everyone had, because, frankly, those guys didn't need me any more.
SLAM: How did the Bulls come to use the triangle offense?
WINTER: Phil Jackson and I worked together in the summer leagues and I introduced it to him then. When he became coach of the Bulls, he was looking for an offense predicated on ball and player movement and team offense. I think the reason that he felt so strongly is he played on the great Knicks teams, which really played together beautifully. The triangle gave Phil something to hang his hat on, and great salesman he was, he convinced Michael to accept it, which wasn't easy, because he realized that individually he would have to make some sacrifices. But Coach Jackson convinced him that if he was going to win championships he had to be part of a team scheme.
SLAM: There seem to be a lot of "almost triangle" offenses popping up.
WINTER: We see more and more fragmented parts of it popping up all the time, but it's generally been bastardized. I'm flattered that they think it is the solution in any regard, but coaches don't seem to be able to teach it. It gets blown into this very complicated thing, but I think it's very simple. I'm not the most brilliant guy in the world. In fact, I'm rather simple minded, so I don't think I could concoct anything too complex. It's just different. Most of our players now learn to play in summer leagues and on playgrounds, without a lot of structure in their games, so they develop one-on-one talents, playing in congestion, and they defy a lot of principles of sound team offense. Consequently, they have a hard time when you ask them to become a finger in a glove, instead of one of five hands.
The whole thing is just predicated on some easy principles, like ball and player movement with a purpose; good offensive rebounding positions; spacing, so teams have a tough time doubling the ball; and penetration — the offense is not sound unless you have an opportunity for penetration. I'll tell you how simple it is – it's most widespread use is amongst junior high coaches who have kids just learning to play. They're perfect for it because they don't have bad habits yet, and learn to operate out of proper, wide spacing. The offense is also good for women's teams, which tend to play very fundamentally sound ball. In fact, Tennessee coach Pat Summit, who has won the last three national championships has used a lot of it, and she's come up here with her whole staff for two or three years. The Connecticut women's coach [Geno Auriemma] has also visited us.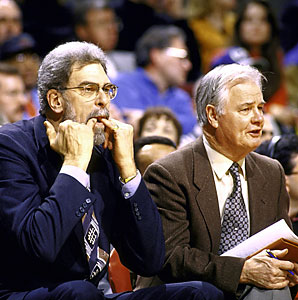 SLAM: Who do you think are some of the league's most overrated players?
WINTER: Well, I need to proceed cautiously, particularly this year because they could well prove me wrong. We don't stand to have a great team, and even a lot of players I consider overrated will have the opportunity to inflict some damage. The main thing is, too many players feel like they're complete players when they're not, so rather than acknowledge their limitations and play within their ability, they overreach. That was a great thing about coaching Dennis Rodman; he knows his role –rebounding and defense –and plays it to a tee.
I've always considered a lot of the big guys overrated, notably Mutumbo and Mourning — by which I mean, in their own minds they feel they're a lot better than they are. Mutumbo has great physical talents, no question, but it's questionable how great a basketball player he is. I am such a purist that I look at how good someone is fundamentally. There's compensation there –they are strong enough to overpower you despite their deficiencies –but they are overrated as pure basketball players.
SLAM: What about Patrick Ewing, one of the Bulls' great rivals?
WINTER: He is without a doubt one of the all-time great big men, but I don't think he's ever been as effective as he could have been. They utilized him on the post as a scorer more than anything else, and he could have been more effective if they had concentrated on him being more of a feeder and a rebounder. The team has not been as effective as it should be with a dominant center like that, but I don't know if that's Patrick's fault. He's not the coach.
SLAM: What do you think of Keith Van Horn?
WINTER: Like I was saying before about criticizing guys this year… I think there's an awful lot of ball players with great skills, but whether or not they're going to be on winning teams is not going to be answered until you see how they fit in to a team or a program. If they don't, it may be their fault or it may be their coaches.
SLAM: Stacy King was a guy who everyone thought would be great and never panned out.
WINTER: He was a great disappointment to us. We drafted him high and felt he could play a good role in this offense, at both the 4 and 5. And I still feel he should have. I can't answer why he wasn't a little bit more successful. He got a lot of shots blocked, and had some definite problems defensively.
SLAM: Who do you think was the most underrated contributor to the Bulls' success?
WINTER: all of our role players did a great job of knowing their job and fitting in, but I'd say Steve Kerr and Horace Grant were the two who best understood the offense and functioned beautifully in it. I was really let down when we lost Horace. I think the team with him and Scottie on the wings, Cartwright at center, and Paxson and Michael in the backcourt was the best team we ever had here.

http://alanpaul.net/wp-content/uploads/2014/03/alan-imus-300x158.jpg
0
0
AlanPaul
http://alanpaul.net/wp-content/uploads/2014/03/alan-imus-300x158.jpg
AlanPaul
2014-06-10 20:54:07
2014-06-10 20:55:37
An interview with Triangle mastermind Tex Winter