Happy Birthday B.B. King: An appreciation and personal history
B.B. King turns 89 today. Happy birthday Mr. King.
Three years ago, I took my son Jacob, then 13, to see B at the Wellmont Theater in Montclair. I wanted Jacob to see him, and he had a truly memorable experience. When Jacob went up front to take a picture, he was standing right in front, when the great man said, "Hey there, little dude" into the mic, leading everyone to cheer. B.B. then flipped Jacob a guitar pick, which he had to get down and scramble to find on the floor, before returning to our seat with a huge smile.
At 86, B.B. was on something of a valedictory tour. The show was short and he did not play a lot of extended lines, but his voice sounded great, with a strong command of dynamics. His playing was a little shaky at times, and really magnificent at others. The band was excellent, and I really don't think a single person there was anything other than happy. I feel lucky to have seen B.B. many times over the yeas and they've all been different.
The first time I saw B live was in college. He came to the Michigan Theatre and I interviewed him for a preview in the Michigan Daily. I was really excited. The show was just fair. The band was good and B.B. was a great showman and sang really well but he barely played. He ripped off no extended lines, which was a little frustrating. He would play a great lick, and then just stop and start shucking and jiving or let the other guitarist take over.
I thought, "This was cool to see but he's not so great any more." Then less than a year later, he was playing the Masonic Temple in Detroit with Albert King and Bobby "Blue" Bland. I went with a few friends. We were in our usual scrubby T-shirts and jeans. The rest of the crowd was almost all older black folk dressed like they were going to church.
All three performers were excellent, if brief. B.B. was totally different than he had been the first time I saw him. He put on a radically different show than I had seen in Ann Arbor. He was charming, funny, but less hammy and he ripped on guitar. It was so cool.
After the show, we were blocked into our parking space. I saw three old ladies get into the car in front of us and start up and I patiently waited for them to leave. They did n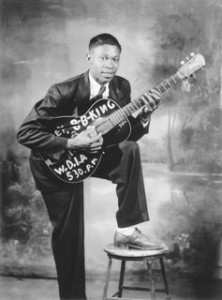 ot do so. I waited some more. Nothing. Not wanting to be rude and honk, I got out and walked up to the window and tapped on it. It rolled down and the three old biddies in church hats were sitting pressed together in the front seat of this Olds 88 passing a big doobie around. The driver rolled down the window and a big cloud of smoke came out, Cheech and Chong style, and I said, "Excuse me, I'm stuck behind you. Could you please pull forward?"
"Sure. Sorry, baby." Giggles all around.
I saw B.B. again in front of a white crowd a year or so later and he was pretty lame. I thought, "I'm not seeing him again." About a year later, my friend Skirboll had tickets to B.B. at Pittsburgh's Heinz Hall and really wanted me to go with him. Ok, fine. I went, mostly to have a good hang with Skirbs, who was really excited to see B.B. Heinz Hall is the home of the Pittsburgh Symphony  and B.B. rocked. He was again totally different than the first time I had seen him. He played extended lines, he was surprising and passionate in his playing and not hamming it up as much. It was really cool.
That had to be 20 years ago, so he was at least 65, and he was clearly undergoing a renaissance. It was shortly after he recorded "When Love Comes to Town" with U2 and I think that really had something to do with re-inspiring him, by again bringing him a new, younger crowd.
Since then, I've seen him many more times in different settings and while always a little different, and while he began mostly sitting down about a decade ago, the playing has mostly gotten more and more inspired. I have seen him fiddle with distortion, play jazz, do cool comping behind his pianist and guitarists. It is really astounding how he kept pushing at that stage of the game. That era seems to be over, but the new one, of him taking a victory lap of the nation on his endless tour, is kind of cool as well., though thre years have passed and I've heard some pretty scary reports.
In any case, definitely worth taking a moment to apy tribute to why B.B. matters in the first place.
I wrote the following almost 20 years ago when B.B. debuted a column with Guitar World. This was the intro to the first one.
Life of Riley
A brief history of the King of the Blues, Riley B. King, aka B.B.
By Alan Paul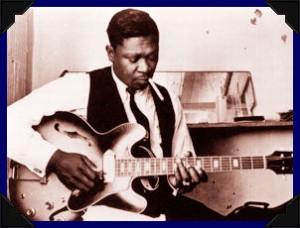 He's known as the King of the Blues, and one reason may be that B.B. King remains the only black blues artist to have successfully penetrated the thick walls of American popular culture. He is the only one to step inside from the commercial cold that has long been the bluesman's fate, to receive presidential citations and honorary degrees, to star in commercials for everything from McDonald's to Northwest Airlines and to become an international ambassador of both good music and good vibes. He has become so omnipresent that it's easy to forget why he's so revered: he is the man who fundamentally changed the way the electric guitar is played.
"None of us would be here today if it weren't for B.B.," says Buddy Guy. "He changed the way all of us squeeze the strings." Guy should know; his pumped-up, wildly frenetic guitar style owes its heart and soul to King's far more sedate approach. It is safe to say, in fact, that every blues-based electric guitarist on the planet owes a huge debt to B.B. King, whether they know it or not.
King took single-string electric lead guitar playing, pioneered by jazz pioneer Charlie Christian and sophisticated Texan bluesman T-Bone Walker, added elements of acoustic blues greats Lonnie Johnson and Blind Lemon Jefferson and the fiery gypsy jazz of Django Reinhardt and emerged with the highly personalized B.B. King sound: stinging finger vibrato, economical, vocal-like phrasing, and heavenly bending. This style strongly influenced every electric blues guitarist to follow, including Guy, Albert King, Freddie King and Otis Rush. These players, in turn, inspired countless rock guitarists, notably Jimi Hendrix, Eric Clapton and Stevie Ray Vaughan. The rest, as they say, is history.
A good place to experience King's groundbreaking style is The Best Of B.B. King, Volume One (Flair/Virgin), an essential collection which includes his original versions of standard-bearers like "Three O'Clock Blues," "You Upset Me Baby" and "Five Long Years." On these tracks, recorded in the 50s, the core elements of B.B.'s sound are already developed, with his distinctive single-note leads playing call-and-response with his powerful, gospel-heavy voice and a punchy, sophisticated horn section.
Ironically, the most signature feature of King's playing—that remarkable, utterly distinct vibrato—came about because of a personal failure. As a young guitarist, Riley King could not master slide guitar, the style of choice in his native Mississippi Delta. Instead, he learned to mimic the whining, lyrical slide tone of Delta masters like his uncle Bukka White and Robert Nighthawk by using his hands alone – specifically by developing his vibrato, which he achieved by shaking his finger perpendicular to the neck.
"I always loved the sound of slide players," King explains. "I've never been able to play slide myself, but I found that when I trill my hand I can fool my ears into thinking it's a person using a slide."
King augments his beautiful vibrato with a remarkably lyrical sense of phrasing and an innate ability to use each note to maximum effect—of not overplaying.
"When you're a soloist you don't play a note just because you can find one," he says, matter-of-factly. "You do it because it makes sense. Every note is important. If it can be done well with less, then do that. Another reason that I don't play a lot of notes is I feel that I'm still singing when I play. When I'm playing a solo, I hear me singing through the guitar."
B.B.'s vocal-like guitar playing is part and parcel of his rare ability to communicate intimately with an audience, to make any size auditorium seem like a small room and every listener feel as if he's playing just for them. It's a skill that draws the crowd in, making them feel like a part of the proceedings. This powerful rapport is perfectly captured on Live At The Regal (MCA), a document of a 1964 performance which is considered by many to be not only his finest recording, but the greatest album in all modern blues. This treasure-trove of sophisticated-yet-down-home music includes such staples as "It's My Own Fault," "Every Day I Have The Blues" and "Sweet Little Angel."
By all means buy this album, but don't forget that the real way to experience B.B.'s power is to go see the man for yourself. You won't be disappointed. Perhaps the most impressive thing about B.B. King is that he continues to push himself hard, to try new things and stretch out his playing. This can be heard on fine albums like the star-studded Blues Summit (1993) and his last new release, the excellent Blues on the Bayou (1997), but the stage remains B.B.'s real pulpit. He can still swoop up entire audiences into the palm of his hand and hold them rapt with a single mellifluous run. Most remarkably, at age 74, after over 50 years in the business, he never seems to get bored, never takes anything for granted or rests on his laurels for even one night. How many other legends can make the same claim? Long live the King.
http://alanpaul.net/wp-content/uploads/2014/03/alan-imus-300x158.jpg
0
0
AlanPaul
http://alanpaul.net/wp-content/uploads/2014/03/alan-imus-300x158.jpg
AlanPaul
2014-09-16 14:30:20
2014-09-16 14:30:20
Happy Birthday B.B. King: An appreciation and personal history