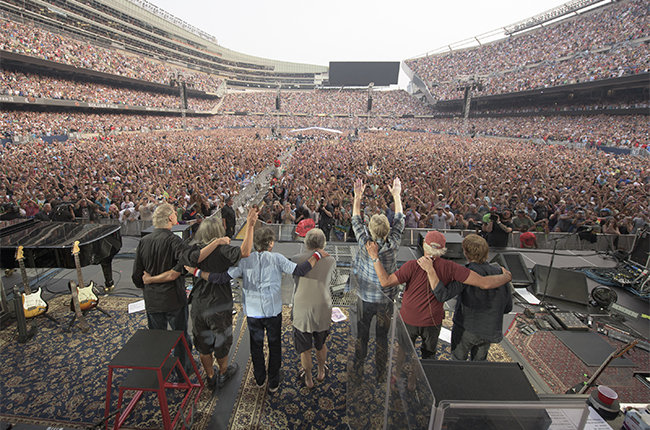 Wow. Now this was more like it. Night 2 of 3 in Chicago for the Dead's Fare Thee Well, said-to-be-final shows at Soldier Field was hard-hitting, consistently satisfying, only a tiny bit meandering and to my ears a full-on triumph. Most crucially: they sounded like a band, not a group of guys jamming it out.
The previous night had seen them push and pull each other, occasionally bumping into clunky grooves, songs that didn't quite soar and what felt like a fair amount of tension on stage, as songs lingered for lack of someone stepping up to take charge. Even then, it was a mostly successful show, with several triumphant sections, most notably the last hour.
On Saturday, they started out with a slinky "Shakedown Street," laying down the template for a cohesive show where everyone was in sync. Even at a slower temp, "Shakedown" go the crowd jumping and its repetitive rhythmic structure gave the band a chance to find their sounds, as almost everyone stepped forward for solos and locked into their spots. For the rest of the night, all seven members seemed to be in excellent sync, hearing one another, engaging in musical conversations and taking turns steering the ship.
The ending drifted a bit, but those would be the final moments of indecision in a first set that quickly took shape as an ode to Americana – my own favorite side of the band. They made their first overt ode to the day's import on the second song, "Liberty," the Garcia/Hunter composition the Dead never recorded but which Phil Lesh resurrected on There And Back Again.
After a gorgeous Bruce Hornsby intro, Trey Anastasio staked his claim to the sweet ballad "Standing on the Moon" and then the rest of the first set was a rollicking ode to America and the colorful characters who populate the Dead's mystical, mythical nation. They played at last a half hour longer than the previous night's first set; clearly, everyone was feeling it. For most of the set, the tempo remained brisk and on point. A side trip into the classic Chicago blues "Little Red Rooster" felt wholly appropriate and made good use of the two keyboards, with Jeff Chimenti's organ surging, while Bruce Hornsby's piano sparkled. Trey quoted Billy Gibbons in his solo, while Bob's slide solo did not make anyone forget Derek Trucks or Warren Haynes.
"Friend of the Devil " was played at a nice gallop, enlivened by Trey's sweet pedal steel licks., and the set closed with a rollicking "Deal." The strength of the whole thing may be as simple as what one guy on the floor said to me, "Dude, it's the Fourth of July."
Set 1: "Shakedown Street," "Liberty," "Standing on the Moon," "Me and My Uncle," "Tennessee Jed," "Cumberland Blues," "Little Red Rooster," "Friend of the Devil," "Deal."
If you've read this far, you better have at least checked out my new Ebook, Reckoning: Conversations With the Grateful Dead
It was clear from the first spacey notes that slowly coalesced into "Bird Song" that the second set would be a different, less linear affair than the first, but even as the band took a less direct path, they never lost their way. The jam section veered into free jazz, with Trey playing staccato notes into a skronking squall reminiscent of Jean Paul Bourelly and Sonny Sharrock. It would have been nice to hear Hornsby sing this instead of Phil – but Lesh's bass playing was absolutely fabulous here, guiding the music through space age funk and right into the rolling good time of "The Golden Road."
"Lost Sailor" and "Saint of Circumstance" have never been among my favorites, but the band rolled through very strong versions, with cohesive jams in and out of the sing-along sections and right into an almost menacing "West LA Fadeaway," with Hornsby on sterling, polished lead vocals and Phil's bass again steering the tune. "Foolish Heart" sparkled, and gave Trey a song to really make his own , both vocally and guitar-wise. It was one song that this band clearly played better than the Grateful Dead did and it revealed that the song's underlying structure was always stronger than we, or at least I, realized.

Drums was compelling through the tremendous sound system and shown on the gigantic, super high res NFL scoreboard and Space got pretty um spacy before coalescing into "Stella Blue," played achingly and sung raggedly by Weir. I missed Warren Haynes a bit here; he sings the hell out of this song. The band recharged into the Chuck Berry styled rocker "One More Saturday Night" that we all knew was coming and walked off stage to a thunderous roar.
At the end of his donor rap, Phil offered what felt like a very heartfelt thank you to the crowd and then they ripped through the inevitable 4th of July closer, U.S. Blues." As the band walked off stage, the 4th of July overture blasted through the sound system and fireworks started. It was an impressive display that looked great from both inside and outside the stadium as I rushed away from a logjam from an absolutely massive crowd. Friday night set a Soldier Field attendance record and the floor was way more crowded. I didn't want to be caught in the hour-long clusterfuck of leaving. Nothing was going to harsh my groove at the end of a glorious night of music.
Set 2: "Bird Song," "The Golden Road (to Unlimited Devotion)," "Lost Sailor," "Saint of Circumstance," "West L.A. Fadeaway," "Foolish Heart," "Drums/Space," "Stella Blue," "One More Saturday Night" ENCORE: "U.S. Blues"
http://alanpaul.net/wp-content/uploads/2015/07/grateful-dead-fare-thee-well-night3-chicago-billboard-650.jpg
430
650
AlanPaul
http://alanpaul.net/wp-content/uploads/2014/03/alan-imus-300x158.jpg
AlanPaul
2015-07-05 14:47:46
2017-07-04 04:09:39
Chicago Night 2 Review – 4th of July Fireworks