Allman Brothers at American U. 12/13/70 Review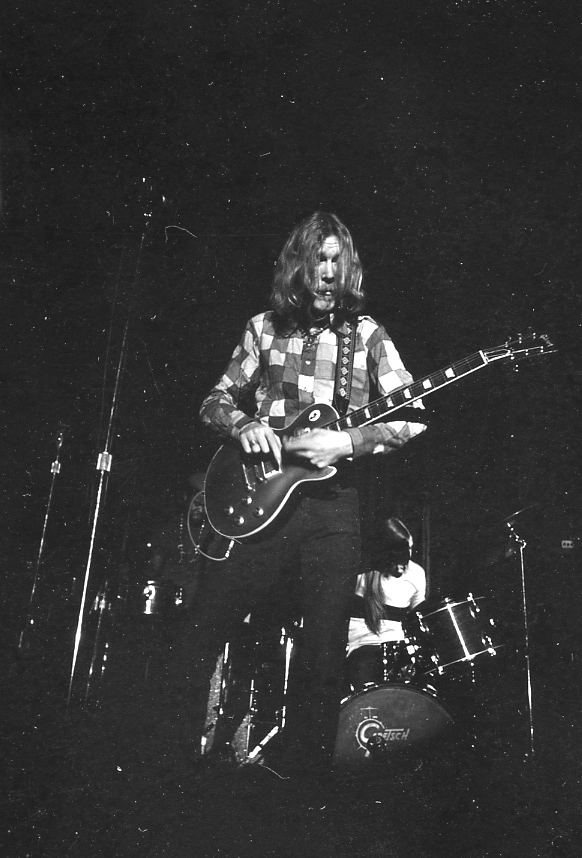 I reviewed the Allman Brothers Band at American University 12/13/70 for Guitar World when it was released by the band in 2002.
****
THE ALLMAN BROTHERS BAND
The Allman Brothers Band Recording Company
Though he died at the tender age of 24, Duane Allman left a tremendous mark on the musical world. In four short but action-packed years, Allman became rock's first slide guitar virtuoso and helped write both the blues-rock and jam band canons on three studio and two live albums with the Allman Brothers Band. He also lit a fire under Eric Clapton on Derek and the Dominos' Layla and produced enough great studio work to fill two two-CD anthologies, backing everyone from soul great Aretha Franklin to jazz flautist Herbie Mann. Despite – or because off — this legacy of great music, Allmans' 1971 death left fans starving for more.
Like Jimi Hendrix, Allman combined deep blues feel and knowledge with a wide-open mind. Both also played with an endless sense of possibility tempered by an r&b session player's discipline. Unlike Jimi, Allman did not leave behind miles of studio tape to be unearthed. He did, however, kick out the jams almost every night of his too-short adult life, and bootlegs and tape trading have long flourished among the faithful. The handful of adequately captured Duane-era ABB performances have been sought after and swapped like so many pieces of the Holy Grail, and with good reason. The band played with unmatched ferocity and combined great songs with a truly open approach that made each performance a unique entity. At Fillmore East is revered as rock's greatest live album, but it merely captures in full sonic glory a typically great performance.
For all these reasons, the sudden appearance of a virtually unheard Duane-era ABB performance is big news, making it an excellent choice to debut the band's series of sanctioned, self-released archive CDs. It doesn't hurt, of course, that the band's December 13, 1970 performance was top notch.
The sound is not as crystalline as that heard on radio-broadcast-based bootlegs, but producer Tom Dowd and his team have done an excellent job of breathing life into what was apparently an awful-sounding tape. Due to the limitations of working with a one-track master, you don't quite get the band's full-tilt power. Both Butch Trucks and Jaimoe's double drum propulsion and Berry Oakley's unique free range bass playing are somewhat muted, with Duane's guitar and Gregg's vocals dominating the mix.
With Duane's concise slide riffs front and center, "Statesboro Blues," "Trouble No More" and "Don't Keep Me Wondering" all sound quite different than they ever have, despite succint, not particularly improvised versions. A rare live performance of "Leave My Blues At Home" boasts some particularly splendid interplay between Dickey Betts and Duane, but it is a mere prelude to the savage, almost 16-minute blitzkrieg through "You Don't Love Me" which follows.
Here, Betts and Allman shine in all their glory. Each takes gripping solo flights, spinning the song's blues riff into inspired, deeply personal sonic gold, before coming back together to toss ideas back and forth in a heated exchange. Betts' melodic blues and hyper-charged country chug stand out. The album closes with a 20-minute ride through "Whipping Post,' which is considerably different though only slightly less epic than the revered At Fillmore East version they would cut four months later.
American University is not a starting point for ABB novices –that would be Fillmore or Eat A Peach – but it is required listening for dedicated fans, who will continue to discover nuances to the band's sound, and more reasons to revere the Allman/Betts team.
Buy the album here: American University 12/13/70.
http://alanpaul.net/wp-content/uploads/2015/12/15.-Duane-@-American-U-Twiggs.jpg
858
582
AlanPaul
http://alanpaul.net/wp-content/uploads/2014/03/alan-imus-300x158.jpg
AlanPaul
2015-12-19 17:35:57
2017-07-01 20:17:06
Allman Brothers at American U. 12/13/70 Review