From the archives and just dug out. I wrote this article for Guitar World in 2002. Enjoy.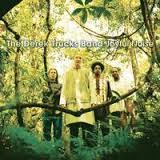 Joyful Noise (Columbia) is Derek Trucks' third album but the first that he could bear to listen to by the time it was released.
"My first two albums were pretty good but they didn't seem to represent what we sounded like when they came out," says Trucks, who plays in the Allman Brothers Band as well as his own group. "This one does, because we've settled down as a band and we had the opportunity to put some really cool, different stuff on here. It should stand up as a statement for a long time to come."
The "different stuff" includes guest vocalists whose diversity highlights the Trucks Band's eclectic approach: soul crooner Solomon Burke, salsa star Ruben Blades, blues belter Susan Tedeschi, also known as Mrs. Derek Trucks, and Pakistani vocalist Rahat Fateh Ali Khan, who sings on the mystical, ancient "Maki Madni." The rest of the album features five original instrumentals, where all these sounds mix and mingle with ease. What binds it all together is Trucks' remarkable guitar work, played solely in open E and always with his fingers only.
While his straight playing has come a long way, Trucks' slide work remains his calling card, as it has been since he started appearing with the Allman Brothers at age 12. Now 23, his every note radiates confidence and a distinctly off-the moment feel and he never sounds like he's showing off.
"You never want to play everything you know," says Trucks, who has been just as influenced by Indian sarod master Ali Akbar Khan as by Duane Allman. "I get bored when bands sound like there's nothing more to be revealed. Everything you play should be a choice and you should be forcing yourself to stretch out and bring the audience with you. It's easy to fall back on the licks people want to hear in the Allman Brothers and the rest of this little world, but it's much more of a challenge and ultimately much more rewarding to turn them on to something they think they have no desire to hear."
–Alan Paul
GUITAR: Washburn Custom, Gibson SG '62 reissue
STRINGS: DR .11-.46
AMPLIFER: (Derek Trucks Band) '63 Fender Super Reverb (Allman Brothers Band) 100-watt Marshall head through Marshall reissue cabinet
ALL-TIME FAVORITE ALBUMS: Wayne Shorter, Speak No Evil; Ali Akbar Khan, Signature Series, Vol. 2, John Coltrane, A Love Supreme, The Otis Redding Story, Freddie King, The Ultimate Collection
CURRENTLY LISTENING TO: Wayne Shorter, Footprints: Live
http://alanpaul.net/wp-content/uploads/2014/03/alan-imus-300x158.jpg
0
0
AlanPaul
http://alanpaul.net/wp-content/uploads/2014/03/alan-imus-300x158.jpg
AlanPaul
2015-12-18 19:16:01
2017-08-10 16:45:00
Derek Trucks on Joyful Noise