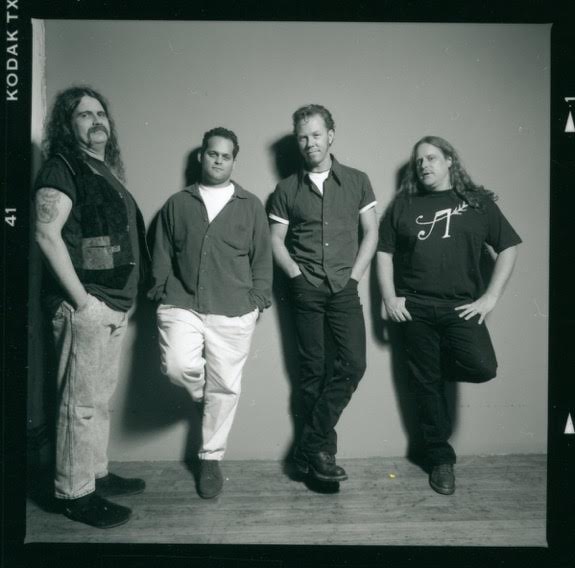 I reviewed Gov't Mule's new archival release The Tel-Star Sessions in the current issue of Relix.
Kicking Asses
In 1994, a year before their self-titled debut and just two months after their first show, the original Gov't Mule – Warren Haynes, Allen Woody and Matt Abts – entered Tel-Star Studios in Bradenton, Florida. What do the demos for one of the rawest power trio albums of recent decades sound like? Exactly how you would imagine.
The band had just come off an intensive week writing and jamming in Macon, GA's Big House, in the very same room where the original Allman Brothers Band had rehearsed from 1970-73. They were solidifying a focused, cohesive sound, as can be heard on the newly released The Tel-Star Sessions and which anyone lucky enough to see an early Mule show can attest.
The songs – two thirds of which would appear on Gov't Mule – are heavy but buoyed by a sense of mischievous fun. The three instruments share the spotlight, with Woody unleashing a low, fuzzy rumbling bass that's as integral as Haynes' guitar. It's fascinating to hear early takes of epochal Mule songs like "Left Coast Groovies," "Rocking Horse" and "Blind Man in the Dark" but the material stands on its own and the two songs they never cut in the studio again –Willie Dixon's "Same Thing" and ZZ Top's "Just Got Paid" – also sparkle with a stoner, proto-metal vision of the blues.
Haynes and Woody were fulfilling their shared vision of resurrecting the sparse, heavy freedom of classic power trios like the Jimi Hendrix Experience, Cream, Mountain and Free. Five years into helping revitalize the Allman Brothers Band, they were looking to make their own statement – to get their ya-yas out. They did exactly that, with a freedom and friskiness that can only come from serving no other masters. The Tel-Star Sessions is a vital reminder of just how audacious Gov't Mule was at its inception.
ICYMI, a cool video of their cover of ZZ Top's "Just Got Paid":

http://alanpaul.net/wp-content/uploads/2016/02/mule-hetfield.jpg
568
575
AlanPaul
http://alanpaul.net/wp-content/uploads/2014/03/alan-imus-300x158.jpg
AlanPaul
2016-09-15 14:04:23
2017-07-01 16:19:08
Gov't Mule The Tel-Star Sessions Reviewed