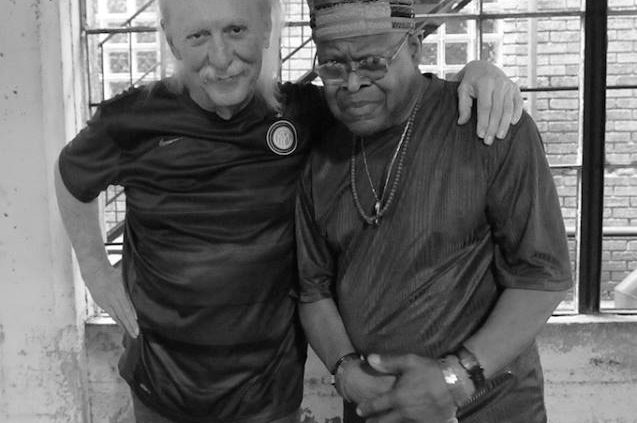 I've had so many thoughts about Butch in the past couple of weeks and one thing I keep coming back to is how good Les Brers was and how few people got to see that and really understand that. It was as close as there's been to an Allman Brothers show since October, 2014 and it was, of course, a special treat to hear Jaimoe, Butch and Marc play together again. Those of us who got to really dig into this were very lucky.
In October, I saw two shows, one near me in Montclair NJ and the next one at Philadelphia's Fillmore. I rode the bus down there with the band and had a fantastic time BS'ing with Jaimore, Jack Pearson, Lamar Williams Jr and Oteil in the back lounge.
The show was fantastic. Packed house, with over 1,000 people there at a free show celebrating the one-year anniversary of the Fillmore. Great performance, which I mostly watched from the stage and streamed live to thousands… Afterwards, a rush of people at the merch stand… everyone signing autographs and taking pictures with the fans. It was a great, great vibe all the way around.
Back on the bus, we stopped at a great cheesesteak place down the street, loaded up, climbed back on, gorged on great Philly cheesesteaks and began the ride back home. Back to the hotel around 330, and staggered home to my bed at 4 am. A great, great night. I never thought it would be the last time I saw the band.
Now someone has posted a pro video (not pro sound alas) of the first set. I'm so happy to have this. Enjoy… and at the end Butch comes out and talks and is so so Butch. Makes it extra special.
http://alanpaul.net/wp-content/uploads/2017/06/butch-and-jaimoe-les-brers-kirk.jpg
960
637
AlanPaul
http://alanpaul.net/wp-content/uploads/2014/03/alan-imus-300x158.jpg
AlanPaul
2017-02-04 23:18:16
2023-05-24 12:51:29
Les Brers – Philly Fillmore, 10-14-16 video and more…