An Interview with David Gilmour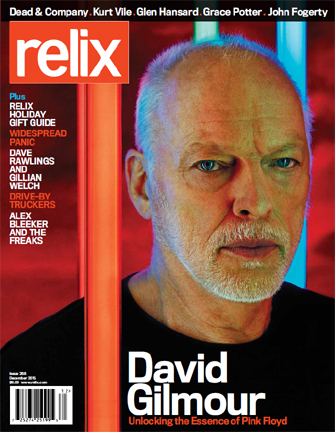 I interviewed David Gilmour in October, 2015, for a Relix cover story. Today is his birthday. Good enough reason to share the story with you.
David Gilmour's guitar sound is completely distinctive: the tone, the touch, the phrasing. Anyone with a passing familiarity with Pink Floyd – which is to say anyone who's turned on a radio in the last 40 years – knows Gilmour's work and has at least one of his riffs buried deep in his or her cerebral cortex.
Seconds into his recent solo album, Rattle That Lock
, Gilmour's guitar introduces itself and reminds you of all this. The album opens with a swirly atmospheric intro to the instrumental, "5 AM", before the guitar blasts through like a high-powered beam of light slicing through dense London fog. It may as well scream, "I am David Gilmour and this is my album."
Gilmour laughs at this thought. On the phone from his London studio, he says that yes, he understands the question. He is certainly aware of the distinctive power of his guitar and doesn't shy away from the idea that those first notes are a means of saying hello and reminding listeners of who he is.
After all these decades as a singular player, does Gilmour still have to work at achieving this distinct sound? "No, I don't," he says. "It's something that just arrives naturally at this point. I've no idea how or where it comes from. It's nothing I ever attempted. I don't know if anyone could actually set out to sound as distinctively as possible. It was just one of those strange mysteries. I think there's some kind of strange peculiarity or my lack of coordination between hands that gives it something rather off and thus distinct. I've thought about it a lot but I can't come up with precisely what it is.
"It's a gift I suppose."
A gift that just keeps giving. Pink Floyd was the biggest in the world during its peak, a remarkable six-year run that included 1973's The Dark Side of the Moon, 1975's Wish You Were Here
and 1979's The Wall, all multi-platinum worldwide hits. Bassist Roger Waters wrote all the lyrics on these epochal works, but Gilmour composed much of the music and sang the most memorable songs. His guitar playing was magnificent throughout, with parts that were essential to the songs, not mere adornments or instrumental passages.
"David Gilmour wrote solos that millions of people can hum," says Warren Haynes. "You can't separate his guitar parts from the songs and that's incredibly rare. He created something uniquely him, which is the ultimate accomplishment as an instrumentalist."
Gilmour's distinct tone, lyrical playing and singing voice run like a continuous thread through the work of Pink Floyd and his four solo albums. Gilmour says that he does not feel burdened by any pressure to live up to his own esteemed history.
"I work pretty hard, tirelessly and obsessively on any project until I think it's about as good as I can get it," he says. "You always think you can take it a little bit further, and finally feel ready to finish when I'm hovering over wondering what else I can possibly do to a track. By then I'm always pretty convinced that what I've done is good, and I sort of suffer shocks later if people don't like it."
Much of Rattle That Lock is a collaboration between Gilmour and his wife, the writer Polly Samson, who penned the lyrics to half the songs, including the title track, which is inspired by John Milton's 1667 epic poem Paradise Lost
exploring the fall of man in 10 books- not exactly typical rock fare.
"Polly's a writer and just had a book out earlier this year called The Kindness
, which had a theme that was very related to Paradise Lost
," Gilmour says. "She spent a lot of time reading the book and trying to understand what it's all about and having spent the last three or four years working on that, she found she couldn't let go of Paradise Lost that easily and it made its entrance again on this song."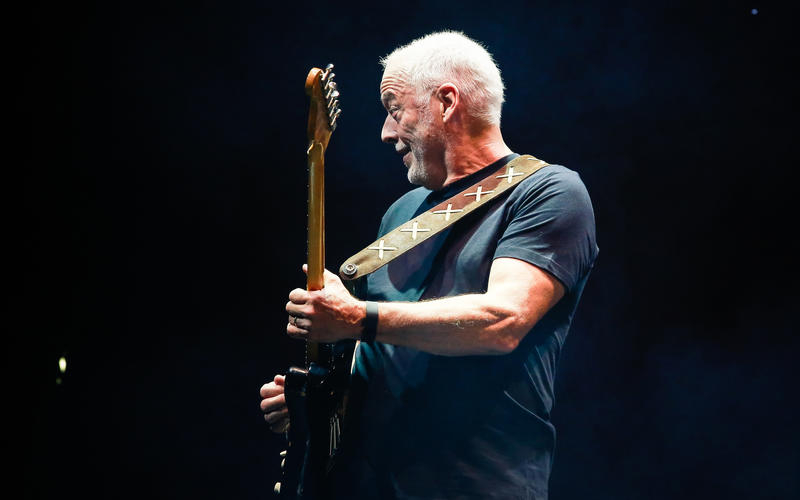 Many of Samson and Gilmour's collaborations come about by her hearing pieces of his music, sometimes even unfinished songs, and feeling lyrical inspiration. Some of the snippets and different pieces of music were put together and assembled by co-producer Phil Manzanera. The Roxy Music guitarist served in the same role on 2006's On The Island, Gilmour's previous solo album, and also plays in his touring band.
"Phil is a very old friend and he's full of enthusiasm and a great help when putting together these things," says Gilmour. "I have thousands of little bits of demos that I occasionally go through, but he loves doing that kind of hunting. And he'll make little notes, join thing together on tape and say, 'You could do this, and have a lovely song.' A couple of tracks started out that way. 'Today' and 'Faces of Stone' both came about through that sort of process.
"Songs have to reveal themselves to you in a way. Some of the choosing process is the songs choosing themselves. One of them might inspire Polly to write words, for instance. If that happens, the song will move right up the priority list. Same if I hear a vocal melody presenting itself. I consider myself a singer as much as I am a guitar player and I love the popular song, the voices and everything mixed together that makes a song a song."
One of the collaborations between Samson and Gilmour is "The Boat Lies Waiting," a bittersweet reflection on the death of Pink Floyd keyboardist Rick Wright, who passed away of cancer in 2008. The song also includes gorgeous harmony vocals by Graham Nash and David Crosby.
"Rick had a 60-foot yacht and he loved sailing it around the world," says Gilmour. "The music to 'The Boat Lies Waiting' was written first and the rhythm of the piano reminded Polly of a rolling boat on the ocean and it's very easy from that to make the connection from that to Rick – for those of us who knew him well. Other people of course knew Rick primarily as a musician, but he was an old seafarer for much of his life. It was as much a part of his identity as being a musician, and as much how we thought about him."
Wright left Pink Floyd in 1978, during the recording of The Wall, during which the other members felt he was not pulling his weight. He returned to the band almost a decade later, though not as an official member but rather a contributing musician, eventually being restored to partner. Whatever issues there were between the old collaborators seem to have been long since and fully buried. Wright performed regularly in Gilmour's solo touring band. The guitarist has profoundly felt the loss of his longtime friend and musical collaborator.
"Sometimes you don't realize what you've got until it's gone," says Gilmour. "There have been many moments since [Rick's death] when I have been looking for something – a keyboard, a piano, a certain sound to complete a song- and the person I would naturally go to for those things is no longer around. It's difficult developing that kind of rapport – a telepathic musical relationship – with people I do not know as well.
"Our relationship developed over many years and we knew what the other was thinking. We could communicate so much without saying more than a few words – or nothing at all. We were a step ahead of each other all the time. I knew what he was going to do next and he knew what I was gong to do next. That's not something that's easily replaced."


Anyone who has ever listened to Pink Floyd knows that no keyboardist could possibly come up with better, more appropriate accompaniment or complementary parts to a David Gilmour melody or guitar line than Rick Wright. Throughout their greatest works, Gilmour and Wright's musical ideas mesh seamlessly into one.
It's hard to overstate Pink Floyd's impact on classic rock and popular culture of the 70s and 80s, or Gilmour's role in the band. Floyd was formed in London in 1965 by guitarist Syd Barrett, bassist Roger Waters, keyboardist Rick Wright and drummer Nick Mason and quickly began making their mark with sonic freakouts and psychedelic light shows. By August 1967, the band had a hit with their first full album, Pipers at the Gates of Dawn, recorded at Abbey Road Studios, next to the Beatles. But Barrett's always erratic behavior was growing ever more unreliable, and Gilmour, an old friend, was brought in to supplement and strengthen the group. After a few five-man shows, Barrett was out and Gilmour was in as onstage frontman/singer/lead guitarist. The stated plan was for Barrett to remain as an offstage songwriter, but he quickly faded out of the picture. The band would continue to be haunted by their original leader, and much of their greatest work explored his mental disintegration and its impact on everyone else.
The band continued to grow and expand, both commercially and artistically, and they exploded into a full-blown phenomenon with 1973's Dark Side of the Moon. The title refers not to astronomy but to the human psyche and specifically Barrett's condition. The album stayed on the Billboard charts for 14 years and has sold over 40-million copies worldwide. It was a conceptual, lyrical triumph for Waters, who wrote all the lyrics, and a musical statement by Gilmour, who wrote much of the music and sang the most iconic songs on this most iconic of albums, including "Money," "Breathe," "Us and Them" and "Time."
Floyd's next album, 1975's Wish You Were Here, continued to explore similar themes; it's no secret who the title "you" referred to, and the album open and closed with the epic salute to Barrett, the nine-part "Shine On You Crazy Diamond." Barrett visited Abbey Road Studios while the band was recorded the song, and his shambolic appearance and mental state shook everyone to their core. While Waters wrote the lyrics to these songs, Gilmour's cutting guitar made them indelible.
The iconic riff that opens "Wish You Were Here" – another ode to Barrett – is a perfect example of Gilmour's ability to craft unforgettable parts. Anyone with a modicum of facility on guitar can play this simple riff, but it is absolute perfection, setting a tone and pattern for the song that carries it through and digs it into your brain.
Says Haynes, "David's sense of melody and his ability to play something that becomes a crucial part of the song rather than merely a solo interlude is what really stands out. He came up with all these hooks and riffs and memorable phrases that nobody else would think of in exactly the same way. That, combined with his unique tone and feel, are incredibly memorable. What he played on songs like 'Time," 'Money' and 'Wish You Were Here' are embedded into our brains just as much as the songs themselves are. David plays guitar like a singer; he's telling a story. And he plays and sings the same phrases and melodies, just as B.B. King did."
Haynes' evocation of B.B. King in relation to Gilmour is telling. His playing is redolent of blues authority and feeling, albeit often in very different settings. Like most of his British peers, both the future blues of Jimi Hendrix and Jeff Beck and the more purist blues work of Eric Clapton and Peter Green in John Mayall's Bluesbreakers profoundly influenced Gilmour.
"All of those guys were incredible and I spent time trying to learn how to play their licks perfectly," says Gilmour. "I would suggest any young player should try to sit down and do that. You will wind up knowing how to play their stuff quite well but eventually you will find your own style form that. It forces its way out of the copying."
Gilmour is also an excellent slide player, generally employing a lap or pedal steel instrument. His work there has no real antecedent; he says he was never much impacted by great slide players like Duane Allman or Ry Cooder.
"My goodness, I don't know where the slide came from!" he exclaims. "I believe it all started in a junk shop in Seattle where I bought a Fender double-neck lap steel guitar second hand for almost nothing in 1970, and brought it home and started tinkering. It's a very expressive thing, and I just found that I had an ear for it, as some people do.
"I have to confess to not being a purist in my guitar approach. I know many people who have sat down and listened to nothing but blues guitar players and tried to nail that perfectly. I respect that, but it's not me. I like so many different things.
"Singers, saxophonists and piano players also impacted my guitar playing; anyone anywhere who wrote or played beautiful melodies did, because that's what I was attracted to. Leonard Bernstein's West Side Story was a huge influence, for example, but I hate to even mention anything, because for everything I say, I leave 100 others out. I am very, very broad-palette person."
For all his broad palettes and influences, much of Gilmour's most memorable playing, as in "Comfortably Numb" and "Shine On You Crazy Diamond" is essentially blues. The variation from standard blues themes in lyrical and musical composition and melody easily distracts from this truth. For all of Pink Floyd's progressive leanings what could be a more appropriate musical form to deliver so many songs about the mental illness and disintegration of a beloved friend?
A decade after Barrett's 2006 death and 40 years after recording "Wish You Were Here" and "Shine On You Crazy Diamond," Gilmour says he still thinks daily about his old friend.
"Syd's was a creative life that had so much promise and was cut cruelly short," says Gilmour. "The regret of Syd is that this really very, very warm, lovely intelligent guy stopped being the creative person that he had been, and that's just a deep, abiding sadness."


But, Gilmour adds, he also thinks daily of Wright and countless other friends who have left the mortal coil. Part of aging is being forced to make sense and order of all the people no longer with us. Following Wright's passing, Gilmour went back to some music they had recorded but never released as Pink Floyd. Most of the tracks were cut during the 1994 The Division Bell sessions. Gilmour and Mason returned to the music, working with other musicians to create the 2014 mostly instrumental album The Endless River.
"Lots of beautiful pieces of music I remembered had been sitting there," Gilmour says. "It was one of those pieces of tidying up I thought should be done. It suggested itself and we went back and listened to them all again. They sounded great and I thought I wouldn't have to do much with them but there turned out to be quite a bit of work involved – as there always is.
"You listen through and think, 'Oh they're terrific,' but then you start thinking, 'If I did this, that and the other, we can make them even better and make them stand up for themselves.' And so I had to spend quite a long time devoting myself to that project, which became a distraction from this album, but it was well worth it. I'm really proud of The Endless River."
Wright's passing seemed to put an exclamation point on the fact that Pink Floyd would not ever reunite. But Gilmour says that ship had long since sailed well before 2008.
"That was already long gone for me [before Wright's passing]," he says. "After The Division Bell album and tour [in 1994] I had definitely decided that I had had enough of that. It was fantastic and a joy, something that I'm very proud of and had a lot of great times doing. But you have to move on sometimes. Having Rick Wright with me in 2006 on my solo On The Island tour, I had enough of Pink Floyd in there to make me happy. That was the most joyful tour I think I've ever been on. Every day was a pleasure, which is how it should be!"
Gilmour still plays plenty of Floyd material in his solo shows. He practically recoils when this is mentioned on the heels of his suggestion that he wants to look forward and not back.
"Of course!" he says, displaying a rare trace of irritation in a an otherwise gentle, genial conversation. "To say that I don't want to be a part of being in Pink Floyd with other people, creating new things, doesn't mean that I want to discard my past in any way. I'm very proud of it."
Pink Floyd's biggest rupture came in 1984, a year after the release of the fractious The Final Cut
, which felt like a Waters solo album. When Waters and Gilmour both released solo albums and toured behind them, Pink Floyd seemed to be done. The title The Final Cut took on new meaning.
Waters took steps to dissolve the partnership, and when Gilmour and Mason pushed on, the bassist sued to stop them from recording or touring as Pink Floyd. He lost and the Waters-less Pink Floyd released Momentary Lapse Of Reason
in 1987 and launched a worldwide tour. According to the 2008 book Comfortably Numb: The Inside Story of Pink Floyd
, Waters dismissed the album, saying, "I think it's facile, but a quite clever forgery … The songs are poor in general … [and] Gilmour's lyrics are third-rate."
Seven years later, with Wright back as a fulltime member the band released The Division Bell
, another hit album followed by another hugely successful world tour.
The four classic era members – Gilmour, Waters, Mason and Wright – played together for the first time in 2005 at the Live 8 concert in London, hopes were raised that it would lead to an ongoing Pink Floyd reunion tour. The group reportedly turned down incredibly lucrative offers.
"It was never a consideration for me," Gilmour says. "I can't say for sure about the others, but to me it was something for a specific purpose and that was it. It was very nice and very good for me to be able to play with those guys and have that day, the time on stage together. There was a little bit of repairing of past damages done at that time, but it was not something I wanted to go back to."
He pauses to reiterate his bottom line: "It's been terrific. I loved Pink Floyd and I've had a great time playing this music for a long time but I've moved on now and love what I'm doing."
The absence of Pink Floyd and the infrequency of shows by Gilmour and Waters individually has led to a thriving market in tribute bands. It's a trend that Gilmour understands, appreciates and essentially endorses.
"Why not?" he asks, rhetorically. "Musicians have got to earn a living and there are a lot of people who want to hear the music. I've been very impressed with some of what I've heard, but there's an essential difference between cover bands and what we did and continue to do. We play every night what we feel like playing and the cover bands tend to think that it's important to take a performance and play precisely what we played at that particular moment on that particular day. They take it from a live performance or a record and copy it.
"I understand that concept, of course, but those records and things we played live are living, breathing moments and we occasionally capture one and put it on record. But every night is different. I don't have to play the same solo every night. It's a living thing and I would go insane trying to match it always. The cover bands are a bit more like playing a record. It's not original and musically inspiring. But I still like it!"
Pink Floyd began as a highly experimental band, particularly so in the pre-Gilmour Barrett days. As the band grew bigger, they improvised less often and less aggressively. Gilmour says that this was a natural development.
"In our earliest days, the improvisation could be radical," says "Gilmour. "That would mean that we could have some sublime moments, but there were a lot of tedious moments as well. People can look back at it with rose-tinted glasses and say that it was all great, but a lot of it really wasn't.
"As you get older, I think you want to raise the whole level of your game and be a bit more consistently great. Some people might say that to lop off the low end you've got to lop off a bit of the sublime end, too, but I'm not sure I agree. I think we just started aiming higher. We never stopped improvising but the moments do become fewer and possibly less adventurous."
Throughout their career, Pink Floyd were renowned for their great sound. Most of the band actually boycotted the record release celebration for Dark Side of the Moon, incensed that it was not being heard in a quadrophonic mix that would allow its full sonic glory to be appreciated. They took the same level of care to their live shows well before most bands paid much attention to such things – the Grateful Dead and their Wall of Sound being the exception that proves the rule.
When music ricocheted through arenas, Floyd's concerts featured pristine sound. When shows moved to stadiums, they were again one of the first acts to master the new venues and manage to create intimate feeling shows even amidst a fair amount of pageantry – shows that looked and sounded great, with video and other visual cues that pulled the crowd in.
"We just always thought that we shouldn't cut corners," says Gilmour. "We always thought that we should do things the best possible way. We were at the forefront of developing the modern PA system. We had the best one that anyone had ever heard back in 1971 and '72.
"We would carry our own PA systems around America at a time when a lot of rooms had their own PAs built in but we didn't think they were good enough, because you are only as good as your weakest link. If the speakers are rubbish then your music doesn't sound anywhere near as it could. You want it to sound as good as it can. There are a lot of people who do and always have cut corners and I would suggest it's to their long term detriment."
This spring, Gilmour will bring his solo tour for Rattle That Lock to North America, opting to play just 10 shows in only four cities (Los Angeles, Chicago, Toronto and New York).
"I'm not a young kid any more," he says. "I'm 69 and I just don't feel the desire to travel around dozens of cities. I think most of my audiences are much younger than me and I kind of think they can travel to me rather than me having to go them quite as much. I don't want to do a big long tour.
"I want to really enjoy a shorter your playing in really nice places, in rooms I can control well sound-wise and really enjoy myself. That will be better for the people who come to them. I don't want to do a long, arduous tour. I've done plenty of those and I'm kind of done with it.
"But," he adds quickly, "I am certainly not playing music."




http://alanpaul.net/wp-content/uploads/2017/03/rs-236419-david-gilmour-20140412-193031-_D8A5885____.jpg
394
700
AlanPaul
http://alanpaul.net/wp-content/uploads/2014/03/alan-imus-300x158.jpg
AlanPaul
2017-03-06 14:28:41
2023-05-24 12:50:45
An Interview with David Gilmour