Eric Krasno: center of the jam universe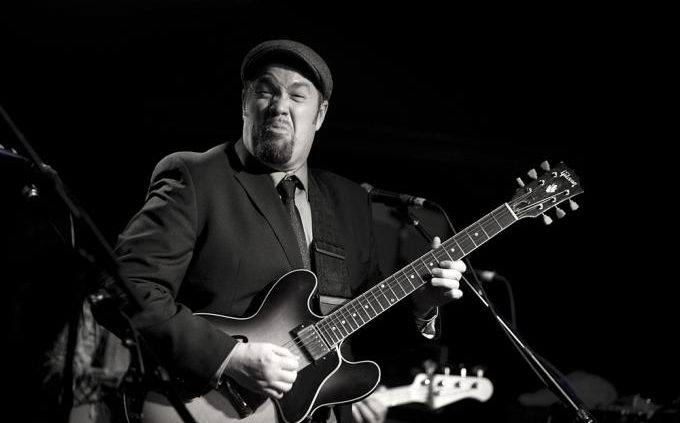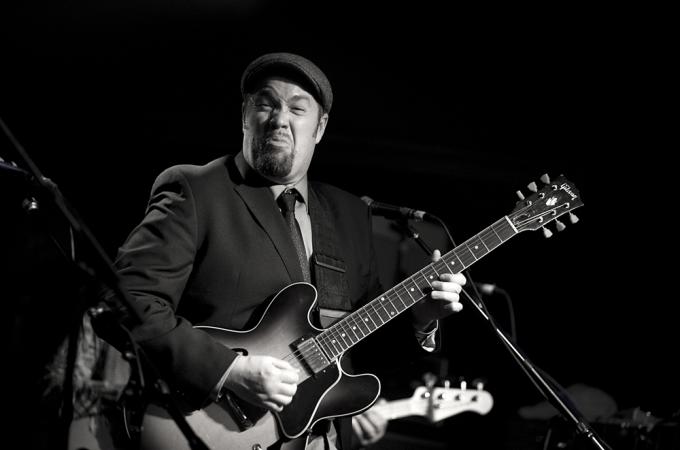 Last year I profiled Eric Krasno for Relix magazine. Here's the story. Amazing how much good music Eric has been in the middle of. He's paying tribute to Gregg Allman and the Allman Brothers Band with Scott Sharrard and others this week at Irving Plaza.
Trying to keep up with Eric Krasno for a single night of the New Orleans Jazz and Heritage Festival was an exhausting experience. Around 8 pm he walked off the outside stage of the FIYA Fest, after an exhilarating set with Dr. Klaw, featuring Cyril Neville, Nigel Hall, Adam Deitch and Dumpstaphunk's Ian Neville and Nick Daniels. As he chatted with friends and wiped sweat from his face with a towel, a Fiya staff member grabbed Krasno's arm and gently nudged him away. He had to get inside to the larger stage, where his Soulive bandmates were waiting and would soon start a funkified set with James Brown sax man Maceo Parker. When that ended at 10:30 pm and a sweaty, enervated crowd drained out, Krasno had some brief chill time backstage, before heading back to his New Orleans digs to rest for a while.
He was preparing for the day's final gig – or the next day's first – taking the stage at 2:30 am in the French Quarter with Oteil Burbridge, Deitch, Hall and special guest, jazz trumpet master Nicholas Payton. Kofi Burbridge and Neal Evans would also drop by for a mind-bending night of music. For at least one observer stumbling out into the street as daylight approached, it was an exhausting and exhilarating musical adventure. Krasno kept up the same pace for two weeks. And these manic New Orleans days are but a microcosm of his life and a metaphor for his career; Krasno seems to be everywhere.
As a guitarist, producer, bandleader, songwriter and entrepreneur, it often seems there are few corners of the musical world he hasn't touched in recent years. He's best known for playing with two bands, Soulive and Lettuce, for almost 20 years. But he's also made his mark as a producer, label owner and guitarist for a wide range of artists, from soul legend Aaron Neville to melodic crunch duo the London Souls – both of whom record for Krasno's Feel Records. He has also played frequently with Phil and Friends and, more recently, Billy and the Kids. He has written songs for the Tedeschi Trucks Band – with whom he also toured as a fill-in bassist in 2013 – and recorded with The Roots, Talib Kweili, Redman, Pretty Lights and 50 Cent.
Lettuce drummer Adam Deitch sums up why his longtime friend and collaborator can slide seamlessly into so many projects: "He's a quite awesome person that people love to be around."
Krasno is releasing a solo debut, Blood From A Stone, on July 8 on Feel. It will be followed by the Eric Krasno Band's first tour this summer and fall. The album features appearances by Derek Trucks, as well as members of Soulive, Lettuce and The London Souls, but the focus is squarely on Krasno: his songs, his playing, and for the first time, his singing.
"I've been writing vocal songs for other people to sing for a while and I always sang on the demos," Krasno says. "And when we first started this project I thought I might do the same thing – bring someone else in to sing my parts, or maybe a bunch of different people. But as work on the album went on, I thought more and more that I should sing it all myself and I really worked on it. Every time I play a show or sing live, I get better and more comfortable."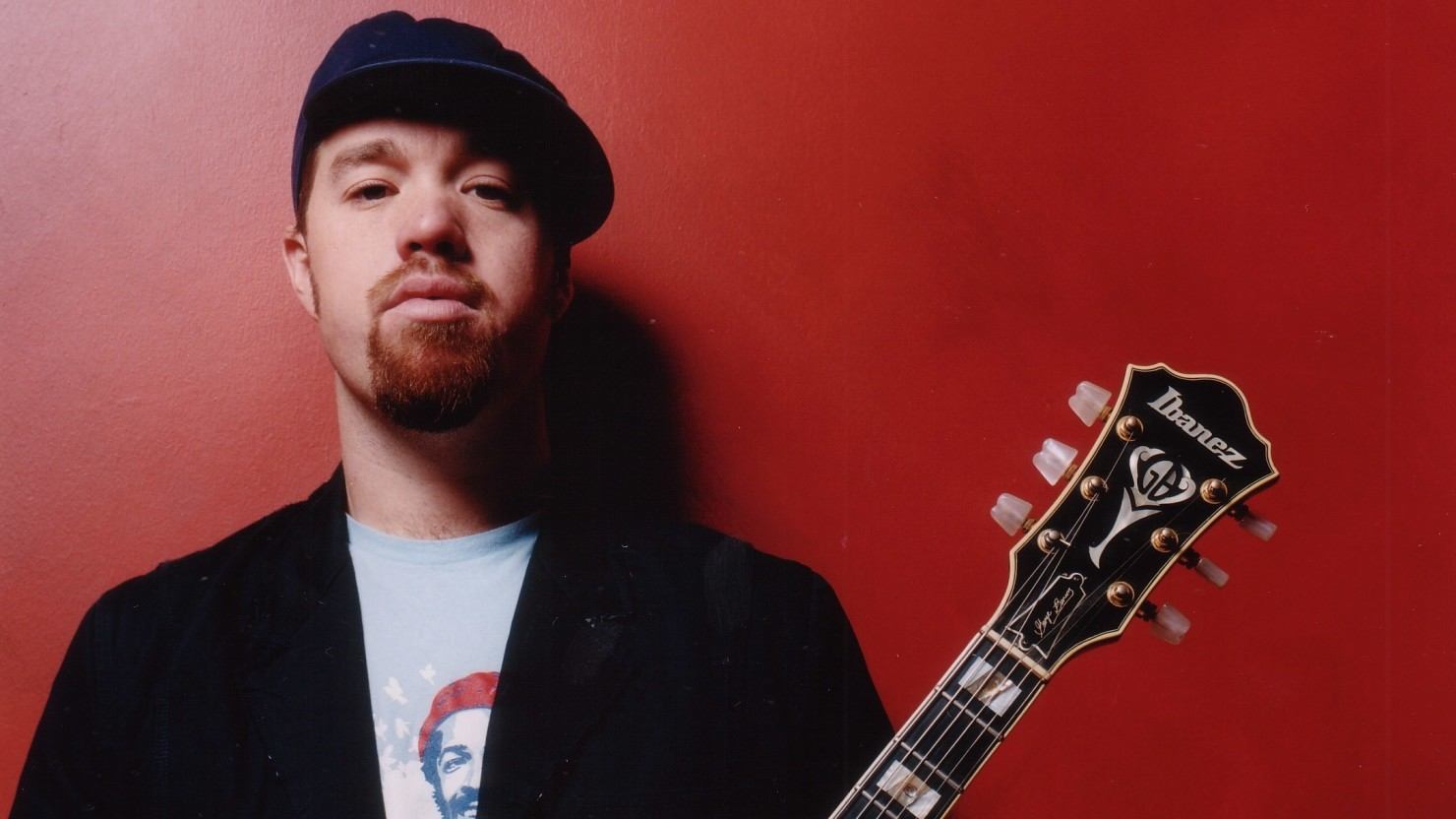 The core of Blood From A Stone began several years ago during a Maine writing session Krasno had with Dave Gutter of the band Rustic Overtones.
"I went up to Maine and within a day we had three or four songs that ended up on the album," says Krasno, sipping a beer in a bar around the corner from his Greenpoint, Brooklyn apartment. "We were being so productive that we set up a studio in a barn and Chris [St. Hilaire, London Souls drummer], Stu [Mahan, bass] and Nigel [Hall, keys] came up to demo the songs and most of them ended up being on the record."
After those initial sessions, Krasno continued to work on the solo between his other projects. "I was so busy with different things," says Krasno. "I held onto a few of those tracks and ideas and worked on the album off and on for a few years."
When he found himself not quite able to put the finishing touches on the album, he hooked up with Jeremy Most, who has worked with Emily King, Ed Sheeran and others. Most added some instrumentation and became the co-producer, adding a more modern, minimalist touch to the collection of blues and jazz influenced tunes.
"I'm usually the guy getting things done and pushing other people's albums along and I needed someone to help me with that," says Krasno. "I loved Jeremy's production on the Emily King albums. We reconnected after one of their shows and I played him the music. He loved it and had some ideas right away, which was really welcome. The flight was almost there, but I couldn't land it and he helped me bring it in.
"I liked the tracks but they didn't feel like an album and Jeremy helped me zone it in and make some decisions about which tracks fit together and made for a cool journey. You want an album to sound cohesive but not for every track to sound the same."
The album's long gestation gave Krasno a chance to grow into the music, to adapt it and to be more ready to take the material on the road as a singing frontman. "I'm really ready and very excited to go out and do this now," he says. "For years, I was more used to playing jazz and funk, mostly instrumental and jam-based, and I've gotten more and more into performing songs."
Krasno's love of more song-oriented performances grew during his summer-long stint as Tedeschi Trucks Band bassist, in between Oteil Burbridge's departure and Tim Lefebrve's arrival. He thrilled to hearing crowds singing along, especially to the four songs he co-wrote on TTB's Made Up Mind. His subsequent performances with Billy and the Kids and Phil and Friends, playing the beloved Grateful Dead repertoire to appreciative audiences furthered the feeling.
"I love jamming and being improvisational – and the Jazzfest shows are the mecca where we try to see if we can take that vibration to another level," says Krasno. "You also do that performing with the Grateful Dead camp, of course, but with them it all starts with the songs, which is very apparent when every tune becomes a spirited sing-along. And everyone in my band is going to be singing, which is something I learned to love from playing the Dead music – all those harmonies! – and missed in my other bands. I grew up on that music so I'm kind of excited to make a full circle back to where I actually began."
Krasno traces his own musical awakening to seeing the Dead and Allman Brothers as young teenager and hanging around his brother Jeff's band in their family basement. His career began almost as early. At 16, the Connecticut native attended a summer program at Boston's Berklee School of Music, where he met the core of what would become Lettuce: Deitch, guitarist Adam Smirnoff, bassist Erick Coomes and saxophonist Ryan Zoidis. Thrilled to find like-minded peers, the group jammed their summer away and pledged to return together in two years, a promise they remarkably all kept. A year later, Krasno transferred to Hampshire College, in part to study with jazz saxophonist Yusef Lateef. Lettuce kept playing together, but during a pause while most of the other members were in the funk/hip hop group Fatbag, Krasno joined up with brothers Neal and Alan Evans in Soulive. Even as that band began to pound the touring circuit and record, Krasno remained in touch with Lettuce, which continued performing whenever possible.
"Kraz is the godfather of the crew and has always been the guy who helped everyone out all the time," says Deitch. "None of this would have happened without him."
Krasno may have been born into his role. His grandfather Lou Krasno was a renowned klezmer and gypsy jazz violinist who fronted a group called the Gypsy Gems. His father Richard, a PhD educator, is a skilled musician who was a DJ in late 60s San Francisco. His uncle Ron Kaplan was a Chicago bass player who became a booking agent, working with Buddy Guy, Herbie Hancock and others and was very involved in helping Lettuce and Soulive grow in their earliest days. And Jeff Krasno managed both Lettuce and Soulive and started Velour Recordings, which released the band's albums.
"For a good while Kraz was the only one who understood how to book Lettuce, how to get us shows, how to get paid," says Deitch. "We were all about showing up and handling the music part, but at first he alone saw the other side of this. He's inspired all of us to be better businessmen – to be better at handling all the other stuff beyond the notes."
Deitch says that everyone's respect for Krasno and their long-term friendships eased the pain when the guitarist announced he would no longer be appearing at all Lettuce shows; he now appears with the band at select dates.
"I just decided that I really wanted to push Lettuce and give it a fair shot," says Deitch. "Everyone was on the same page, except Kraz, who was like, 'I appreciate what you want to do' but I need to do something else.' He's a very good communicator in terms of both friends and business. We totally understand what he wants to do and as friends, we support him."
While Krasno is preparing to release Blood From A Stone and hit the road with his solo band, don't expect his focus to become singular. Soulive and Lettuce aren't going anywhere. He will keep performing with Lesh and Kreutzmann and popping up in jams more often than Smuckers. He's also producing a movie in New Orleans, Take Me To the River, Volume 2, which focuses on the city's rich musical heritage and bringing some of the city's rock and soul legends together in collaborations with younger musicians and mcs.
Krasno's ability to remain both musically restless and ever focused and calm is impressive and reminiscent of Warren Haynes, with whom he shares a management team and a mutual respect.
"Eric is one of those cats who has a good vibe and adapts well to different settings," says Haynes. "Moving across genres as he does starts with having a reverence for so many different approaches – being truly moved by different types of music and studying what makes them tick. In order to be convincing in a lot of different settings you have to have passion for them all and study them more than just a little bit. You have to go deeper and have that be reflected in your own voice. It's really kind of a rare quality and something Eric clearly possesses."
http://alanpaul.net/wp-content/uploads/2017/07/GetGo_soulive_BERET_web_0.jpg
450
680
AlanPaul
http://alanpaul.net/wp-content/uploads/2014/03/alan-imus-300x158.jpg
AlanPaul
2017-07-10 15:50:03
2023-05-24 12:49:41
Eric Krasno: center of the jam universe