Introducing my Chinese bandmates to the Allman Brothers Band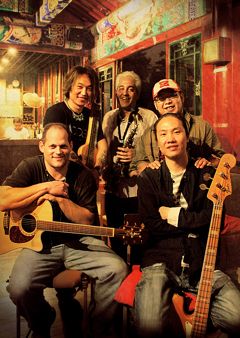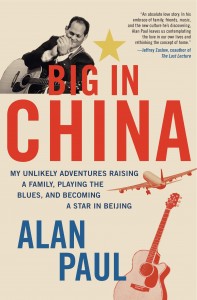 This is an excerpt of my first book, Big in China. Signed copies are available directly from me here, where you can also learn a lot more about the book. It is also available in Kindle right here or as an Audiobook narrated by me here.
A little background first:

Occupied with settling down and helping my three kids, aged 2, 5 and 7, get their feet on the ground, I barely touched my guitars my first year in Beijing. To inspire myself, I bought a beautiful tobacco sunburst Epiphone 335 during an extended summer visit home to the US. When I opened the case back in Beijing, the headstock was dangling off.
A friend told me that Woodie Wu, a young Chinese guitarist who had recently returned from three years in Australia, could solve my problem, and he did — but I got back much more than a fixed guitar. Woodie and I hit it off right away. When I saw the huge Stevie Ray Vaughan tattoo on his arm, I knew we could do business. When I found out that he wanted to jam and was now focusing on lap steel guitar, I was thrilled; the sound of slide guitar has touched me deeply since the very first time I heard Duane Allman.
I jammed once with Woodie's band, and knew I needed the sound of his slide in my life. 

I had already had a couple of memorable jams with American saxophonist Dave Loevinger and now heard a sound in my head with Dave's soulful sax in one ear, Woodie's weeping slide in the other and my own voice and guitar in the middle. We played one raggedy but promising trio show then about a dozen gigs with a few different rhythm sections before Woodie brought in bassist Zhang Yong and drummer Lu Wei.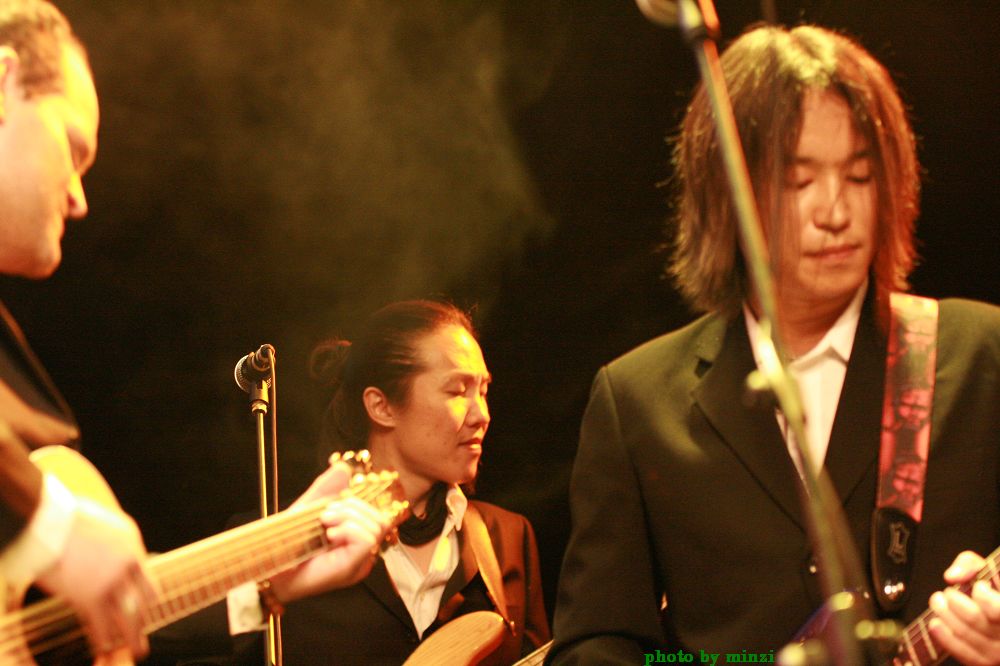 Lu Wei fired us up with passionate, raw-edged drumming, while Zhang Yong brought not only rock solid, funky basslines, but also a composer's knack for memorable melodies. We started rearranging all the cover songs that we were playing and began writing our own material. I had a hard time explaining to the guys how we had to loosen our sound back up after we had tightened it beautifully with new arrangements and intense rehearsals. "Tight but loose" was an obvious concept to me, but one I struggled to have my Chinese bandmates understand.
The story that follows illustrates how I stumbled upon the missing piece we needed to really break through and find our own voice: the music of the Allman Brothers Band. Just a few months after this encounter, we were named the Best band in Beijing and were hard at work recording Beijing Blues, our debut CD.
***
The band began meeting regularly at our new rehearsal space, a studio inside drummer Lu Wei's duplex apartment in Tongzhou, on Beijing's eastern fringes. To get there from my place, you drove out of town, through some countryside, then reemerged in a sea of high rises. It was a reminder of just how sprawled out Beijing was.
Tongzhou was a satellite city with over one million residents, but few foreigners even knew it existed. The first time I went there, I hired a driver, the second time a friend who speaks excellent Chinese accompanied me and spoke to Lu Wei all the way. After that, I drove myself, feeling proud every time I arrived at my drummer's rundown compound, which had weeds sprouting through the concrete and disinterested young guards who just waved at me.
As distant as the place felt, Lu Wei's house was immediately recognizable as a slacker band crash pad. I could have been in Ann Arbor or Austin. A couple of roommates lounged on a little couch in the middle of the day watching soap operas with their girlfriends. A small drying rack sat in the living room hung with laundry, including a pair of leopard-spotted panties. An overflowing ashtray sat on the coffee table and a stack of Chinese drum, bass and guitar magazines sat atop the upstairs toilet.
One bedroom on the second floor had been converted into a studio, with a big sound system, nice monitors and multiple microphones. Here we transformed Woodie Alan into a real band, ironing out the details of six new songs and transforming "Beijing Blues" from lyrics atop a blues progression into a real composition, which quickly became out theme song.
I offered Zhang Yong a lift home one night after a late rehearsal. As I started up my van, the sound of prime Allman Brothers boomed through the stereo. I always loved the sensation of blaring uber-American music while driving through China and had been listening to a vintage recording at high volume on my way there.
Zhang Yong's face lit up when he heard "In Memory of Elizabeth Reed," a monumental instrumental penned by guitarist Dickey Betts, whom I had interviewed many times.
"This is the Allman Brothers," I said in Mandarin. "Do you know them?"
"No, but I like," he replied in halting English. We listened without speaking for A few minutes as the music washed over us—utterly familiar to me, amazingly fresh and foreign to him, even though it was almost 40 years old.
"Two drums?" he asked.
"Dui." (Correct.)
"Two lead guitars?"
"Dui."
I clicked ahead to "You Don't Love Me," an original take on a traditional blues, with Gregg Allman's whiskeyed blues vocals leading into inventive guitar soloing. He was listening intently, astounded by what he was hearing.
Next up was the sweet, country-tinged "Blue Sky," with Betts' high, lonesome vocals leading into one of my favorite guitar solo sections in all of rock, as Betts and Duane Allman take flight separately before swooping back down to hit heavenly harmonies. Zhang Yong turned to me, grinning madly.
"Wow. Good! Different band?"
"Bu shi! Yi yangde!" (No, the same!)
"Oh wow. Two singers!"
We listened without speaking for a while, then he simply said, "Oh, so good."
It would be unthinkable to come across an American rocker of Zhang Yong's age and talent who did not know the Allman Brothers' music, which had so permeated classic rock radio. Turning him onto it felt fantastic. My musical connections with my Chinese bandmates had been so easy and complete that I had forgotten about the vast differences in our backgrounds.
No wonder I had not been able to quite communicate what I wanted, or explain what I meant by "staying tight but loosening up." I was trying to describe the Allmans' music. It was grounded in the blues and built around perfectly executed riffs and licks, but the solos headed off on wild rambles, always managing to parachute right back onto the riff. That was the kind of approach I wanted us to take.
I burned three CDs of my favorite Allman Brothers tracks and handed them out at our next gig. A week later, Zhang Yong came to rehearsal and started playing and singing "Statesboro Blues," one of the Allmans' best-known songs, written 80 years ago by Georgia bluesman Blind Willie McTell.
"He wants to do this song," Woodie said.
"Statesboro Blues" made the transition from 1928 Georgia to 2008 Beijing with ease and we worked it up as a duet with Zhang Yong singing the first two verses and me taking the last two. Woodie also immersed himself in the Allmans music, altering his entire conception of what he could with the lap steel guitar. "I need to take it further," he said. "Now I hear all the possibilities of the instrument."
Woodie was inspired by The Allmans' young guitarist Derek Trucks, whom I knew well, having written many stories about him, starting when he was a 12-year-old prodigy. Seeing Trucks perform with Eric Clapton in Shanghai had inspired me to want to play with Woodie, who has now being inspired by his brilliant playing. And the Allman Brothers, who had ignited my love for music, were now inspiring my Chinese bandmates. There was some sort of poetry at work here.
Excerpted from Big In China: My Unlikely Adventures Raising A Family, Playing The Blues and Becoming A Star in China (Harper). Copyright 2011 by Alan Paul.
http://alanpaul.net/wp-content/uploads/2011/05/WA11.jpg
338
240
AlanPaul
http://alanpaul.net/wp-content/uploads/2014/03/alan-imus-300x158.jpg
AlanPaul
2017-07-20 19:55:08
2023-05-24 12:49:40
Introducing my Chinese bandmates to the Allman Brothers Band