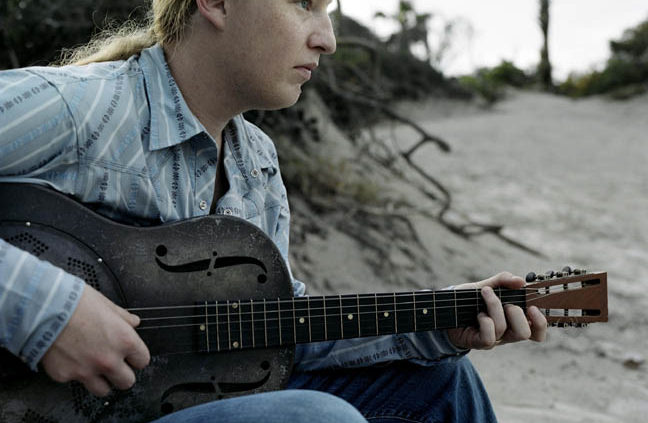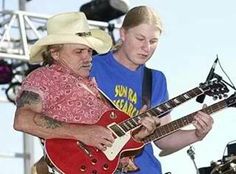 Derek Trucks made his debut with the Allman Brothers band on June 12, 1999 at Red Rocks. He had just turned 20. To honor the anniversary, I present this Guitar World Inquirer, which ran that month. I'm pretty sure it was the first interview with Derek as a member of the Allman Brothers Band, and he was asking me as many questions as I was asking him, which is only partly reflected here. This is a slightly expanded version of what ran. I had already been interviewing Derek for several years.
You are going to celebrate your 20th birthday by joining the Allman Brothers Band for their 30th anniversary tour. You are younger than any of them were when they started.
Really? I was wondering about that. Well, it's an honor to be part of such a great institution. I'm just trying to maintain the spirit of the whole thing while hopefully bringing some fire to it. Hopefully I can hold up my end while also expressing my own voice. I've spent more time practicing since I got this call than ever. I usually listen to music for eight or ten hours a day, and just play for a few, because I'd rather hear the masters play than myself. But I've been spending a lot of time woodshedding, playing along with tapes and being awed by the level of musicianship –and the number of songs I have to learn. Luckily, I grew up hearing the music all the time, because, of course, Butch Trucks is my uncle and my dad played it constantly. My younger brother Duane is nine and he's got the fever, too.
You have played with the band before, though, including two whole shows as a sub. That has to make it easier.
A little bit, but when I filled in for the two shows there wasn't much expected because they called the day before and everyone understood I would be doing my best. Now it's a different ballgame. I'm gonna be expected to know all of it. I need to get on the ball!
Did you know this was coming down the pike?
No. I was kind of surprised. I had heard something about it before – we had discussed it – but I wasn't expecting this call. It's definitely an honor.
For the older songs, are you going back to the originals, or to the recent versions with Jack Pearson and Warren Haynes?
I'm listening to tapes of everything, but I'm going to the source, which is Duane. I don't want to do an interpretation of an interpretation. I love what Warren and Jack did, but I have to put my stamp on it. One of the hallmarks of the band is everybody gets their own voice. They don't dictate what you play, but you have to hit the milestones and that's good –I need some forced discipline. I'm just trying to keep the spirt of the whole thing going while hopefully bringing some fire to it. I'm just making sure I hold up my own end while expressing my own voice. There's no way to do what Duane and everyone else did, and besides that was their thing and you want to let it stay there. You want to take from it without copying it.
Right. You're replacing Jack Pearson, but you're stepping into the Duane role.
Jack is a great player. I've been listening to a lot of tapes with him. He brought a whole different thing into the band, coming from a much more schooled, jazz thing. He and Oteil play great together and have really altered the sound and dynamics. It's going to be exciting being on the road with Oteil, too. I was just talking to the Colenel about that.
Are you scared of standing on stage with Dickey Betts?
Not at all. I'm really looking forward to that. I'm listened to him forever, and it's going to be a trip playing off of him and behind him. I'm hoping to learn a lot, because he is a master, especially writing-wise, which is an area where he excels and I need to work on.
Everybody but Warren Haynes who's ever been in the Allman Brothers has gotten the mushroom tattoo. Are you going to do it?
I'll see if I make it through the summer. If everything goes well, it will probably be part of the deal. Are you sure Warren didn't get it? Nobody told me that.
Are you making any changes in your gear for the bigger stages and larger band?
I'll probably have to step up a little. My Super Reverb is not gonna hang with Dickey's Marshalls. I'm looking for late 60 Marshall head but haven't found anything yet. I'm either going to play my SG or a Washburn which they are making me. I'm just going to see what feels better, especially tone wise. I think the vintage will end up being the choice.
What's the status of your own band?
We are still touring and will keep doing so. The Brothers only play 40 dates a summer, so we should be able to do both and we worked really hard to get the band to the point where it's really gelled, so we we're not going to just drop it. It's going to be tough at first because that's a lot of time off and we stay together week by week, but we're going to find a way to make it work because everyone's out a lot into it and it feels like it's really come together in the last six months. I can do both. Music is sort of all I do.
http://alanpaul.net/wp-content/uploads/2016/10/DerekTrucks.jpg
528
648
AlanPaul
http://alanpaul.net/wp-content/uploads/2014/03/alan-imus-300x158.jpg
AlanPaul
2018-06-12 19:44:20
2023-05-24 12:49:00
Derek Trucks' first interview as a member of the Allman Brothers – 1999