Celebrating Eat A Peach on its anniversary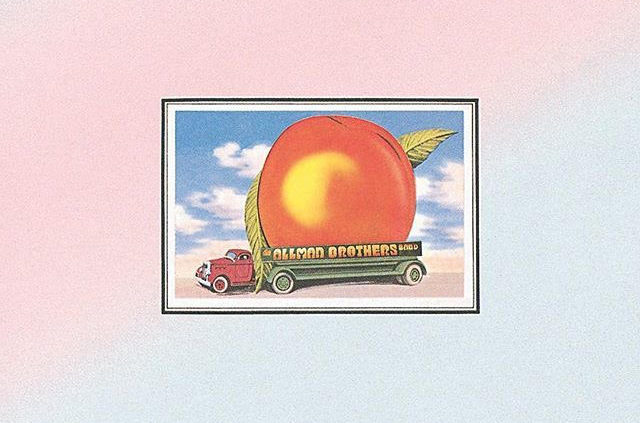 In honor of the 47th anniversary of the release of Eat A Peach – it came out February 12, 1972 – I present the following excerpt from One Way Out: The Inside History of the Allman Brothers Band.
This is a very partial, very abridged version of the story, with materials from Chapters 11 – 13. To read the full story of the making of Eat A Peach, pick up a copy of One Way Out.
*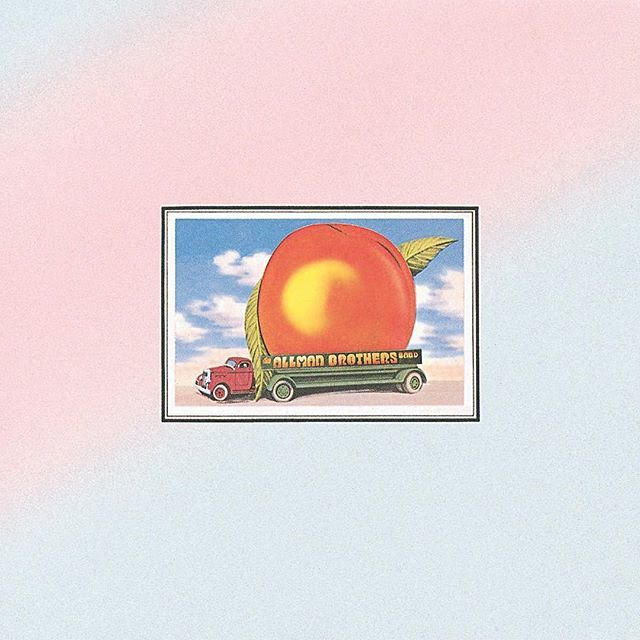 In October, 1971, Allman Brothers Band completed three songs for their third studio album working with Tom Dowd at Miami's Criteria Studios: Dickey Betts' sweet, lilting "Blue Sky," Gregg's "Stand Back," the only song in the band's catalog to feature Jaimoe alone on drums, and "Little Martha," a lovely duet with Betts and Duane – and the only song which Duane was ever credited with writing.
The band took a break and returned to the road for a short run of shows, ending on October 17 at the Painter's Mill Music Fair in Owings Mill, Maryland. They sold 2219 out of 2500 available tickets and made $12,647.
With almost everyone in the band and crew struggling with heroin addictions, four of them flew to Buffalo and checked into the Linwood-Bryant Hospital for a week of rehab: Duane, Oakley, Payne and Red Dog. A receipt shows the band's general bank account purchased five roundtrip tickets on Eastern Airlines from Macon to Buffalo for $369. Gregg was supposed to go as well and a receipt from the hospital shows that he was one of the people for whom a deposit was paid. He apparently changed his mind at the last minute.
Leaving Buffalo, Duane spent one day in New York, then joined the rest of the band in Macon, returning the evening of October 28. The next day was the birthday of Linda Oakley, Berry's wife, and a party was planned at the Big House. Duane visited for a while, then got on his Harley Davidson Sportster, which had been modified with extended forks that made it harder to handle. He had also cut the helmet strap so the protective headgear could not be secured. Dixie Meadows and Candace Oakley trailed him in a car.
Coming up over a hill and dropping down, Allman saw a flatbed lumber truck blocking his way. Duane pushed his bike to the left to swerve around the truck, but realized he was not going to make it and dropped his bike to avoid a collision. He hit the ground hard, the bike landing atop him. Duane was alive and initially seemed okay, but he fell unconscious in the ambulance and had catastrophic head and chest injuries. He died in surgery three hours after the accident. The cause of death was listed as "severe injury of abdomen and head." He was 24 and had been playing slide guitar for less than four years.
Stunned and grieving, the band took a short hiatus before regrouping, gravitating back towards each other and immersion in their work. They committed to fulfilling previously scheduled dates in New York. Their first appearance without their leader was at CW Post College in Long Island on November 22, 1971; it was exactly three weeks after Duane's funeral
BUTCH TRUCKS: We thought about quitting because how could we go on without Duane? But then we realized: how could we stop? We all had this thing in us and Duane put it there. He was the teacher and he gave something to us — his disciples — that we had to play out. We talked about taking six months off but we had to get back together after a few weeks because it was too lonely and depressing. We were all just devastated and the only way to deal with it was to lay.
WILLIE PERKINS: There were intensely mixed feelings at these shows. It was so painfully obvious that Duane wasn't there, which created such an empty feeling. You missed him so damn bad, but you also really wanted to prove that it was going to be okay, that there was still a reason to be out there, that the band could do it. There was a tremendous sense of pulling together.
BUNKY ODOM: I can't imagine what Dickey went through. Here you've got Duane in Dickey's ear all night long and all of a sudden it's not there any more. How do you fill those shoes? It was just horrible.
JAIMOE: I really can't remember anything about any of these shows. We just had to play and everyone played and you really didn't know what you missed more about Duane – being on stage with him or just life in general.
RED DOG: The day after we'd come back from being on tour, living on top of each other for weeks on end, we'd be home and I'd miss Duane and be banging on his door to say hello. Realizing I couldn't bang on that door hurt, man. It was stunning.
Returning to Miami, the band recorded four more outstanding tracks with Dowd, including "Melissa," Betts' instrumental "Les Brers In A Minor" and "Ain't Wastin' Time No More," Gregg's defiant response to his brother's passing.
GREGG ALLMAN: I wrote "Ain't Wastin' Time No More" for my brother right away. It was the only thing I knew how to do right then.
TRUCKS: Of course, the music we recorded was all about Duane. Gregg wrote "Ain't Wastin' Time No More" and that was obviously about how to deal with this tragedy, but I think "Les Brers in A Minor" is about Duane just as much. We did everything we could to try and fill the gap and "Les Brers" was Dickey's response — starting with the title, which is bad French for "less brothers."
DICKEY BETTS: When I wrote "Les Brers" everyone kept saying they had heard it before, but no one could figure out where, including me. But it's in my solo on "Whipping Post" from one night. It was just a lick I was playing in there, and years later it showed up in a bootleg, which was kind of amazing. I mean, none of us knew where it came from until that tape surfaced years later. It just sounded familiar.
TRUCKS: We were all putting more into it, trying so hard to make it as good as it would have been with Duane. We knew our driving force, our soul, the guy that set us all on fire, wasn't there and we had to do something for him. That really gave everybody a lot of motivation. It was incredibly emotional.
BETTS: It was difficult to suddenly have to play slide and I put in some time to get my part down for "Ain't Wasting Time No More." I've always enjoyed playing acoustic slide and would even often play it with Duane; when the two of us played acoustic blues I was often the one with the slide, but I never cared as much for playing electric slide.
The band also recorded "Melissa," a song Gregg had written in 1967 — he says it is his first tune he ever considered a keeper after several hundred — but had never recorded.
ALLMAN: When we were finishing Eat a Peach, we needed some more songs and I knew my brother loved "Melissa." I had never really shown it to the band. I thought it was too soft for the Allman Brothers and was sort of saving it for a solo record I figured I'd eventually do.
The double album Eat A Peach was completed with three live songs: "One Way Out" from the June 27, 1971 final concert at the Fillmore East, and two songs recording during the March At Fillmore East performances: "Trouble No More" – the Muddy Waters track that had been the first song Gregg sang with the band – and the epic, 33-minute "Mountain Jam." The latter, which took up both sides of a vinyl album, had been an evolving staple of their performances almost since the beginning.
TOM DOWD: When we recorded At Fillmore East, we ended up with almost a whole other album worth of good material, and we used [two] tracks on Eat A Peach. Again, there was no overdubbing.
ALLMAN: We always planned on having "Mountain Jam" on this album. That's why you hear the first notes of the song as "Whipping Post" ends on At Fillmore East.
TRUCKS: That "Mountain Jam" is only on there because it's the only version we had on multi-track tape and it was such a signature song of the band with Duane that we simply had to have it on a record. We played it many times so much better, but better a relatively mediocre version than nothing at all.
BETTS: That was probably the worst version of "Mountain Jam" we ever played. When we were recording live, we really were still focused on the crowd rather than the recording.
With recording done, the album had to be mixed. Dowd started the process, but the album had run over and he had other commitments, so Sandlin was called to Miami.
JOHNNY SANDLIN: I think Tom had to work with Crosby Still and Nash. I went down to Miami the last day Tom was still working on it, and sat with him, and he showed me what he was doing and discussed some aspects of recording. As I mixed songs like "Blue Sky," I knew, of course, that I was listening to the last things that Duane ever played and there was just such a mix of beauty and sadness, knowing there's not going to be any more from him.
I was very proud of my work on Eat A Peach but really pissed because I did not receive credit, only a "special thanks." It was the first platinum record I'd ever worked on and it meant a lot to me, so that felt like a slap.
TRUCKS: After we were all done and the album was being finalized, I walked into Phil's office and they showed me the beautiful artwork, with this title on it: The Kind We Grow in Dixie. I said, "The artwork is incredible, but that title sucks!"
DAVID POWELL, artist, partner in Wonder Graphics, which designed the Eat A Peach cover: I saw a couple of old postcards in a drugstore in Athens, GA, which were part of a series called "The Kind We Grow in Dixie"; one had the peach on a truck and one had the watermelon on the rail car. I thought they were perfect for an Allman Brothers album so I pasted them up and bought cans of pink and baby blue Krylon spray paint and created a matted area to make the cards on a 12" x 24" LP cover. I envisioned this as an early-morning-sky feel.
Then I hand-lettered the Allman Brothers name and photographed it with a little Kodak camera and had it developed at the drugstore, then cut the letters out and pasted them on the side of the truck, under the peach. Duane was still alive and the album had not been titled. We figured we'd go back and add that.
TRUCKS: Duane didn't like to give simple answers so when someone asked him about the revolution, he said, "There ain't no revolution. It's all evolution." Then he paused and said, "Every time I go South, I eat a peach for peace." That stuck out to me, so I told Phil, "Call this thing Eat a Peach for Peace," which they shortened to Eat A Peach.
It didn't occur to me until decades later that Duane's comment was a reference to T.S. Eliot's "The Love Song of J. Alfred Prufrock," though I knew Duane was a big fan. I was reading Prufrock and came across the reference to eating a peach and was blown away. The symbolism is obvious. Prufrock was totally anal and didn't want to do anything that would get messy and there's nothing messier than eating a peach. Duane would have loved that metaphor.
POWELL: The cover was kind of a new approach, a soft sell, because it did not say the name of the album – and the name of the band was just in tiny letters. We left that to a sticker on the shrink-wrap. When we showed it to someone at the label, he said, "They are so hot right now, they could sell it in a brown paper bag."
The double album opened up as a gatefold filled with another Wonder Graphics piece of art; an entire universe that seemed to promise some kind of psychedelic paradise. It told a story of happy, mystical brotherhood that was receding ever further into fantasy as the band grappled with the tragedy of Duane's death.
POWELL: That was really a cooperative venture between Jim and I, completed with almost no planning or discussion. We were working on a large piece of illustration board, on a one-to-one scale – it was the size of the actual spread – and we just started drawing, with Jim's work primarily on the left and mine on the right. This work was profoundly influenced by [Hieronymous] Bosch.
The whole thing was done over the course of one day while we were in Vero Beach, Florida. While one of us was drawing or painting, the other was out swimming in the ocean. We swapped off this way with virtually no conversation about the drawing, just fluid tradeoffs.
Excerpted from One Way Out: The Inside History of the Allman Brothers Band (St. Martin's Press). Copyright 2014, Alan Paul. All rights reserved.
http://alanpaul.net/wp-content/uploads/2019/02/unnamed-2.jpg
640
640
AlanPaul
http://alanpaul.net/wp-content/uploads/2014/03/alan-imus-300x158.jpg
AlanPaul
2019-02-12 19:07:32
2023-05-24 12:45:55
Celebrating Eat A Peach on its anniversary