Five years ago today, the Allman Brothers Band played their final show at the Beacon Theatre. You can order a CD of the final show right here. FIVE F'IN YEARS??
I covered the final shows every which way, posting on Facebook, covering immediately for Billboard, with a story I had to get up and write with about two hours sleep, and writing the following story for Guitar World, with a little bit of time to digest and talk to Jaimoe, Warren and Derek.
The paperback edition of One Way Out includes a full chapter on the tumultuous final year. It includes some of this material, and so much more. Click to order. If you want a signed copy, just drop me a line. Enjoy the story. It's still emotional for me to read this!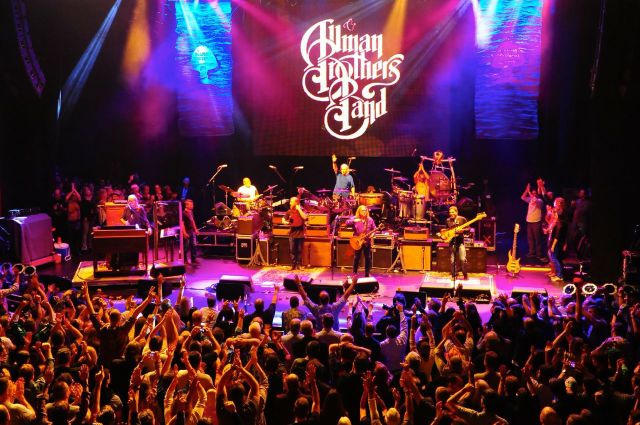 The Allman Brothers Band closed out their 45-year Hall of Fame career with six shows at New York's Beacon Theater, October 21-28. The group's final year was dogged by controversy. Derek Trucks and Warren Haynes announced in January they would no longer tour with the group after this year, but also said it had been a band decision, Gregg Allman and drummer Butch Trucks sent mixed signals about whether the band was really retiring. The group had to postpone four March shows at the Beacon when Gregg was physically unable to perform, and the singer also had to cancel a host of solo dates.
Yet things seemed calm as they entered the run of final shows. On the eve of the run's first show, just before a final rehearsal on the Beacon stage, Gregg Allman stood in the theater's lobby and seemed quite at peace with the band's decision.
"It's been 45 years," he said. "I think that's about enough."
He also said that the group had decided not to have any of the guests who have become a Beacon staple: "There's only six shows left and we're going to go out with just the seven band members."
On opening night, the theater was filled with an air of anticipation and reverence, a step beyond the normal excitement that has always met the band at the Beacon, where they have sold out 238 shows since 1989. They closed the first set with "You Don't Love Me." Before applause could swell, Haynes played a plaintive, almost mournful lick, which revealed itself as the melody of "Will the Circle Be Unbroken." Derek Trucks responded with a sacred slide wail, Gregg's churchy organ fell in with them, and the whole band swooped in for a breathtaking instrumental version of the traditional American song of mourning, which always played a special role in the Allman Brothers and which the group played at Duane Allman's funeral.
The next night, the guitarists again started an instrumental "Circle," this time offering up a more jagged, aggressive reading in the jammed out coda of "Black Hearted Woman."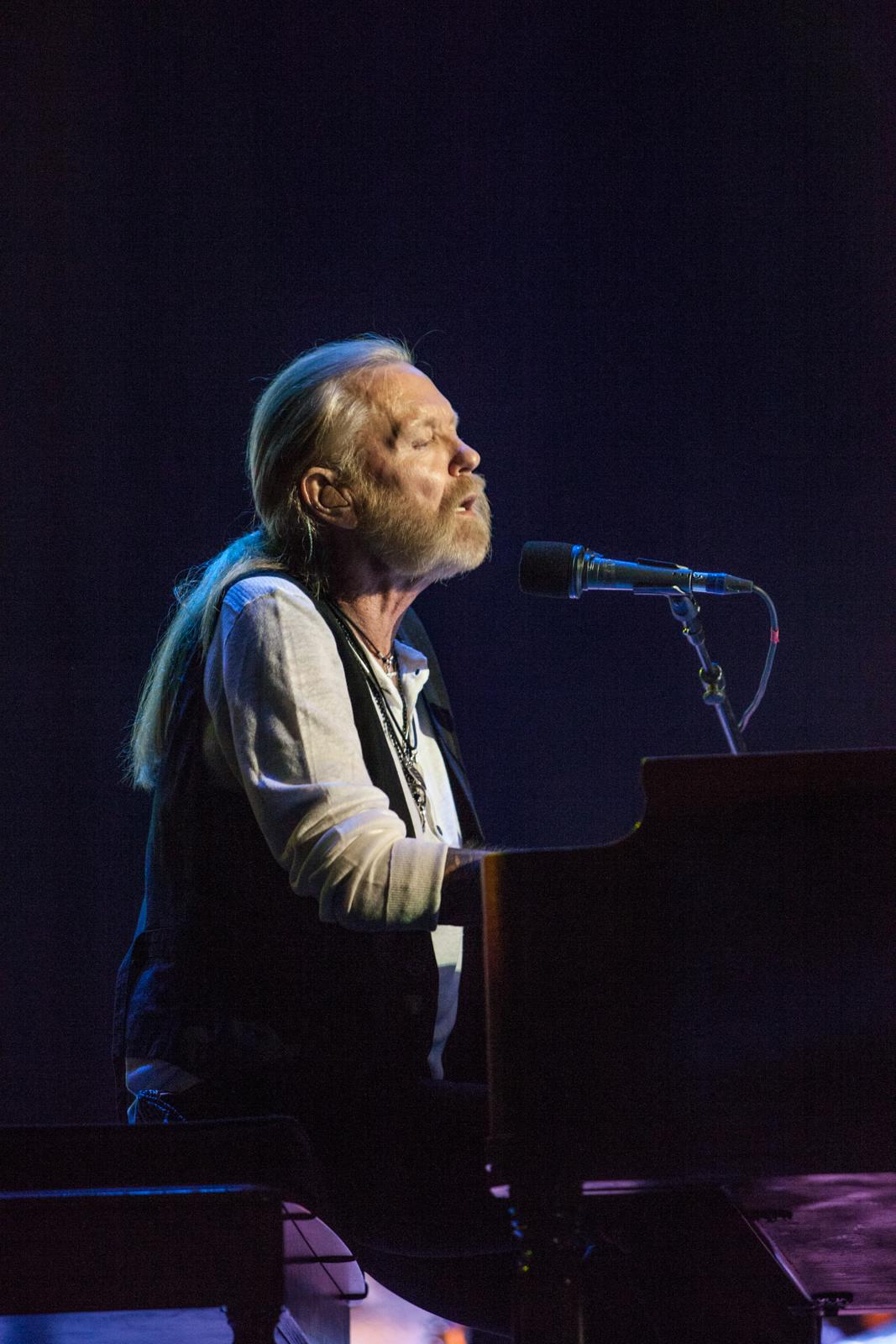 Before the third show, on Friday October 24, Duane's two Gibson Les Pauls, a cherrytop and darkburst, arrived from the Rock and Roll of Fame. (See this story for full details.) They joined the 1957 Les Paul which Derek had been intermittently playing since the first show, marking the first time Duane's three primary guitars were all together, and their presence seemed to animate the band, who played their best show since the 40th anniversary performance of March 26, 2009. The surge of energy was testament to the remarkable power Duane exerted on the Allman Brothers Band until the very end. Trucks and Haynes' playing took on more urgency. The two moved closer together, leaning in to better hear and respond to each note. The drummers hit with more force. Gregg Allman was fully, absolutely present, and singing with extra power and precise phrasing.
"Those guitars were inspiring to play," says Haynes. "They are not in the greatest shape after not being played for so long, but the sound is unreal. The tone they generate is so remarkable and distinctive; it is the sound of Duane."
During Friday's show-ending "Whipping Post" encore, the band stopped on a dime and went into "Will the Circle Be Unbroken" again, but this time Gregg sang it, a mournful, haunting lament that led right back into the finale of "Whipping Post." The band was flying at a very high altitude.
The Allman Brothers mostly maintained this level for two more nights, with instrumental versions of "Will the Circle Be Unbroken" inserted into "Jessica" and "Les Brers in A Minor," respectively. That left one final show, on Tuesday, October 28th. Grandiose rumors circulated: They would play four sets. They would play until sunrise, just like at the Fillmore East. They would play an hour-long "Mountain Jam." All the hyperbole turned out to be just a slight exaggeration.
From the first notes, it was clear this was going to be a special night. The reverential, ecstatic crowd was hanging on every note, each of which was played with intent and focus. It suddenly seemed likely that the band could actually pull off Derek Trucks' desire to go out on top of their game.
The band kicked off with a brief reading of the instrumental "Little Martha," transitioning into a "Mountain Jam" that was little more than a tease, then launching into the first songs from their first album, "Don't Want You No More" and "Not My Cross to Bear."
Butch Trucks summoned the old freight train power that drove the band to their greatest heights. Jaimoe complemented his partner's fury with swinging accents and added power. Percussionist Marc Quinones heaped coal into the furnace. Gregg Allman sang as well as he has in years, while his organ seasoned every song. The frontline of Haynes, Trucks and Oteil Burbridge pushed one another higher in an endless conversation of push-pull rhythms and interwoven parts.
"I had a good feeling from the very first night," says Derek Trucks. "But It wasn't really until the show started on the last night that everything seemed to fall into place and we all knew this had the potential to really become something special."
The show largely leaned on Duane-era material, plus three songs recorded after Duane's death but closely associated with him: "Melissa," and "Will The Circle Be Unbroken," which were both played at his funeral, and "Ain't Wastin' Time No More," which Gregg wrote in response to his brother's death. A Haynes-sung "Blue Sky" paid unspoken tribute to founding guitarist Dickey Betts, who has not performed with the band since 2000. The only late-era song in the playlist, interestingly, was "The High Cost of Low Living."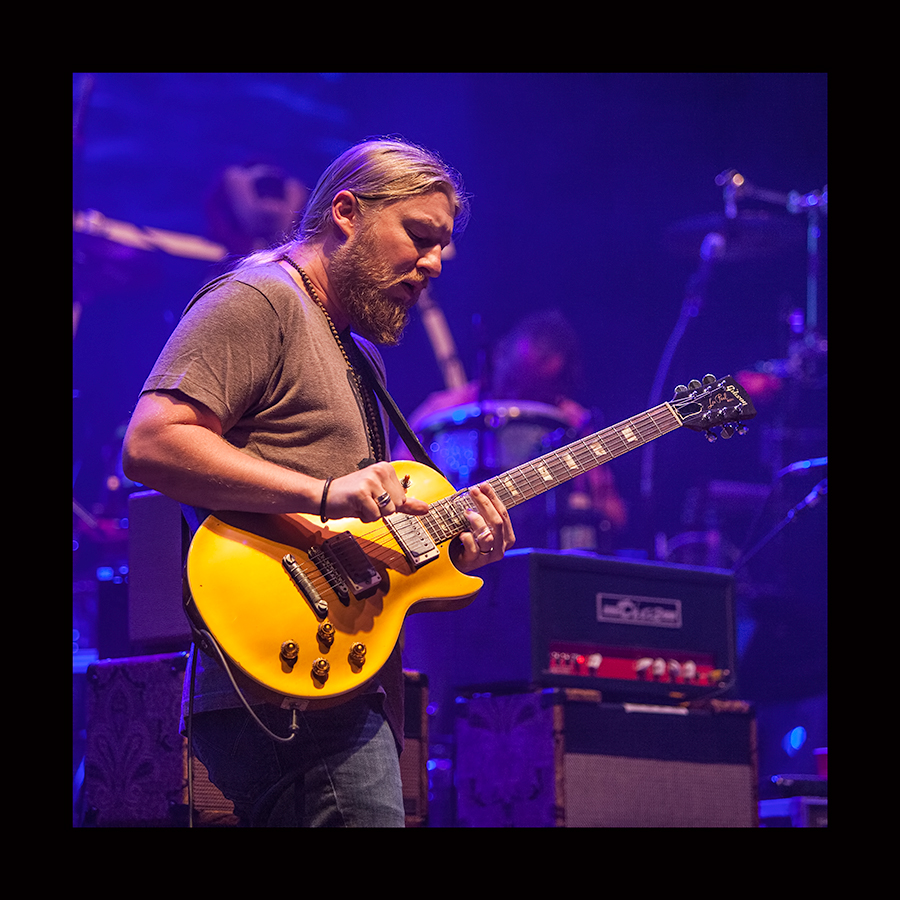 When the show ticked past midnight, the Allman Brothers were wrapping up their career on October 29, the 43rd anniversary of Duane's death. They played an extended version of "Will the Circle Be Unbroken" wrapped in the middle of a massive "Mountain Jam."
After an encore of a high energy "Whipping Post" the band walked to center stage as the Beacon shook with applause. It was startling to see the seven members together, arm in arm, waving and bowing, because the Allman Brothers have never been a group bow type of band. Gregg has gone whole Beacon runs without saying much more than "Thank y'all," but he took the mic and offered some eloquent words of thanks and reflection. Then he said that they would close out with the first song they ever played together. Every hardcore in the audience and there weren't many people there who didn't meet that description- knew what was coming next: the band's reinterpretation of Muddy Waters' "Trouble No More."
The whole audience sang along, leaning forward so much that it felt like the theater might tip over backwards. When the song ended, no one on stage seemed to know what to do, lingering by their instruments. Butch and Jaimoe thrust their arms in the air in triumph. Gregg stood and waved. Haynes and Burbridge embraced. Quinones walked to the front and handed drumsticks to the crowd.
The crowd remained in their seats as a slide show of the band's history, heavy on Duane and Berry Oakley, rolled on screen to the recorded strains of the lilting instrumental "Little Martha." It was Duane's only composition, the notes of which decorate his gravestone. It was also the tune that began this night four and a half hours earlier. The circle was complete, unbroken.
"I think the one thing everyone who was in that room could agree on is the night happened exactly as it should have," says Derek Trucks. "There was something really honest and pure and it was a bonafied moment, which don't happen too often on Planet Earth."
Jaimoe paid the shows the highest Allman Brothers compliment, saying the spirit, energy, musicianship and tireless flow reminded him of the original band, that elusive gold standard every other iteration has been chasing like a ghost since 1971.
"Those dates were a lot like the original six," he said. "We could have kept playing more nights."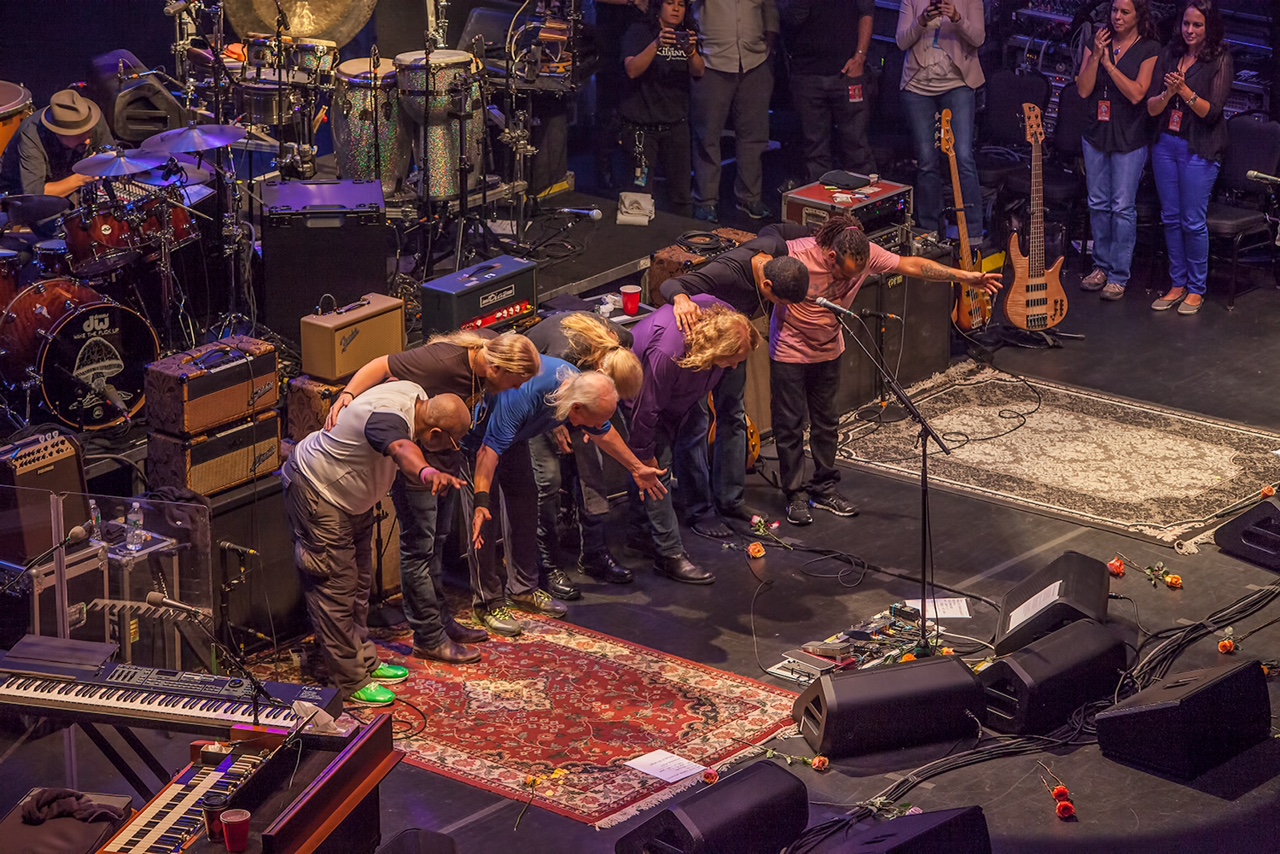 http://alanpaul.net/wp-content/uploads/2014/01/Kirk-West-the-final-moment.jpg
425
640
AlanPaul
http://alanpaul.net/wp-content/uploads/2014/03/alan-imus-300x158.jpg
AlanPaul
2019-10-29 13:24:24
2019-11-05 23:18:11
The Allman Brothers Band's final show - 5 years ago last night!