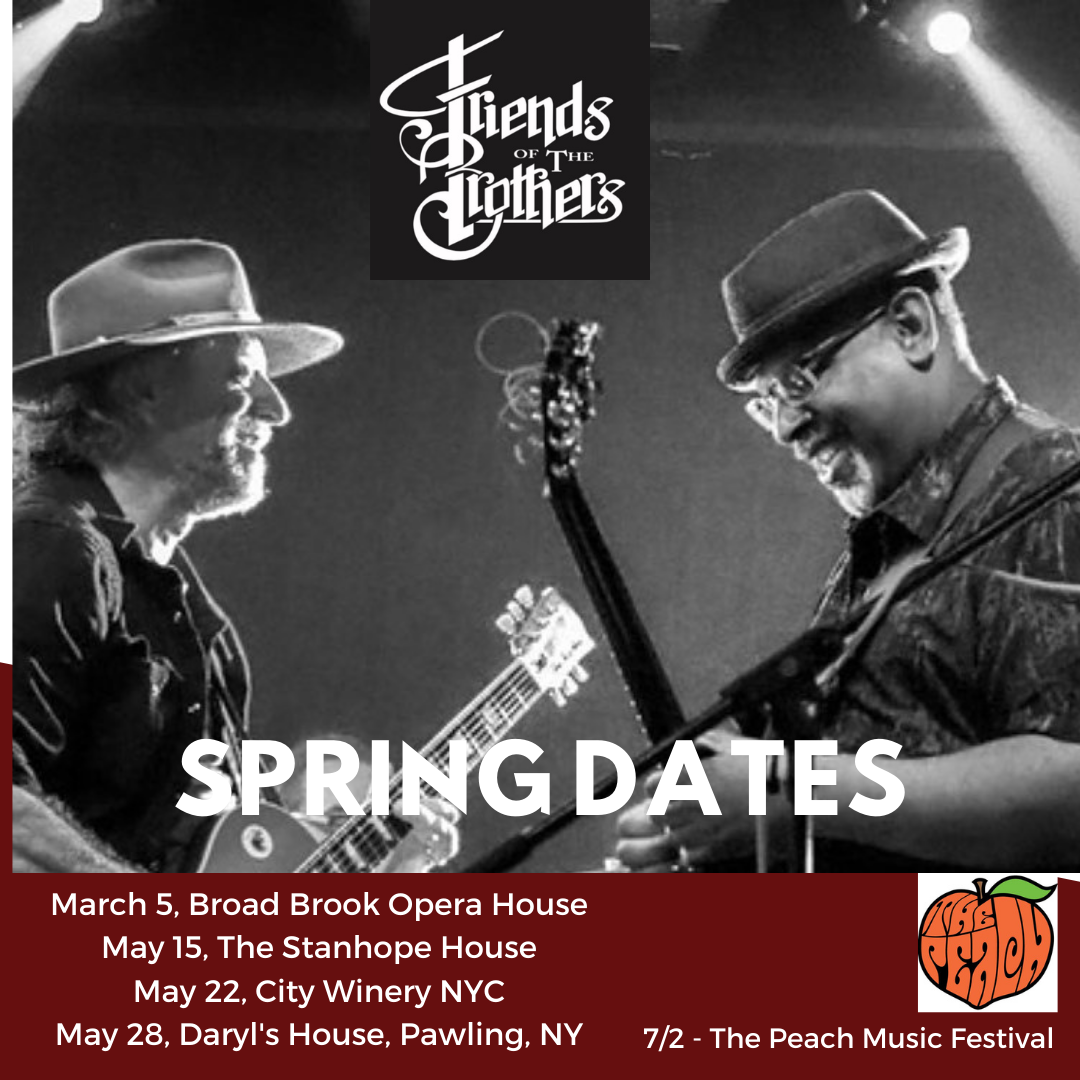 "Though they honor the music, Friends of the Brothers never feel like a 'tribute band.' They play the songs as if they'd written them. "
– David Browne, Rolling Stone
After taking a few months off to let things settle down, Friends Of The Brothers are coming back with a vengeance this spring.
We are now working with the Mint Talent Group, one of the premier booking agencies in the country and will be spreading our wings.
To start, we have shows just announced all around the greater New York area, from northern Connecticut to Western NJ. All dates and ticket links are below. Hope to see you at one of these shows!
March 5, Broad Brook Opera House, Broad Brook, CT
Tickets >> https://bit.ly/3H2vH46
May 14, The Stanhope House, Stanhope NJ
Tickets >> https://bit.ly/3gNImxp
May 20 The Loft at City Winery NYC
Tickets>> https://bit.ly/3H23ivh
This is a small room which we have sold out twice, so…
May 28 Daryl's House Club, Pawling, NY
Tickets >> https://tinyurl.com/mrx66ujr
July 2 The Peach Music Festival
WE ARE VERY EXCITED ABOUT THIS ONE!
MANY MORE TO COME!
"Friends of the Brothers isn't a tribute band. They're a continuation of the Brotherhood."
-Kirk West, Allman Brothers "Tour Mystic" and historian
The Friends of the Brothers is a celebration of the music of the Allman Brothers Band, with members closely associated with the original band and continuing the brotherhood with passion, committed to the ideals of every night being special and unique. Guitarist/singer Junior Mack has fronted Jaimoe's Jasssz Band for 12 years. Guitarist Andy Aledort played with Dickey Betts for 12 years. Singer/guitarist Alan Paul is the author of One Way Out, the definitive, best-selling Allman Brothers band biography based on 25 years of reporting on and interviewing the band.
They are often joined by singer Lamar Williams Jr., who is the son of the late Allman Brothers bassist and was featured in Les Brers, featuring ABB members Butch Trucks, Jaimoe, Oteil Burbridge and Jack Pearson. Founding keyboardist Peter Levin toured the world with Gregg Allman for 3 years and appears on his final album, Southern Blood. Mack, Aledort, Levin and Williams all performed with the Allman Brothers Band.
"This band is based around our shared love of the Allman Brothers Band and our friendships with one another," says Paul. "It's not just a gig. The music is holy to us, but it's also alive. We honor our friends and mentors' legacies by investing this great music with life, heart and passion. It's not about copying solos, which would be completely against the spirit the Allman Brothers had from the day Duane Allman started forming the band in 1968."
The group members' first-hand experience with the Allman Brothers Band and their deep knowledge of the repertoire and the music's roots and heritage allows them to play with an unrivaled depth. They perform songs from every stage of the Allman Brothers Band's career, backed by a band of inspirational, veteran players, drummers Dave Diamond (Zen Tricksters, Bob Weir, Robert Randolph) and Lee Finkelstein (Tower of Power, Blues Brothers) and bassist Craig Privett (Half Step). With Levin touring with Amanda Shires, the Blind Boys of Alabama and number-one country stars The Highwomen, Eric Finland (Jaimoe's Jasssz Band, Eric Krasno) ably steps in on keys for most gigs.
Other Friends have included keyboardists Jason Crosby (Phil Lesh, Susan Tedeschi) and Ike Stubblefield (Col, Bruce Hampton, George Benson, B.B. King), drummers Jeff Sipe (Col. Bruce Hampton, Susan Tedeschi, Warren Haynes), Eric Kalb (Eric Krasno, John Scofield, Scott Sharrard) and Van Romaine (Steve Morse, the Dixie Dregs), saxophonist Ron Holloway (Gov't Mule, Allman Brothers), bassists Brett Bass (Gregg Allman) and Berry Duane Oakley (Allman Betts Band), and guitarists Tash Neal (London Souls, Amy Helm) and Brandon "Taz" Niederauer.