An incomplete but thoroughly excellent Woodie Alan reunion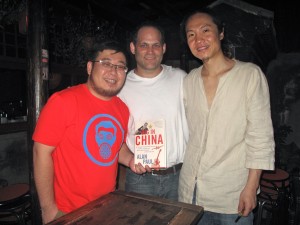 I have felt more homesick than usual on this trip to China – mostly I think because it came so hard on the heels of Jacob's bar mitzvah and it was difficult o leave the family so far behind after such an intense and enriching experience together.
But it has been great to reconnect with people and it has been really wonderful to play with my bandmates again.
After a few unrehearsed but solid songs at my Bookworm reading on Weds. Night, we had a lengthier but still abbreviated performance at the orchard on Thursday, with Zhang Yong playing only guitar – no bass. Afterwards, my friend Matt Carberry complimented me on how we sounded and said, "When I saw you up there, I realized this is why you came here. It was like watching a thirsty flower be watered."
He had a point, and it all came together in spades Friday night at Jianghu Jiuba, our favorite little hutong bar, which has always felt a bit like out clubhouse.
Zhang Yong played both guitar and bass and the club owner Tianxiao, a sax player and frequent jamming partner played with us most of the night. The three of us have not played together in almost 18 months, the last time I saw Lu Wei. Last summer, ZY and I did an acoustic gig together. And we remembered the songs and filled in the shades with one another just beautifully. So nice to know this is still there and can be picked up and that we all enjoy each other's company, musical and otherwise, so much.
At first, it was strange to be up there without brother Woodie and brother Dave. I had a couple of moments where I think I was actually crying on stage in the middle of songs, a first for me.  But, while I had some melancholy moments, they were mostly tears of joy. It felt great.
And we got better as the night went on. There was a packed crowd, with quite a few friends, some readers of my book and others who had seen it online and an enthusiastic young Chinese cheering section who came from… I don't know. They were a bit more white collar and business-like than the usual group of rascals we had there. I meant to make some inquiries, but never did. They were tuned into every note – and facing the stage with a an eager anticipation that said, "we are here for a show." The place often has more of a hanging-out-to-party vibe.
We did some book and CD giveaways and sold some as well, and it was just a superb night.
When it was finally time to pull out, at about 1:30 am, Lu Wei hugged me good bye and said in my ear, "I Miss you so much." Probably the most English I have ever heard him say and hard not to think he had practiced the line. As you all knows the feeling is mutual.
http://alanpaul.net/wp-content/uploads/2014/03/alan-imus-300x158.jpg
0
0
AlanPaul
http://alanpaul.net/wp-content/uploads/2014/03/alan-imus-300x158.jpg
AlanPaul
2011-06-18 03:51:38
2011-06-19 04:47:59
An incomplete but thoroughly excellent Woodie Alan reunion