From the archives: Buddy Guy
Gregg Allman on Big in China: "What a romp. After writing about music for years, Alan Paul walked the walk, preaching the blues in China. Anyone who doubts that music is bigger than words need to read this great tale."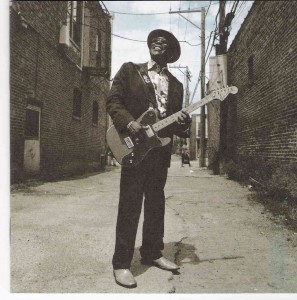 Buddy Guy is the first musician I ever interviewed – for the Michigan Daily in 1985 or 86, when he was coming to Rick's Cafe in Ann Arbor. I loved talking to him and that show blew my mind and turned from me a blues fan into a blues freak. I chatted with him quite a few times over the years, and did this feature for Guitar World in 2001.
Buddy Guy didn't exactly jump for joy when someone at his record label suggested he record a raw album.
"I went, 'What the fuck is raw?,'" Guy recalls, with unusual candor. "But I was denied a record contract for 15 years so I'm not going to be too picky about what I do. I don't have the juice to say no too many times."
So the Chicago bluesman packed his bags and headed South to Oxford, Mississippi. Producer Dennis Herring (Counting Crows) was waiting with a hand-picked band of bassist Davey Farragher (Cracker, John Hiatt), guitarist Jimbo Malthus (the Squirrel Nut Zippers) and a rotating cast of veteran drummers, including Pete Thomas (Elvis Costello, Los Lobos) and Mississippi bluesmen Spam and Sam Carr. The quartet set up in one big room and played live for five or six hours a day for 10 days straight, seeking to capture the excitement of Guy's live performances, which have made true believers out of Eric Clapton, Jimi Hendrix and countless others over the last 40 years.
"I've always been a huge Buddy Guy fan, though I thought in recent years his records had gotten very 'studio-like,'" says Herring. "I wanted him to record in an older, more real setting that would capture the energy and intensity he still has."
As part of that process, Herring introduced Guy to the droning, modal Mississippi hill country blues played by the likes of Junior Kimbrough, T Model Ford and R.L. Burnside, tunes which ended up dominating Sweet Tea'. From the sparse solo acoustic "Done Got Old" to the overdriven basslines and distorted guitar solos of "Stay All Night," the album is a compendium of raw, spooky, dark sounds. With no special guests and little studio ornamentation, the focus on Sweet Tea is solely on Guy's intensity and the tense dynamics that infuse both his singing and playing. The result is the guitarist's best album since his '91 breakthrough Damn Right, I've Got the Blues and probably his most stripped down since the landmark A Man and the Blues, a masterpiece of controlled frenzy recorded way back in '67.
GW: Did you enjoy making this record the old fashioned way?
GUY: Yes, I did, because I thought this old way of doing things couldn't even be found any more. But I won't lie to you: when I first got down there and looked around, I said, "What the hell is this?" Dennis don't have all the high tech gadgets like everyone else does. He has all these great old amplifiers like you can't find no more and this old board, so he can get the good, old sounds. And that gave me a lift. He plugged me into some amps that sounded so good I said, "I've been looking for this sound since 1957, when I could just plug a new Strat into a new Bassman and have all the sound I need." That was perfect. That you can't find that no more is an example of tech gone crazy. Why did they keep changing guitars and amplifiers when they were perfect? They did the same things with cars, if you ask me. They forgot how to make them right, because they focused on style and bells and whistles. So going back to plugging in to the real stuff and just playing was a lot of fun.
GW: You recorded songs by Mississippi guys like Junior Kimbrough and T Model Ford. Were you familiar with their stuff?
GUY: No. Everyone thinks because you're from the South, you know everyone down there, but it's not like that. I never knew nothing about no Mississippi. I was from Louisiana and then I moved to Chicago. Everyone there was always referred to as being from the Delta, but it just wasn't so and there's a lot of differences. For instance, in Texas, you had Lightnin' Hopkins and in Louisiana you had Lightnin' Slim and in Mississippi, you had Muddy and Wolf and everyone who came to Chicago as well as guys like Fred McDowell and John Hurt, who stayed down there. I didn't really know those guys, except meeting them a few times on festivals.
Anyhow, they played me some of this music by the Junior guy and some others and it was different. I took tapes back to the house I was staying in and listened to them early in the day, before we recorded. It's in my bones to get up every morning at 4:30 or 5 because I'm a country boy, raised on a farm, so I would just listen to this stuff and try to find my spot. I can play with any kind of music because I play by ear and after a few days I started feeling it and getting into it. In a way, it reminded me of when I recorded with Muddy and Sonny Boy and everyone at Chess. They would call me up and I'd go to the studio, sometimes right out of bed, and just play without ever even having heard the song. The difference was, then I couldn't believe I was playing with these legends and now the guys in the band treated me like that. I kept telling them that I was more nervous than they were.
GW: The music has very limited chord changes. Is that challenging or easy to solo over?
GUY: It doesn't matter, because I'm self taught and used to playing music how I feel it. That's the one way old blues guys from anywhere are the same. [laughs] For instance, a lot of people say they can't play with John Lee Hooker because there's no pattern, but I have no problem playing with John. You can hear in his voice when he's getting ready to make a change because he plays it the way he sings it and sings it the way he plays it. You get a groove and play off that and change when you damn well feel like it. People think blues is all about 12-bar patterns, but it's not like that and never was.
GW: The first time I interviewed you 15 years ago, you had no record deal, you had lost your club and you really felt like you were on the outside looking in. Now you have a major label deal, you play much bigger places and you even own the biggest blues club in Chicago. That must be satisfying.
GUY: I feel much better now than I did then, but no one is never satisfied and I'm no different. Besides, my music hasn't reached the point where all the music based on it and based on and what the people I love's music has reached, so I don't see how I could be satisfied. You take a Buddy Guy or Muddy Waters record and it might be good but to be a hit, you have to give it to Bonnie Raitt or Eric Clapton or Mick Jagger and that don't seem right. It worries me that they're not going to play your record if you're black and play the blues. To this day, I wonder what it's going to take to change that. And so many guys are gone. B.B. and me are like the last Mohicans out here doing it every night.
But I wasn't to make it clear that I don't hold it against the other musicians. I wouldn't even be here today if it weren't for people like Eric and the Rolling Stones telling the world about us. I'm blessed to have people like them as friends. I got signed to this record deal after Eric put me on stage with him two nights in a row at the Royal Albert Hall in London. And it's always been like that. When the Rolling Stones came here way back when they couldn't believe that no one in America knew who Muddy Waters was. They loved him so much that they named themselves after one of his songs, but here in his homeland no one wanted to hear about no black man playing blues. Even Jimi Hendrix had to go London to get a damn record deal, same as me.

http://alanpaul.net/wp-content/uploads/2014/03/alan-imus-300x158.jpg
0
0
AlanPaul
http://alanpaul.net/wp-content/uploads/2014/03/alan-imus-300x158.jpg
AlanPaul
2011-07-11 14:51:29
2013-09-18 13:45:38
From the archives: Buddy Guy