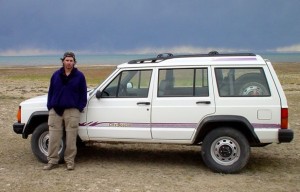 Congratulations to Peter Hessler, who has written three great books about contemporary China, for receiving a MacArthur "genius grant." It is really well deserved. He and his wife Leslie Chang, who also wrote a fabulous book about China – Factory Girls – will doubtlessly use the funds wisely and as a springboard for some terrific work. I look forward to seeing what they come up with.
The full list of MacArthur recipients is here and I'm proud to say that int includes three University of Michigan professors and one very cool Maplewood resident – silversmith Ubaldo Vitali. There is a great photo slide show of him working on WSJ.com.
I'm proud to have some tenuous connections to this crew and think it's terrific that these grants exist to offer encouragement for great minds to keep pursuing their passions.
"Alan Paul plunges into Chinese life and takes us along for the ride, through vegetable markets, used-car lots, Taoist temples, divey bars, and a beachside music festival before thousands of cheering fans. He conveys the thrills and challenges of living abroad, the confusions and regrets, and most of all the opportunity to become the person we always hoped to be."
-Peter Hessler, author, River Town; Country Driving, on Big in China
http://alanpaul.net/wp-content/uploads/2014/03/alan-imus-300x158.jpg
0
0
AlanPaul
http://alanpaul.net/wp-content/uploads/2014/03/alan-imus-300x158.jpg
AlanPaul
2011-09-20 14:21:40
2011-09-22 13:23:15
Peter Hessler receives a MacArthur genius grant. Bravo.