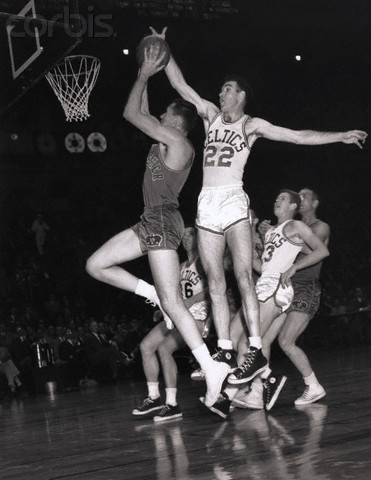 RIP Ed Macauley,  1928-2011.
To mark the passing of this seven-time NBA All Star and Hall of Famer, I present this Slam Old School Interview, which ran in 2006.
**
Easy Ed Macauley was at the center of one of the most important trades in basketball history; he was the key man sent from Boston to the St. Louis Hawks for Bill Russell.
Russell and Red Auerbach's Celtics now seem fated for one another, forever linked by their 11 championships in 13 seasons, but Big Bill may never have landed in Boston had Macauley just said no.
Celtics owner Walter Brown actually asked the 6-8, 190-pound center, who was an All Star in each of his six seasons in Boston and the MVP of the first ASG, for permission to ship him to St. Louis. Ed was happy to return to his hometown so Hawks GM Marty Blake agreed to take Russell with the second pick in the 56 Draft and ship him to Boston in exchange for Macauley and Cliff Hagan, the Kentucky star returning from a two-year military stint.
Before you proclaim this the steal of the century, know that Hagan and Macaulay are both in the Hall of Fame and that they paired with another HOFer, power forward Bob Pettit to lead the Hawks to their only title when they beat the Celtics in '58. A year prior, the teams met in a classic seven-game Finals with the opposite results.
Macauley was at the center of pro hoops' fledgling years, when the NBA was a million miles removed from today's highly professional league. Coaches punched owners before Finals games, All Star game MVPs were named two years after the fact and player-coaches were common. And Macauley was in the middle of it all, coaching the Hawks for two years after his playing days were over, and then serving as their GM. He and Cousy were the first Celtics to have their numbers retired – Macauley's 22 and Cooz' s 14 going into the rafters together on a fall night in '63.
Macauley, who was inducted into the Hall of Fame at age 32, is retired and lives in St. Louis with his wife of 46 years, close by his seven children and 17 grandchildren. He is working with writer Greg Marecek on a book about the Hawks' St. Louis years and is also the co-author of Homilies Alive, a religious book.
SLAM: Walter Brown asked your permission before trading you to St. Louis. Why did you consent?
ED: Our son Patrick contracted spinal meningitis and was very sick. We didn't know what was going on and returning to the place my wife and I were born and raised and had our families worked perfectly. I told Walter he would be doing me a favor. Were the trade to anywhere else, I would have said no thanks. And, Red might well have gotten Russell anyhow. He was a tough commodity. Rochester took Sihugo Green with the first pick, because the word was Russell was asking for the insane sum of $50,000 and he wasn't coming out until midseason because he was playing in the Olympics. Also, we weren't too well adjusted to the race situation here in St, Louis, which probably made [Hawks owner] Ben Kerner pause.
SLAM: St. Louis had a bad reputation among black players. Was the hostility obvious?
ED: Oh yeah. We all knew it. But I really believe that if Russ had come here, people would have come around a lot faster. He and Pettit would have been an unstoppable duo and fans would get over their prejudice watching Russell block 10 shots a game. You can't boo Jackie Robinson once you see him steal home for your team and Russell was no different.
SLAM: Your first season in St. Louis you guys ended up playing the Celtics in the Finals, in one of the great Series of all time. You lost in 7 games, but what an end to a 34-38 season in which you went through three coaches – starting with Red Holzman, a future Hall of Famer and two-time champ as coach of the Knicks.
ED: Red was a good coach but we were not doing well and Ben Kerner was his own worst enemy, always changing coaches. Teams are better off with some consistency but he didn't understand that because he was a great promoter who did not know much about sports. He fired Red and appointed Doogie Martin. [Slater "Doogie" Martin was the team's pg.] Doogie was a great guy and basketball player but he didn't want to be a coach and he managed to get Kerner to appoint Alex Hannum after about 8 games. [Hannum was a bench player.]
Alex was perfect. He was not a very good basketball player, but he was a tough guy who nobody argued with. He was a natural as coach, and one of the first things he ever did was bench a future Hall of Famer named Ed Macauley and insert Cliff Hagan in the frontcourt. Cliff was miscast as a guard and he thrived at his natural position and I thrived off the bench.
SLAM: Red Auerbach decked Kerner before Game 3 of the Finals. Were you any of you shocked?
SLAM: Not at all. Red had coached for Kerner in Tri-Cities and they were both people that you sometimes didn't get along with so it didn't surprise anyone that they would have fisticuffs. During warm-ups, Bill Sharman told Red that the height of the hoop didn't seem right, and Red started complaining to the officials. Kerner came out of the stands, the two started mouthing to each other and Red punched him in the jaw. We kind of laughed about it; Kerner went back to his seat and the game started.
SLAM: You, Cousy and Sharman teamed to make the '56 Celtics the first team to average more than 100 points per game. Was that fun?
ED: It was fantastic. Playing with Cousy was the best thing that ever happened to me. I was a 6-8,190 -pound center playing against 240-pound pivot men every night. I ran constantly and Cousy always found you perfectly if you got downcourt.
We gave up something against the bigger guys, but I did okay defensively by fronting them, which they were not used to. I actually had a great record against the great George Mikan, who was 6-10, 240, including my best night in the NBA, when I scored 46 in Boston Garden. And I had a real good game against him in the first All Star Game, scoring 20.
SLAM: You were MVP of that game, though not named as such for two years. Can you explain that?
ED: They didn't even know if they were going to have that game because they were afraid it might draw 3,000 people and be an embarrassment. Only Walter Brown wanted the game and he was proven right when they drew about 10,00, the East won, Cousy and I had good games and the future of the All Star games as cemented. We didn't practice together or even have lunch. We just met in the locker room, shook hands and said, "Let's go win." A few years later when they started naming MVPs, they realized they hadn't done so for that first game so they went back and named me.
SLAM: Did you guys ever consider Cousy a showboat?
ED: Oh no. Everything he did was designed to be effective and he had such great control. Everyone who played with him treasured it, especially if you liked to run. Once Russell arrived, the chemistry was simply perfect and watching them work together was sensational and thrilling. They put on quite a show. Russell would block a shot out to Cooz, who was already on his way downcourt, with Heinsohn on one side and Russell trailing, and Cooz hitting someone with a behind-the-back pass. They made the NBA game fun to watch.
SLAM: What most stands out about the night Bob Pettit scored 50 in game 7 of the 58 finals to beat the Celtics?
ED: All I remember is telling my teammates, "I'll break your arm if you shoot. You give the ball to Bobby." He was unstoppable and it was one of the unsung phenomenal games anyone has played — 50 points in the game-deciding game against Russell and the Celtics? It was impossible, couldn't be done, but he did it.
Bob was a very difficult cover because he could move enough to beat anyone one on one and he was very strong, because he was one of the first men who started weight training, which we were all told would make us muscle bound and unable to shoot. Once he developed the strength to go with his toughness and skills, he was impossible to guard because you could not knock him off his shot or away from the rebound.
SLAM: You retired 14 games into 59 season and became the coach. What happened there?
ED: Kerner had fired Alex Hannum after he won the championship because they couldn't come to terms. He should have paid him and kept him for 10 years but instead he fired the second future Hall of Fame coach in two years and made
Andy Phillip coach – and that lasted all of 10 games! He called me to his office and said he wanted me be the coach, which I had never considered. He said, "You're almost finished. You can go home right now or you can be my coach."
So I coached for two years and won two Division titles. The second year (59-60) we lost to Minneapolis at home in the fifth game then won games six and seven to make the Finals, where we took the Celtics to the limit, losing in seven. After that, Kerner said, "I've got a problem. After we lost Game 5 to Minny, I hired Paul Seymour as coach, but I still  aant you." You could not believe this man!
I thought, I don't mind being fired but not at halftime and Kerner would do that so I told him to keep Seymour and fulfilled my contract as general manager. When that was up, I wanted to stay in St. Louis rather than follow basketball jobs, so I got into other businesses, including TV production.
http://alanpaul.net/wp-content/uploads/2014/03/alan-imus-300x158.jpg
0
0
AlanPaul
http://alanpaul.net/wp-content/uploads/2014/03/alan-imus-300x158.jpg
AlanPaul
2011-11-16 21:36:51
2011-11-16 21:46:03
RIP: Easy Ed Macauley. An interview with the NBA great.