Unrest and beauty in Sichuan, China's Wild West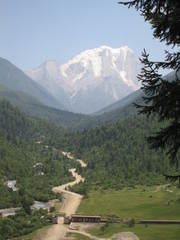 I have a real soft space in my heart for Western China. It's a beautiful place filled with fascinating people – many of them Tibetan. Though outside the border of Tibet,  much of northern Yunnan and western Sichuan are on the Tibetan plateau and populated by many Tibetans. (Parts of other provinces are also on the plateau, including Qinghai and Gansu, but I have not visited them.)
So I have been closely following unrest in western Sichuan, where more than a couple of Tibetans have set themselves on fire in protest of Chinese rule and policies. It is very hard to really know what's going on there, because foreign journalists are not exactly being invited up to explore for themselves.  Journalist Tom Lasseter captures the confusing but certainly sad situation quite well in this post on his China Rises blog.
Seda County, which he writes about in that post, is quite close to the beautiful mountainous regions of Western Sichuan where we traveled with Becky's parents, sister and Aunt Judy 9 (as well as our own still-quite-little kids, of course). It was a remarkable, fascinating, grueling and ultimately terrifying trip, which culminated in a 9 or 10-hour, death-defying trip up and over a high and steep mountain pass under construction
I wrote about it in this The Expat Life column, which I think is one of my best. One of the few regrets I have about Big in China was that I did not include more about this wild and wooly adventure. I am going to write up a more extensive post, a sort of chapter-that-never-was-but-should-have-been. In the meantime, some photos and highlights from that column follow… At the bottom is a video I made. it was an early effort and is a little rough.
For four days, we rode our 28-seat coach through grand vistas, past monasteries, roaring rivers and soaring mountains up to 24,790 feet (!) high. We visited ancient watchtowers and Tibetan villages populated by rakish, cowboy-hat-wearing men zipping around on motorcycles. We were welcomed into homes and fed impossibly rich yak-butter tea and raw barley cookies. But we rarely had time to linger in any of these places and some of the roads were just rock-strewn dirt tracks. One eight-hour drive was so bad that it cured Rebecca's Aunt Judy of motion sickness, apparently pushing her so far she broke on through to the other side. That afternoon, I apologized for the long drives and rough conditions over a lunch of chicken feet and mushrooms, a sentiment that was soundly rejected by everyone. They were enjoying their walk on the wild side.
Then things started getting interesting…. Eventually, I wondered if the guides' standards for safe and normal travel were so vastly different that they couldn't fully grasp our concerns, even while apologizing for the sorry conditions.
http://alanpaul.net/wp-content/uploads/2014/03/alan-imus-300x158.jpg
0
0
AlanPaul
http://alanpaul.net/wp-content/uploads/2014/03/alan-imus-300x158.jpg
AlanPaul
2012-02-08 20:10:44
2012-02-08 20:29:27
Unrest and beauty in Sichuan, China's Wild West