I am just finishing up a feature on the North Mississippi All Stars for Relix. I love the band and I love Luther and Cody Dickinson as people. I spent a fair amount of time hanging with Luther last June at Butch Trucks' Roots Rock Revival and it was a pleasure. 
Going through my archives, I found this review of their 200 debut Shake Hands With Shorty that I wrote for the Washington Post. As you can see, I've been rather enthusiastic about them from the start.
The North Mississippi All Stars
Over the last decade, as ever more original practitioners have passed away, contemporary blues has become increasingly calcified and robbed of its essential spontaneity by two diametrically opposed forces. Purists intent on recreating the postwar Chicago music of Muddy Waters and Howlin' Wolf have locked the blues into a museum, while Stevie Ray Vaughannabe's have emphasized histrionics and virtuosity to the exclusion of almost everything else sacred to the music.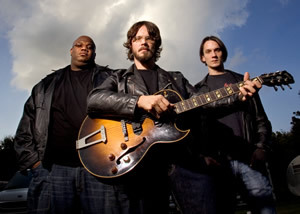 In that context, Shake Hands With Shorty, the North Mississippi All Stars' debut album, is remarkably fresh, invigorating and fun. From the first incendiary notes of "Shake Em Down" it's clear that something quite unique is going down. Though drummer Cody Dickinson's hip-hop influenced beats are distinctly modern, brother Luther Dickinson's slide guitar and distorted vocals slice through with deep blues feeling. The song is off and rolling like a runaway train, and the band never really looks back; the entire album maintains this easy dichotomy between the old and new.
It's no great insult to say that the rest of Shake Hands can't quite match the manic brilliance of its opening track, because little in roots rock has over the past decade. While they may never again reach such an ecstatic peak, the band's energy and originality never flag. They attack every song with a joyous recklessness, reconfiguring in their own image the tunes of semi-obscure Mississippi blues greats Fred McDowell, R.L. Burnside, Furry Lewis and Junior Kimbrough.
It takes a rare and welcome combination of reverence and irreverence to lovingly record an entire album of such material while also including samples, Van Halen-style speed guitar runs and direct quotes of the Allman Brothers and Grateful Dead. It is the type of radical, iconoclastic restructuring of the blues which urban hipsters like Jon Spencer have imagined for years but never quite pulled off.
All Stars Cody and Luther Dickinson come by their eclecticism naturally. Their father is Jim Dickinson, a renegade Memphis musician best known for playing piano on the Rolling Stones' "Wild Horses," working extensively with Ry Cooder and producing albums by Big Star and the Replacements, amongst others. Thanks to him, they grew up both steeped in the droning, modal blues of their North Mississippi home base, and blessed with a broad and deep knowledge of the larger musical world. The Dickinson boys have wide-ranging musical resumes. Their endeavors include playing for years in the hardcore band DDT; touring in an acoustic jug band; playing with and producing 92-year-old fife and drum master Othar Turner; recording as teenagers with the Replacements; and serving as the backing band for fusion guitarist Shawn Lane.
On Shake Hands With Shorty, they bring all that diverse experience together in one combustible package. With the help of bassist Chris Chew and augmented by a cast that includes their father, Turner, Alvin Youngblood Hart, Lucinda Williams' bassist Richard Price and R.L. Burnside's sons Cedric and Gary, the Dickinson boys have created an off-the-cuff masterpiece. It's a joyous, fun-loving album that does nothing less than breathe life back into a hallowed but moribund musical tradition.
*
New Rollin' and Tumblin' video from their latest album, World Boogie Is Coming, which highlights NMAS' mix of old and new schools:
http://alanpaul.net/wp-content/uploads/2014/03/alan-imus-300x158.jpg
0
0
AlanPaul
http://alanpaul.net/wp-content/uploads/2014/03/alan-imus-300x158.jpg
AlanPaul
2013-10-09 19:10:57
2013-10-09 19:33:54
I really like the North Mississippi All Stars