An interview with John Fogerty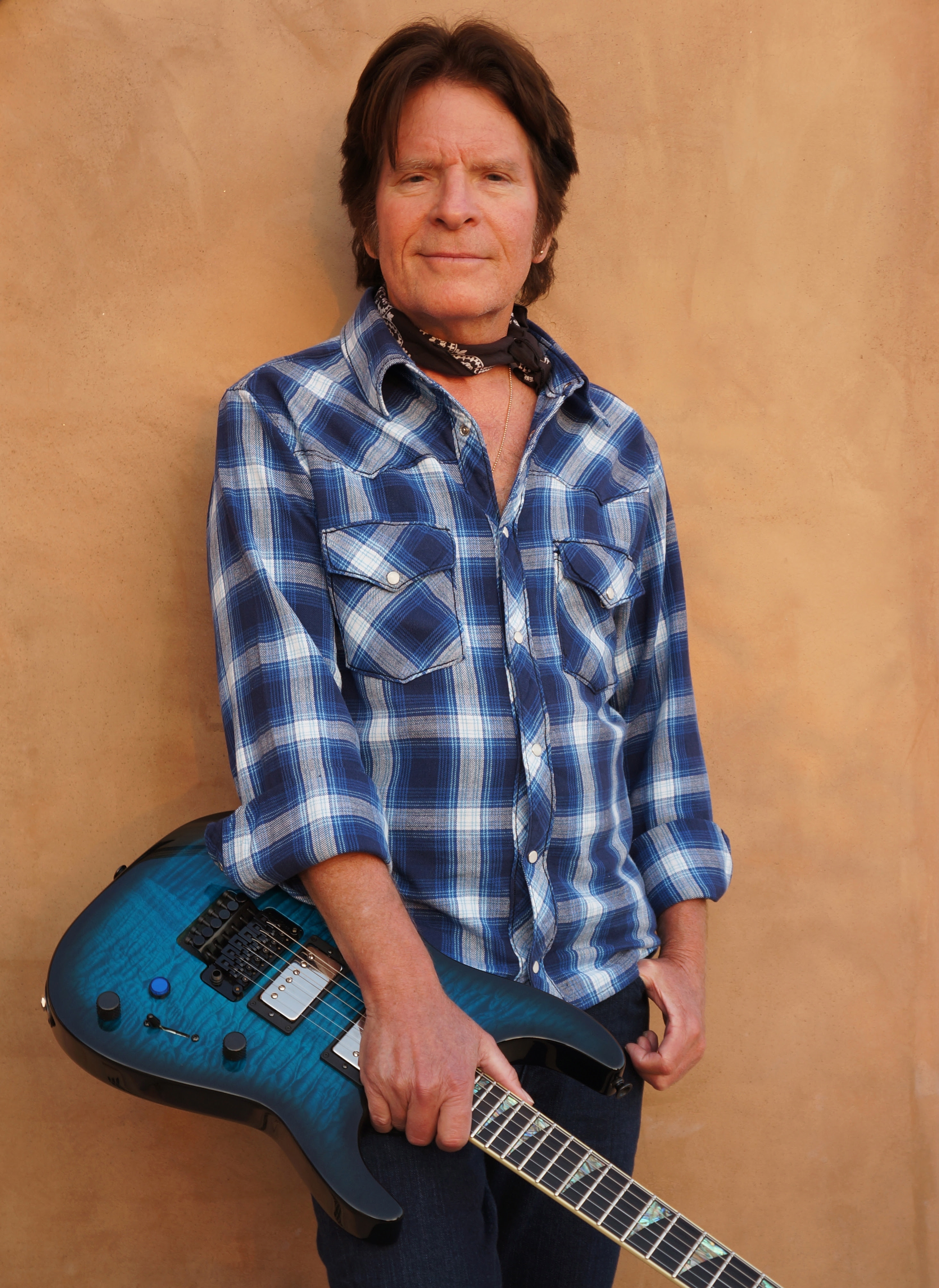 I interviewed John Fogerty last year for the Wall Street Journal in advance of three shows he played at the Beacon. We spoke a lot longer than I could come close to capturing in that piece. Here is the more extensive Q&A.
••
It's a bit overwhelming to see John Fogerty in concert and realize just how many hits and truly classic tunes the singer/songwriter/ guitarist wrote for Creedence Clearwater Revival. "Proud Mary," "Who'll Stop the Rain," "Fortunate Son" and "Born on the Bayou" are just the start of what feels like an endless stream. The group released five hit-laden albums in three incredibly productive years, before sputtering, then breaking up acrimoniously in 1972.
Fogerty doesn't jam per se; he recreates the song's original versions, with both his voice and guitar sounding remarkably similar 40-plus years later.
Just hearing Fogerty perform these great tunes is a treat; for 25 years he refused to do so in public, embittered by lawsuits and the fact that he no longer owned the rights to his work. He resumed singing the songs in 1997 and on his recent tour, he played the albums Bayou Country and Cosmo's Factory.
Fogerty's most recent release was Wrote A Song For Everyone, featuring him re-creating some of CCR's many hits with a variety of guest artists, from Jennifer Hudson to Bob Seger, Brad Paisley to Kid Rock.  We spoke on the phone as his tour bus rolled through Virginia.
AP: You avoided playing the Creedence songs because you did not own the publishing and were involved in a lot of rights and suits over them. Has anything changed in your situation with those tunes?
FOGERTY: Not really. I don't own the songs. At this point Concord Records, which bought Fantasy Records, own these songs. I do feel that I'm getting much fairer payment than I did while Fantasy was owned by Saul Zaentz, so that's an improvement. I sure wish I had some better advice when I was quite young, but by the time I actually figured out what was up, it was too late. We had already signed all the contracts. Certainly at that time in that place, no one was going to do the right thing. Sometimes I look back at that and in the long run, I think they were incredibly shortsighted and maybe even stupid to have someone with that much talent and productivity under your wing and then alienate him in such a way that he never wanted to walk back in the building again, thereby losing whatever great music might have been made over the next 30 or 40 years.  I think they just abandoned what was really working for our group. They insisted on going far away from that and basically destroyed the product.
AP: I just wrote a book on the Allman Brothers Band and as you probably know, they had a very similar deal with Capricorn Records, who had their label, management and publishing in one place.
FOGERTY: Yes, sadly we were not that unique in these regards. I'd really like to read that book, by the way. I am, of course, a big fan of the Allmans, one of the great bands
AP: You went about 25 years refusing to play your own CCR songs. Do you feel like you've reclaimed them, and a part of yourself and your own heritage?
FOGERTY: Yes, very much so. I started playing them again in 1997 on my Blue Moon Swamp tour. By then I had well made up my mind to start playing them again and was really ready to go.
It all came about back in 1990. I had taken a few trips to Mississippi. I thought I was figuring out the blues legends' family trees, visiting the important sites of the great guys I grew up with: Muddy Waters, Howlin' Wolf, John Lee Hooker, and so many other great people.
I was at the purported grave of Robert Johnson, sitting in the very hot, humid Mississippi sun and communing with him. Robert was an unlikely pop star at that moment, with a hit album. Columbia had released a box set of his songs and it had become a big hit, with a lot of literature, and the one photo of him that was known at that time. I was having a conversation with myself, wondering who owns Robert's songs? And I got this image in my head of a shyster lawyer with a big cigar sitting in a tall building making all this money off the man's work.
I was disgusted by that and in my mind, sticking up for Robert Johnson, I said to him, "It doesn't matter, Robert. The whole world knows these are your songs. No one can take that away from you." And I had what I later learned was called an epiphany. I realized this was exactly my own predicament I was describing perfectly. I was having a silent conversation in my mind and I realized it's the same situation. And in that flash of insight, I said to myself, "John, this is you. You need to start playing your songs again before you're laying in the ground like Robert here."
It was such an amazing transformation of my mindset, because I had certainly vowed that I would never play these songs again. But you know how that goes: I had created my own Gordian knot and my mind was chained to that thought and my own pride would not let me go back on my own word. But in that one instantaneous moment there in the presence of Robert Johnson, I sort of found my way through to the other side of that whole thing. That's when I decided that I would start playing my own songs again.
AP: But that was 1990. It still took seven years until you started playing them.
FOGERTY: Yeah, because I was still working on an album. It was a long, difficult trail until I got it all figured out and the album was released and I was ready to tour.
I'll tell you something kind of strange. Whenever I told anyone about this trip to Mississippi, I started by explaining that I was going to rectify the blues family tree. Then Warner Bros records wanted info to create a bio and I was talking to the guy explaining the story I just related, and I said I made these trips and at the grave of Robert Johnson I had this epiphany and realized I needed to play my songs again. And something just hit me and I probably literally turned white because for the first time my brain realized that was the real purpose of going to Mississippi.
I had been directed, somewhat manipulated by my own unconscious mind, to find my way there so that I could make the realization that I had to start playing my own songs again. And when something like that happens that you hadn't realized it's kind of intense.
AP: And it's interesting that this epiphany happened in Mississippi because so many people always thought you were from there or from Louisiana, because of the overall sound and songs like "Born on the Bayou."
FOGERTY: Yeah, I still get that. A lot of people will tell me they thought I was from down there, and some will even say things like,  "I was living down in Thibidoux and we all thought you were from Lake Charles because no one knew y'all." That always makes me grin. It's so well known about me at this point that most people know they were fooled at some point, or had a misunderstanding.
AP: You recorded five incredible albums in two years, six in three years, three in one year. How do you explain that pace, which is frankly hard to fathom?
FOGERTY: I was really driving myself I have to say. I guess I had a point in my career, shortly after "Suzy Que" was on the radio where I was taking stock. There was such an intense phenomena of the one hit wonder, or sophomore jinx and I was pondering to avoid that.
I had put so much life in my music, I didn't wan that happen to me, so I took stock and said to myself, "I'm on a tiny, tiny label. We don't really have a manager. We don't have a publicist. We don't have any big money behind us. I guess I'm just going to have to do it with music." My idea was to create as much good music as I could to try and overcome all these other things I perceived to be flaws in our makeup. You would look at someone like the Stones or the Beatles. They had so much momentum behind them with the label and the management and everything else. How was I going to match that, which I was determined to do?
AP: And you did it, throwing songs out to match these guys from your little label in Oakland.
FOGERTY: Now it seems certainly precocious to even think you could do it, but I really drove myself. At all times, I was thinking about writing new songs and making new records. I was just pushing myself and pushing myself. My method was all about showing the other guys the music I was creating to the point of creating the arrangements. It needed to be done. It wasn't much of a democracy at that point because I had a pretty clear vision of what needed to be done and there wasn't a lot of time to be taking a quorum or votes: "Is this a good song or not?"
AP: Last year at the Lock'n Festival, you played with Widespread Panic. It was wonderful to watch your smile when the great Jimmy Herring started soloing. Was that whole experience as much fun as it appeared to be for you?
FOGERTY:  I was a fan of Jimmy Herring's and knew of Widespread Panic, but I didn't know a lot about them. When we got together and rehearsed the day before the show, I was moved. I really loved it.  I was certainly aware of the jam bands phenomenon. Actually, way, way back when I was sort of leading the charge with Creedence, I grew up in the Bay Area, so the psychedelic movement was in my backyard and it was certainly the impetus for things like "Heard It through the Grapevine," "Suzy Que" and "Ramble Tamble."
It's really much more fluid and fun than I had remembered when a band has really good musicians. And being at the event, the festival itself… Gosh, there's no way to describe it, but the records don't really capture it. I really enjoyed listening to Widespread, even without me – not just playing with them.
And I got to hear Trey Anastasio's set, with his solo band. I didn't quite take Phish that seriously. I had bought a few CDs but not seen them live and I really wasn't getting what was going on. I sat in the backstage area listening to Trey and, man, what a great guitar player. It was so much fun and I got it immediately – why people really like them.  I used to think they were a lot of potheads, like the Grateful Dead and think they didn't really know what was going on, that they were all hallucinating. I would say something like that, but having heard it in the flesh, man, it was really startling. Really great music… really vibe-y, I guess would say. I enjoyed it immensely. It was a bit of a revelation, actually.
AP: Jimmy is incredible. As he was taking off, you're smiling and he starts to pull back and you nod, clearly saying, "Go on."
FOGERTY: Oh yeah! He was just trying to be a gracious host I think and I was enjoying his playing so much and saying, "Don't stop!"
AP: You mentioned growing up in the backyard of psychedelia, but your approach was quite different. Did you feel competition with bands like the Grateful Dead and the Jefferson Airplane?
FOGERTY: Not at all. I really liked those bands. I felt that politically or aesthetically, I was absolutely on the same page as them. I was pretty liberal. I grew up under the wing of Pete Seeger and believed in the ethics of rock and roll. There were a lot of philosophical traits I shared with the Dead, Airplane, Quicksilver. We were all young and we were all musicians in bands, which comes with a unique sort of kinship.
Some of the things I didn't identify with were the really long guitar solos. I remember going to a concert at the Fillmore and watching one of the bands go into a guitar solo at the beginning of the set that lasted until the end of the set. And I couldn't relate to that. It was boring. I grew up going to shows at the Oakland Auditorium seeing people like James Brown, B.B. King, Hank Ballard. They played short and snappy songs and then they'd go into another song right away. There seemed to be a work ethic that was to entertain the audience and keep it flowing, keep it interesting, keep changing, and I liked that.
Whereas some of the psychedelic bands I thought were pretty self-indulgent. I was at odds with that part. I had grown up with so much of the first wave of rock and roll and a lot of those show business secrets really resonated with me. A young James Brown would come out and play 14 hits in a row all while dancing and creating mayhem. I thought that was the way to go.
AP: That was to me the big difference between the San Francisco bands and the Allman Brothers, who would play the long solos without losing thread of the song.
FOGERTY: Yeah, that seems honest to me. I know that in listening to psychedelic music, there were times that I felt that the attention had wandered off somewhere and that did not happen in the Allman Brothers' music. I'm a big fan.
AP: A few years ago you seemed open to reuniting with your CCR mates, but that now seems to be just something that will never happen.
FOGERTY: Yeah, I would say that's probably true. Years ago I was still bitter and angry about everything that had come down. At one point I went to a shrink to try and get this stuff sorted out, and his word was "betrayal." He said, "They betrayed you, John." That insight was a step on the way to my healing. Years ago I was bitter and angry but now I'm not. I'm pretty mellow about the whole thing, actually.
What you're talking about, about being open to a reunion… A writer had asked me what I though about a reunion and I said it was possible. It wasn't something that I was planning or pushing but I didn't react like I used to, which was "Never!" I hadn't thought about it a lot or made a plan. I just gave an honest answer in the moment and realized this might mean to me it's a possibility. I guess the other fellows read that and immediately got in the press and said, "This is John pulling a publicity stunt and we want nothing to do with it." I said to my wife, "I guess they're still angry" and that was that.
AP:  Can you give a basic summary of why you feel they betrayed you? Did they take Saul Zaentz's side in your disputes?
FOGERTY: That was a big part of it. There were quite a few incidences where that happened. I rather famously got sued for sounding like myself, when Zaentz contended that "The Old Man Down the Road" [Centerfield] sounded like "Run Through The Jungle." That all started because [bassist] Stu Cook went to see Saul with a copy of Centerfield and played it for him and Stu's quote at the time was "John is ripping off Creedence. You should sue him."  I actually ended up in court over this and heard Saul say that sentence. That was one of the ways I felt betrayed.
AP:  Did recording all those songs with so many different people lead you to re-imagine any of the tunes? Did any of the collaborators' take on them make you approach them differently?
FOGERTY: That was something I encouraged actually. I wanted things to be fresh. I told each artist, "I don't want to just redo the old record I made. The world doesn't really need that." I encouraged each artist to have a different take. My wife said I was supplying the overall guidance.
I wanted each artist to imagine how this song sounded with them doing it and I think we managed to come up with a lot of new interpretations, which I was really happy about. Any musician loves to play and you get to be creating something fresh and new. Most of them are songwriters and also play an instrument so it's second nature. It allowed a lot of the personalities of that artist to come through in our collaboration.
AP:  Were you surprised at any point to realize how much influence your music had on country music?
FOGERTY: I suppose so. I do hear that all the time. A lot of people talk about the phenomenon but I didn't realize it was as important or deep as it was until I did some of these sessions. I had Miranda Lambert telling me that with their band, long before she had a record contract, played a bunch of my songs, including "Traveling Band" and a bunch of others. Brad Paisley told me when he was a little kid he played "Centerfield" at some big jamboree in front of 20,000 people. He said he changed the key to E and turned it into a Tele song. And he said that even when he was a kid, his voice was lower than mine.
AP: You had a very old sounding voice when you were young, and it sounds remarkably the same today. Does it feel like you've grown into it? Have you had you change your approach as you've aged?
FOGERTY: I've thought about that. There were times that I thank my lucky stars that I just did what I felt in my heart should be the music that defines me. A lot of things that seem apropos when you're 19 or 20 will look pretty damn foolish when you're 40 or 50. I'm glad I don't have to go out on stage and do anything that I'm embarrassed or even ashamed about.  There are some areas of music or presentation or dress that would be embarrassing to have to recreate when you're older.
AP: But a flannel shirt will never look foolish!
Your son Shayne is now playing guitar in your band. Dickey Betts and Phil Lesh also have sons in their bands. As an audience member, I enjoy seeing these interactions. How is it for you?
FOGERTY: Are you kidding? It's the greatest thing in the world. I've had both of my sons come and play for the last 5 years or so, but they would only do one or two songs. Now Shayne is a member of the band and it's always a highlight of the show for me when he plays a solo.
I realize that as a professional putting on a show there are certain precepts you adhere to: having a tight setlist, being well rehearsed and in tune. Those are things you do for the audience but the moments when Shayne and I are rocking out together it's special in a different way and it's hard to describe, but I think most people who have kids will understand.  In some way rocks and roll has always been a thing of rebelling, outside the law in some respects and to come full circle and have it be family values time is very special to me.
AP: You have a written quite a stream of fantastic songs, but I have to give special props to "Fortunate Son," one of the angriest, most cogent pieces of writing about privilege and hypocrisy I've ever heard in any form. You really said a lot in a relative few words, expressing thoughts and emotions that far transcend rock and roll. Can you discuss the origin of the song a bit?
FOGERTY: Thanks. The concept of "Fortunate Son" came about in a fairly normal writerly way. I noticed during political conventions that people would name a certain senator and call him "the famous son of the State of Texas." They used that phrase a lot. This was 1969 or 70, the height of the Vietnam war experience, and I was very angry about that situation. The idea that number one we were fighting this war that seemed so absolutely cockeyed and number two that older people had no compunction about sending younger people off to be killed for this vision of theirs – as long as they were other people's sons. Not theirs or their friends' fortunate sons.
My absolute anger over the Nixon white house for propagating the war policy was driving me. They also had gotten very paranoid, as we saw in Watergate a bit later. Those people were cuckoo, kind of in a sick mental place really, insisting on hearing no other options from anybody else.
I knew I had a song called "Fortunate Son" and I knew what it was about. We would rehearse those songs for probably six weeks before we went to a studio play them, just day after day working them out. This one was written musically with no lyrics, just a title and a concept. I could see we were getting pretty close and at some point I said to myself,  "You have to sit down and write the words and give it a voice." I went into my bedroom with a legal pad, sat down on the edge of the bed and just wrote it all out in one exhale. It was probably the quickest song I've ever written because it had been percolating.

AP: So you had a concept, but had you thought through how you would structure the song?
FOGERTY: Not really. I didn't know it would follow the course of the chorus "It ain't' me" or naming this or that occupation and station in life. It just happened right then. It was absolutely my own feeling about these situations then and forever- the privileged people , the rich men have always started the wars and poor man have fought the wars.
I would see on TV all these senators whose own kids were safely ensconced in college and he was voting to keep the war going. It was absolutely my own very raw emotions about it. It seemed to be a very clear and very loud emotional statement; it's not restrained at all. It's pretty harsh and I think that's what's made it so meaningful. You can tell exactly what this guy is singing about. I was kind of calling those people out who were clearly feeling so full of themselves. "Fortunate Son" to me was pretty directly aimed at class privilege and calling these people out.
AP: You have been playing Bayou Country and Cosmo's Factory complete on tour. Did that lead you to bring back songs you had not been playing?
FOGERTY: Yes. "Graveyard Train" and "Penthouse Pauper" from Bayou Country.  Those are things I really hadn't touched much in really over 40 years. It's been a lot of fun introducing deep tracks and songs from other parts of my career. You get to a point where you focus on certain songs and miss out so many other great ones. Since we're staying in one place, I hope to make each night quite different than the night before, shuffling the songs in the Deep Tracks category and making each night different.
AP:  And I think because so many people know your great songs through Greatest Hits albums and the radio, many probably have forgotten some of these great album tracks.
FOGERTY: Yes, it's really fun reintroducing them. And it's really a lot of fun playing both those songs. Now that we've done it quite a bit we're getting used to it, but when I brought them out for the tour rehearsals, it was remarkable, really, to get back into these songs I wrote and recorded and had not touched in so long.  It's very refreshing and I'm also a little mystified with myself why I went so long without doing them, to tell you the truth.
AP:  Well, anyone with as long of a career as you loses some great album tracks along the way.
FOGERTY: Yes, that's exactly right.
http://alanpaul.net/wp-content/uploads/2014/03/alan-imus-300x158.jpg
0
0
AlanPaul
http://alanpaul.net/wp-content/uploads/2014/03/alan-imus-300x158.jpg
AlanPaul
2014-08-23 14:39:48
2016-08-31 18:51:24
An interview with John Fogerty