RIP Stevie Ray Vaughan, gone 25 years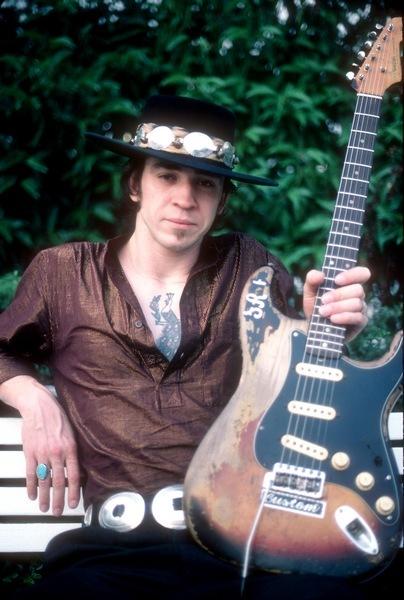 Twenty five years ago, we lost Stevie Ray Vaughan.
SRV has played a large role throughout my career. Though I never interviewed him because he passed away before I started working for Guitar World, I have written many, many articles about Stevie, including a massive oral history which led me to interview almost everyone involved with his music. Without that, I might never have chosen a similar format for One Way Out: The Inside History of the Allman Brothers Band.
I was in Austin for the tribute concert brother Jimmie threw, there for two days of rehearsal, which led to me writing this piece for the New Yorker.
I was down there reporting for Guitar World, and my piece on the event was one of the most heartfelt I've ever written, and it led to me writing the liner notes for the resulting CD and DVD releases and eventually, also writing an extensive essay for the SRV box set. And that made a Chinese guitarist named Woodie Wu want to meet me, which led to the formation of Woodie Alan, which eventually led to Big in China. That's a lot of condensing, but it gives you a hint of why Stevie Ray Vaughan has meant so much to me – aside from great musical legacy, which needs little elaboration.
I still feel emotional reading this piece. RIP SRV and thanks for the music.
Originally printed in Guitar World, November 2008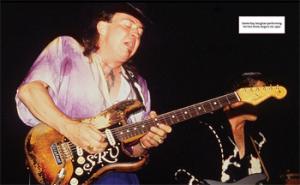 August 26, 1990 – East Troy, Wisconsin
Stevie Ray Vaughan was right where he wanted to be as midnight approached on August 26, 1990. Earlier that evening, he had closed out a triumphant summer tour with Double Trouble, opening for Eric Clapton, one of his heroes, in front of a sold-out crowd of 30,000 at the Alpine Valley Music Theatre, just outside of East Troy, Wisconsin.
Now, as Clapton's show was drawing to a close, the guitarist called Vaughan back out for a final encore performance of the blues standard "Sweet Home Chicago." Joining them onstage was the night's first performer, Robert Cray, along with two more of SRV's heroes: Buddy Guy and big brother Jimmie Vaughan. Stevie Ray was all smiles as the five guitarists took turns soloing throughout the lengthy jam.
Almost four years after cleaning up and leaving alcohol behind, the Texas guitarist was on top of his game. Family Style, his new album with Jimmie, was in the can, due to be released in another month. The feuds that had separated the brothers were long buried. The show was the second of a two-night stand, and Stevie's playing was, by all accounts, fiery and fresh. With his favorite guitarists surrounding him, it must have felt to him like the exclamation point on a fantastically productive and happy period of his musical life.
"Those shows were just great fun, really exciting," recalls bassist Tommy Shannon. "They were sort of the culmination of all the good times we'd been having for the last year or two. And as good as we had been playing, those two shows were just unreal."
Adds Jimmie Vaughan, "Stevie just smoked. It was one of those gigs where you see someone play and you can't believe what you're hearing. Stevie was unreal. He was just on another plane, and we all knew it."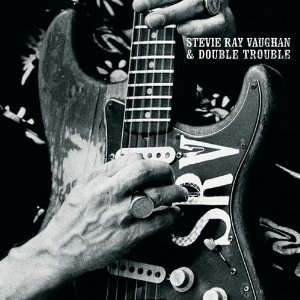 When the final jam finished to an ecstatic roar at about 12:15 A.M., the musicians left the stage through a rear exit. Backstage, Clapton and Vaughan reportedly talked about paying tribute to Jimi Hendrix with some future gigs. Stevie, 35, was supposed to drive back to Chicago with Jimmie and Jimmie's wife, Connie, but then he heard that he could hop onto one of Clapton's four waiting helicopters. He initially thought all three of them could hitch this ride. When he learned that there was only one spot, he asked Jimmie and Connie if they minded if he grabbed it.
"I really want to get back," he explained.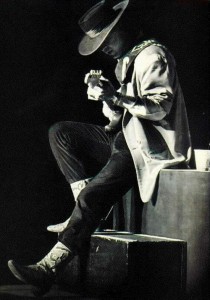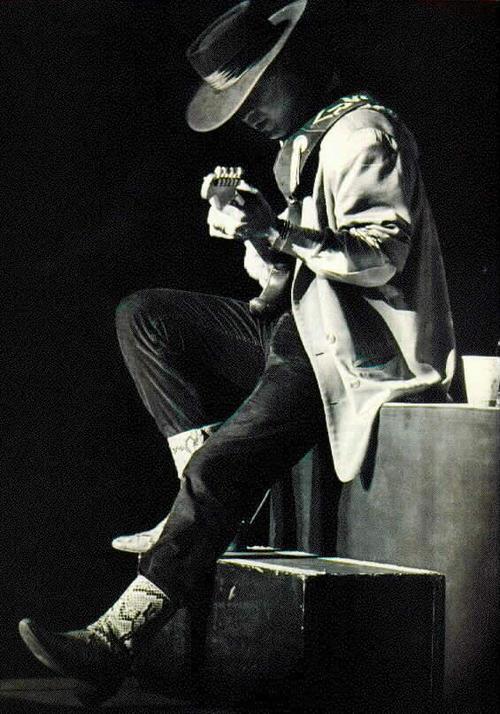 The Bell 206 B helicopter took off in fog around 12:40 A.M. with Vaughan and four others aboard and almost immediately slammed into the middle of a nearby man-made ski slope, killing all aboard. They were just over half a mile from the venue but no one heard the crash, and a search for the wreckage wasn't begun until 5 A.M. At around 7, searchers found the bodies of Vaughan, pilot Jeff Brown and three of Clapton's associates.
"I was woken up by a phone call from our tour manager saying that we had to have a meeting in my room right away," Shannon recalls. "A few minutes later I got a call from our manager, saying that one of the helicopters had gone down, Stevie was on it, and there were no survivors. In the blink of any eye my life was taken away from me."
Double Trouble drummer Chris Layton got the news from Shannon. Says Shannon, "I was sitting on the bed crying, and Chris came into my room, asking what was going on. I said, 'Stevie's dead,' and he just lost it, too."
Adds Layton, "I was in denial and didn't believe it at all, so I called security and forced them to let me into Stevie's room. I really thought he'd be laying there sleeping, but when they opened the door, the bed was still made, the pillow turned down, with mints laying on it, and I just realized, My God, it's true. I felt like a baby, just completely helpless. Then we realized that the news reports said that Stevie and his band were killed, and I realized that I had to get a hold of family and tell them that I'm still alive."
Clapton and Jimmie Vaughan were called and asked to identify the bodies. Over 1,500 people attended SRV's memorial service in Dallas. He is buried at Laurel Land Memorial Park in South Dallas.
http://alanpaul.net/wp-content/uploads/2013/10/Stevie+Ray+Vaughan+873960396_l.jpg
600
404
AlanPaul
http://alanpaul.net/wp-content/uploads/2014/03/alan-imus-300x158.jpg
AlanPaul
2015-08-27 20:54:40
2018-03-26 21:00:22
RIP Stevie Ray Vaughan, gone 25 years