While waiting to receive a copy of the video, I've posted a written copy of Rebecca's speech from the Michigan Daily's 125th Anniversary dinner. I will post the video as soon as I have it. It was an honor to help Becky craft this speech.
The night before the dinner we attended the book launch for In the Name of Editorial Freedom: 125 Years at the Michigan Daily and enjoyed meeting other contributors from different Daily periods. One of them was John Papanek. He somehow communicated to Becky that his friend and Daily colleague Bill Alterman had been planning to attend but was too sick with cancer. He was Skyping with him at that very moment and she had a brief but impactful chat with him. It was enough to make her determined to share a great story from him in the speech. You will see it below.
John, as a loyal friend, was streaming the whole evening to a bed-ridden Bill in Washington DC and thought that he would be pleased to be mentioned. Everyone in the room cheered and sent him best wishes. He heard it all. And, rather unbelievably, he died the next day. I don't what else to say except all of us Daily alumni are a family and it was kismet for Becky to meet John and talk to Bill and include his story. And that we send deepest condolences and most sincere wishes for healing and peace to all of his loved ones – blood-related and otherwise.
The speech:
Thanks very much, Neal – and thank you to everyone who made tonight possible.
I'm very honored to be here.
I worked at the Daily from 1985-89 and was Editor in Chief my final year. It's hard for me to believe that it was 26 years ago because so much from my time there remains so vivid and relevant to my life.
I'm now the deputy editor in chief of the Wall Street Journal. In my role, I meet a wide range of people, and they often ask about my journalism education. When I say that I've never taken a single journalism class in my life, most people are shocked. They can't understand how I trained for a career in journalism without ever studying the topic. It comes down to three words: The. Michigan, Daily.
Each of us walked into 420 Maynard as one person and walked out as another. Each of us had our 3 or 4-year window at the Daily, which felt completely unique and special. And each of us was probably too young to fully appreciate that we were in fact part of a long, proud and rather remarkable history of editorial freedom. It was 100 years when I was here. Maybe it was 60, 80, or 120 for you. We are all part of this unique and indispensible continuum.
Every year new student journalists walk in and old ones walk out. No one is continuously there and yet the traditions, the pride, the lore and legends pass down from class to class, with each group adding their own twists and turns – but never losing the thread.
Of course I knew all of this and I understood it intellectually but just last night so much of it became more emotionally resonant when I picked up this book that I was proud to contribute to: In the Name of Editorial Freedom: 125 Years at the Michigan Daily. Reading through this inspiring book, I am struck not only by the great writing and how unique and personal each person's stories are – but by the threads that tie them all together.
The sense of mission. The jump-in-the-deep-end-then-learn-to-swim attitude. The passion. The tradition. The audacity. The earnestness. The rascally iconoclasm. Over and over, we see these things repeated as one group gives way to another, for generation after generation.
As Tom Hayden notes in the book's Foreword, from covering a Frederick Douglass speech in 1893 to uncovering a football player's covered-up sexual assault just a few years ago, the Daily has been playing an essential news gathering role on this campus for 125 years. Students who were not playing at being adults, but actually doing very real, very important things – whether they quite knew what they were doing or not.
I can't think of a bigger influence on the journalist – and the person – I became than the Daily, and the University of Michigan more broadly. The Daily taught me life's most important lessons. I left 420 Maynard with most of what I needed to succeed in journalism and in life– including my husband. And I'm eternally grateful for all of it.
As I prepared to speak with you tonight, I thought long and hard about why the Daily such a valuable, enduring part of my education. I arrived at five lessons that the Daily taught me that remain central to my being.
Together, they add up to why we need to fight for the right for generations of students after us to maintain this marvelous continuum and to have the same privilege we all had: a strong, vibrant independent college paper.
1. The value of Editorial Independence and Freedom – of course!
I came to the Daily during my first week of school. Eric Mattson, Jerry Markon, Amy Mindell and Neil Chase started teaching me how to write headlines – I remember fjilt, were the counts of the letters… Georgea Kovanis assigned me my first story –about the return of paisley. I was hooked. Before I knew it, I was covering the administrative beat.
It's impossible to imagine what the experience would have been like had there been a professor sitting at the center of the newsroom, or if the Daily had been run as part of a class. Working there gave us so much more than a textbook, a lecture and a grade. It gave us on-the-job training.
We took great pride in being independent from the University, and being a critical check on its power. And in continuing a proud tradition we were all profoundly aware of – which included not only a deep commitment to practicing great journalism but to teaching those coming behind us how to do so as well.
The editors' commitment to and enthusiasm for stories was infectious – but they were tough on copy and didn't mince words. And neither did anyone else on staff – as anyone who remembers the Crit Board will attest. It could be brutal to watch your work be subjected to peer review.
The examples of gutsy journalism – and editorial independence- at the Daily abound. John Papanek, one of the contributors to the Daily book, told me one yesterday that I found just incredible about his friend and former Daily Alum, Bill Alterman. In John's words:
The game was November 6, 1971, at The Stadium in Ann Arbor. Michigan was on its way to what would have been its best years ever — a perfect 11-0 in the regular season — to be marred only by a 1-point loss to Stanford in the '72 Rose Bowl.
Michigan was killing everybody.On Nov. 6 it was Iowa's turn. The final score was a blistering 63-7. An absolute debacle for Iowa. Bill Alterman's assignment was to cover the losing team, so he dutifully took his place among the 30 or so other reporters assembled for the postgame press conference with the Iowa coach, Frank Lauterbur.
The room was deathly quiet when Lauterbur stormed in and took his seat at the podium. Smoke might as well have been pouring from his ears. Not one reporter dared ask a question and a long, awkward silence ensued. Lauterbur let the discomfort build, and finally broke the ice by barking, "WELL, WE GOT THE FUCKING SHIT KICKED OUT OF US TODAY."
The room was shocked into another, even deeper, longer hush. Lauterbur milked it, and then did it again: "In case you didn't hear me the first time, WE … GOT … THE … FUCKING … SHIT … KICKED … OUT … OF … US … TODAY!
That pretty much ended the press conference.
Every single paper in Iowa and Michigan, and the national feeds of AP and UPI ran stories mentioning Lauterbur's "unprintable" outburst, and of course no paper dared to print — or even euphemize — his exact words.
Every single paper except ONE.
Bill Alterman led his story with every one of Lauterbur's words, as well as the emphatic reprise, and the Michigan Daily printed them. The Daily's Editor-in-Chief, Bob Kraftowitz, had to sign the proof copy to indemnify the typesetters against potential liability. And that was that. No University authority was involved or informed.
Alterman's lede became a national sensation — ending up circled in red on newsroom bulletin boards across America. John says the clip — with the lede circled – was STILL on the central bulletin board at Sports Illustrated on his first day of work there , Dec. 1973. Is that editorial freedom or what?
Our thoughts go out to Bill, who really wanted to be here tonight but is battling cancer. We wish him all the best.
2. You have to love what you do to do it well.
The Daily was a calling. We published five days a week and we governed ourselves – one person, one vote. It could be incredibly intense, but we knew we had to take it seriously because a 100 years of prideful editorial freedom was in our hands. That feeling of responsibility was weighty and made for some brutal debates and arguments. But it cemented the Daily and journalism in our hearts and minds as causes that were worth fighting for.
We sometimes took the obligation to extremes. We had perhaps an irrational view that the world might end – or we would lose our independence –if we blew a deadline or had a production problem and the Daily somehow didn't make it out one night.
This could be a particular challenge during the summer, when a small group of us stayed to put out a weekly edition. When we were told that there was no budget for distribution so the summer paper just couldn't get done, we scoffed and came up with a solution: we would distribute the paper ourselves. We took the finished boards up to a printer in Plymouth, watched it roll off the presses – what a thrill ! – and drove back to campus. Armed with a huge janitors' ring of keys to every building that mattered, we dropped bundles all over campus in the wee hours. Waiting until 8 am was never considered for some reason. What could go wrong? Campus police were generally understanding when they found us stumbling around at 2 am lugging heavy loads. Their brethren on rural roads were less kind.
One early morning, we were returning to Ann Arbor with the latest edition secured in the back of Steve Gregory's family station wagon when we saw blue lights flashing in the rearview mirror. As the police approached the car, Steve turned to us and said, "I may have a little problem with a suspended license. No matter what happens to me, make sure the Daily gets delivered."
Everyone who cares enough to be in this room can probably relate. And yes we got the paper out that night.
3. If you want to get to your destination, you have to know how to navigate.
Reporting and then editing stories while juggling my classes was extremely demanding. It led to many very late nights and some serious battles with my parents, who wondered not only why they kept getting notices about unpaid parking tickets from the U lot behind the paper – but why exactly I was spending so much time at that damned paper. (I'll just say that my grades reflected some distractions).
They couldn't have known that what they thought was the distraction was actually the real course of study. Or that learning how to juggle so much was actually teaching me an incredible amount about managing a career, a newsroom and life – lessons that resonate profoundly to this day.
I arrived at the Daily in 1984, the last year before computers arrived. I remember the typewriters, the thin, off-white paper of our first drafts – the rubber glue and scraps of paper everywhere as stories were edited – literally by stripping off one offending word or paragraph and gluing down a replacement line. Often, a finished story looked like a two year old's art work – and that was before it was sent to a production team downstairs, with two ladies sitting at linotype machines spitting out copy to hand to the man we all initially feared: the intimidating, inimitable Lucius Doyle.
Lucius took the finished copy, ran it through a hot wax machine and attached it to the page. He worked with great precision and an Exacto knife that he clicked incessantly (blade toward you) as he peered over his bifocals and listened with impatience to the pleas of desperate editors to change a word, spelling or sentence…. Sometimes, he lost his patience, as we blew deadline and kept him late. Lucius was the adult in the room, and his authority was unquestioned. He had seen it all.
I was terrified when I first met Lucius and stayed as far away from him as long as possible. I remember my voice trembling one of the first times I had to ask for a change on the page. But I learned to talk to him – and started going out of my way just to chat with him. I made sure the changes I asked for were really necessary. And as time passed, we delighted in getting him to tell us stories about past editors, which he did with relish. Toward graduation, he allowed us to take him for a beer, which was such an honor. He loved the Daily completely, and I only wish that he could have been here tonight, as he taught me and many others so much.
Reading through the Daily book, I was inspired by so many stories. One that stands out is that of Sara Krulwich, who courageously challenged the University's rule in 1969 that no women were allowed on the football field… "This was no joke, " she writes.. "no women in the marching band, no women cheerleaders, no women security guards.. "
On the first day of the season, she approached the head of sports information with another Daily photographer to challenge the edict. When he told her that she wasn't allowed, she calmly told him that she had the right to be there.. he replied that she would be escorted out.. but then the game began, she stayed, and her fellow photographer told her to start shooting.. nothing happened and she eventually received an apology.
"Ten years later, I returned to Michigan to cover a game as a staff photographer for the NYT," she writes. "There were women cheerleaders, in the band, everyone… My first act of civil disobedience remains one of the most important days of my life. It was the moment that convinced me to make photojournalism my career."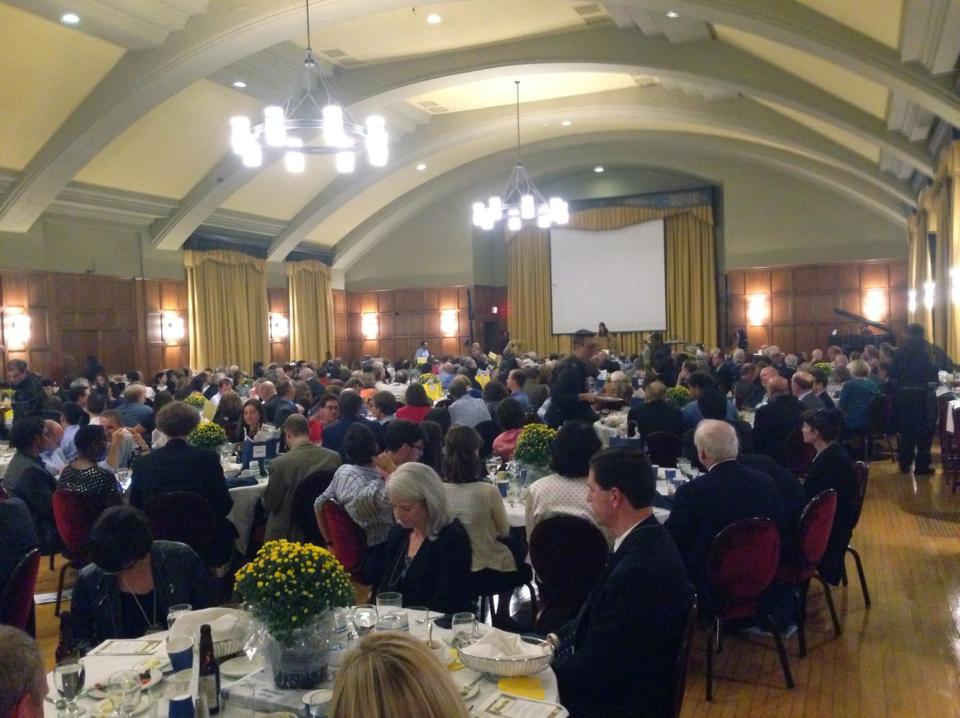 4. Dealing with dissent – and intensity
We governed ourselves: one person, one vote, a tradition that we were determined to uphold.
Editors were selected after hours of debate. Anyone in the masthead could ask a question and there was no early voting allowed. We ran the paper like a democracy, which had its difficult moments, especially given our diverse staff – the Maoists on the opinion page, the sports writers who were busy covering Jim Harbaugh and Bo, and those of us on the news side trying to figure out who the next University president would be.
Things grew particularly tense when the administration proposed a code of campus conduct that effectively split the paper into two camps. The University proposal was intended to address racist speech in the midst of a series of disturbing incidents. In a flash, the paper was divided between those of us who adamantly wanted to protect free speech, as was the long tradition of the Daily, dating back to Tom Hayden and company in the early 60s, and others who supported taking action to punish those responsible.
Without realizing it, we were in the middle of a maelstrom that would launch an extended national battle over political correctness. There were state hearings on campus, CNN came, many debates about how to cover this, and at times the paper seemed completely divided. Many other universities went on to propose similar codes of speech and conduct.
I was suddenly being interviewed on CNN and seeing my picture of the Detroit Free Press confronting anti-racist protestors. I'm certain I made mistakes in my handling of all this – I was just trying to hold it together, and somehow we did so, all the while covering the story we were at the center of.
It would be many years before I worked as hard as I did that year.
5. No one is watching out for you but yourself.
One of the biggest favors the Daily and the University of Michigan did for me was teach me to fend for myself. It ended up being a serious advantage in life.
Applying for my first newspaper internship as a junior, I sent resumes and clips to 100 papers on my own. There was no one in career services to help, or an advisor to smooth the way. I ended up at the Pittsburgh Post Gazette, and the summer after graduating at New York Newsday. I'm from Bay City, Michigan but fell in love with New York and being sent to all corners of Queens, which was a challenge in the days before Google maps – one number or dash wrong, and you were toast.
But I was more surprised by the other interns. At that point, I had four years of experience at the Daily and a summer in Pittsburgh. I was the only intern who was not from an ivy league school or, graduate school of journalism. And I remember at the end of summer, being shocked when one of my fellow interns asked me how to do a resume and clips. Clearly, they hadn't done one to get the internship. It also underlined my advantages over the others. The Daily made us scrappy, and it's something that has served me well.
I would say the same is true of the U, which offers training for a life where you are the one who is going to make things happen . No one else is going to do things for you.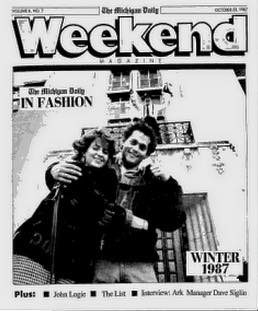 It can seem quaint almost to the point of embarrassment to tell people that Alan Paul and I met at the Daily. He was the arts guy and I was a news person – it seemed like a big difference at the time… But the fact that our relationship began in a place that was so influential in shaping who both of us have become has been a blessing and a bedrock anchor. Alan has now written two books and is one of the best writers I know – some of you may remember him as the Fat Al columnist.
The Daily inspired so many of us – and prepared us to take risks in life. I think of all the times I have been given a challenging assignment or asked to move to a new place – and somehow, it all seems doable because I have the foundation of the Daily, a place that practically begged us every day to take on ridiculous assignments and crazy challenges – and to take on the world.
I'm optimistic about journalism and the value of independent thinking that the Daily teaches. I could do a better job, quite honestly, in helping my fellow Daily alums navigate an uncertain job market. Let this occasion be a catalyst for those of us who are alums to work more closely with the Daily students. I would also like to congratulate Stephanie Steinberg for her book on the Daily.
And I know you join me in hoping that we are here to toast many years to come of the Michigan Daily – and to gather here again at its 150th.
Thank you.
http://alanpaul.net/wp-content/uploads/2014/03/alan-imus-300x158.jpg
0
0
AlanPaul
http://alanpaul.net/wp-content/uploads/2014/03/alan-imus-300x158.jpg
AlanPaul
2015-09-28 17:49:47
2016-06-17 13:21:40
Rebecca's speech at The Michigan Daily 125th Anniversary gala