Dion Still Sings of America
A pioneer of 1950s rock has a star-studded new album exploring religious devotion, friendship and racial injustice.
This story originally ran in the Wall Street Journal on June 12 2020.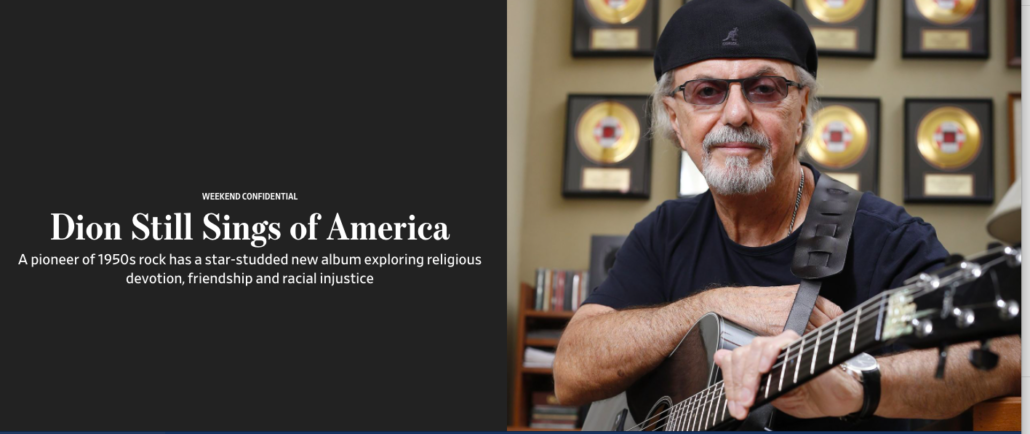 It takes a rare artist to help define the early days of rock 'n' roll and to still have the creative vitality to release a star-studded new album in 2020, but Dion DiMucci has done just that. He burst onto radio in the late 1950s and early 60s with hits like "A Teenager in Love" and "Runaround Sue" and has now just put out "Blues With Friends," 14 tracks on which he's accompanied by musical compadres including Bruce Springsteen, Jeff Beck, Van Morrison, Paul Simon and ZZ Top's Billy Gibbons. Bob Dylan wrote the liner notes.
Now 80 and living in Florida with Susan, his wife of 57 years, Dion (who has always used just his first name professionally) acknowledges his continued productivity with a grateful shrug. "I feel like I stand under the wellspring of creativity, the spout where the glory comes out," he says. "I've always been a weird guy, man: I was an Italian kid in [the] 1950s Bronx reading St. Thomas Aquinas, then Thomas Merton, and fascinated by Hank Williams and Jimmy Reed when everyone else was listening to Jerry Vale. "
'I feel like I stand under the wellspring of creativity, the spout where the glory comes out.'
Dion's complicated life is explored in "The Wanderer," a jukebox musical that had been scheduled to debut last month at Paper Mill Playhouse in Millburn, N.J., but has been rescheduled for next April because of the pandemic. There was plenty of drama to work with. In 1959, Dion was the fourth headliner on tour with Buddy Holly, Ritchie Valens and J.P. Richardson (the "Big Bopper"); Dion opted out of the plane ride that crashed and killed the other three because he couldn't justify the ticket's cost of $36, the very amount that his parents paid in rent on their Bronx apartment.
He was 18 when he returned home after "the day the music died." Nobody much wanted to talk about it. "There were no grief counselors in the Bronx in 1959," says Dion. "I lived by instinct, though a priest did comfort me by saying that relationships don't end, that my friends were closer to the beatific vision and I should ask them to say a prayer for me. But the first way I dealt with that pain is I became a heroin addict."
Dion had huge hits with "Runaround Sue," "The Wanderer," "Dream Lover" and "Ruby Baby." But by 1965 his career had been derailed—both by his worsening drug habit and by tension with Columbia Records, which wanted him to focus on crooning even as he obsessed over bluesmen like Robert Johnson and Mississippi Fred McDowell.
In 1968, shaken by the death by overdose of his fellow teen sensation Frankie Lymon, Dion completely reimagined his life. "I got on my knees and said a prayer, and I haven't had a drug or a drink since—52 years," he says. "Unbelievable. I just changed, and the Thomas Aquinas and Merton pieces fit together. It went from my head to my heart. I had a conversion experience, and I saw myself as a child of God instead of a rock star."
In a phone interview last week, another soulfully inclined musician, Bruce Springsteen, called Dion pivotal to his own development as a singer and songwriter. Songs like "Runaround Sue" and "The Wanderer" inspired him to add a saxophone to his own band, he added. "I've loved Dion since I heard 'Teenager in Love' on my mom's radio as a small boy," Mr. Springsteen said. "His artistic curiosity has never left him, which is very unusual. Dion has remained musically curious throughout his entire life, and made all kinds of different kinds of records and continued using one of the great white pop voices of all times in creative ways. That's very inspiring."
'His artistic curiosity has never left him, which is very unusual.'— Bruce Springsteen
Amid the tumult of the late 1960s, Dion recast himself as a gentle, incisive folkie, including a 1968 hit with "Abraham, Martin and John," a mournful song about the assassinations that year of Martin Luther King Jr. and Robert Kennedy, looking backward to the killings of Abraham Lincoln and John Kennedy. Dion went through more musical phases, including releasing a string of gospel albums during an extended evangelical period. (He returned to the Catholicism of his childhood more than 20 years ago.) On "Blues With Friends," the song "Hymn to Him" (which features Mr. Springsteen and his wife Patti Scialfa ) harks back to Dion's gospel days with a gorgeous, haunting tune. "It's an incredible song, and it's very difficult to write well about that subject and not sound preachy," says Mr. Springsteen. "Dion just wrote a beautiful hymn."
Still, the new album's emotional core is "Song for Sam Cooke (Here in America)," sung as a duet with Paul Simon. Dion wrote the song for his late friend Cooke, the iconic soul singer and author of the civil-rights anthem "A Change Is Gonna Come," who was murdered in 1964. Dion says that he wrote the song years ago and was thrilled to finally record it, only to find it strikingly relevant with the streets once again filled with marchers demanding racial justice.
"My song is about racism, but it's also about brotherhood, understanding, friendship. It's about beauty and truth, which is what Sam led with," Dion says. "He taught me that racism was a peculiar way to become a man. I was horrified by the racist BS I saw him grapple with on the road, but he didn't get ruffled because he was always the smartest guy in the room. He was living in a higher reality and helped me raise my game."
Dion adds that Cooke was just one of many friends who have shaped his life. The music and guests on "Blues With Friends," he says, only scratch the surface of his debts to a lifetime of compatriots. "I've always had a gift for latching onto quality, no-BS people who take me to higher ground," he says. "I think that's why I'm here at 80 to talk to you."
http://alanpaul.net/wp-content/uploads/2014/03/alan-imus-300x158.jpg
0
0
AlanPaul
http://alanpaul.net/wp-content/uploads/2014/03/alan-imus-300x158.jpg
AlanPaul
2021-07-20 18:50:29
2023-05-24 12:45:54
Dion Still Sings of America