One Way Out
"If you want to know the real deal, read Alan Paul. I learned a lot reading One Way Out."
-Oteil Burbridge, the Allman Brothers Band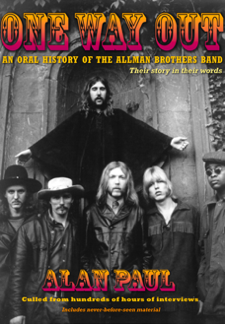 I am proud to announce that St. Martin's will be publishing a greatly expanded hardcover version of One Way Out: An Oral History of the Allman
Brothers Band in March, 2014, to coincide with the band's 45th anniversary. The book will be up to 5 times longer than the original Ebook version and far, far more in-depth
I have been working furiously for the past six months, crafting what I hope will be the ultimate word on the greatest band in rock history. Since the pu
blication of the Ebook, I have interviewed the following, some several times: Butch Trucks, Jaimoe, Warren Haynes, Derek Trucks, Chuck Leavell, Johnny Sandlin, Jonny Podell, Mike Lawler, David Goldflies, Kim Payne, Stephen Paley, W. David Powell, Rick Hall, Bunky Odom, Don Law, Michael Caplan, Col. Bruce Hampton, Mama Louise Hudson, John, Scoots and AJ Lyndon, Linda Oakley, John Scher, Kirk West and Johnny Neel.
Many, many more interviews are in the works. I'm not quite ready to share who is writing the Foreword, but it's going to be great.
The book will also include at least 50 photographs, including many never-before-seen images. I am still working out rights and details, so can't get more specific, but the book will feature great work by great artists.
I will be taking the current Ebook version of One Way Out down by the end of March, to clear the plate for what is to come. I am incredibly excited about this project and look forward to sharing it with you all. Thanks for the interest and stay tuned for updates.
ABOUT THE BOOK:
One Way Out is an oral history of the Allman Brothers Band culled from hundreds of hours of interview, all conducted by award-winning author and journalist Alan Paul, of Guitar World magazine.
The book includes many never-before-published interviews with band members Gregg Allman, Dickey Betts, Jaimoe, Butch Trucks, Warren Haynes, Derek Trucks, Oteil Burbridge, the late Allen Woody, Jack Pearson, Jimmy Herring, plus Eric Clapton, Tom Dowd, Phil Walden, Rick Hall, Billy Gibbons, Dr. John, Scott Boyer and others.
It also includes: a highly opinionated discography with short reviews of over 50 albums from the ABB, Gregg Allman, Dickey Betts, Gov't Mule, Derek Trucks Band and more.
One Way Out is the most complete exploration of the Allman Brothers music yet written and makes for a great companion read to Gregg's best-selling memoir My Cross to Bear. It tracks the band's career arc from their 1969 formation through their historic 40th anniversary star-studded Beacon run, right on up to today. The book is filled the musical and cultural insights that only these insiders can provide.
One Way Out includes the most in-depth look at the acrimonious 2000 parting with founding guitarist Dickey Betts; an intense discussion of Dickey Betts and Duane Allman's revolutionary guitar styles; thorough behind-the-scenes information on the recording of At Fillmore East, Layla, Eat A Peach and other classic albums. You will not find this information anywhere else.
"Alan Paul is one of America's foremost experts on the Allman Brothers Band. For the past 20 years, he has written informative, comprehensive articles on the band, and he truly understands the essence of their significance. It's great to see him release this chronicle."
-E.J. Devokaitis
Curator / Archivist
Allman Brothers Band Museum at the Big House