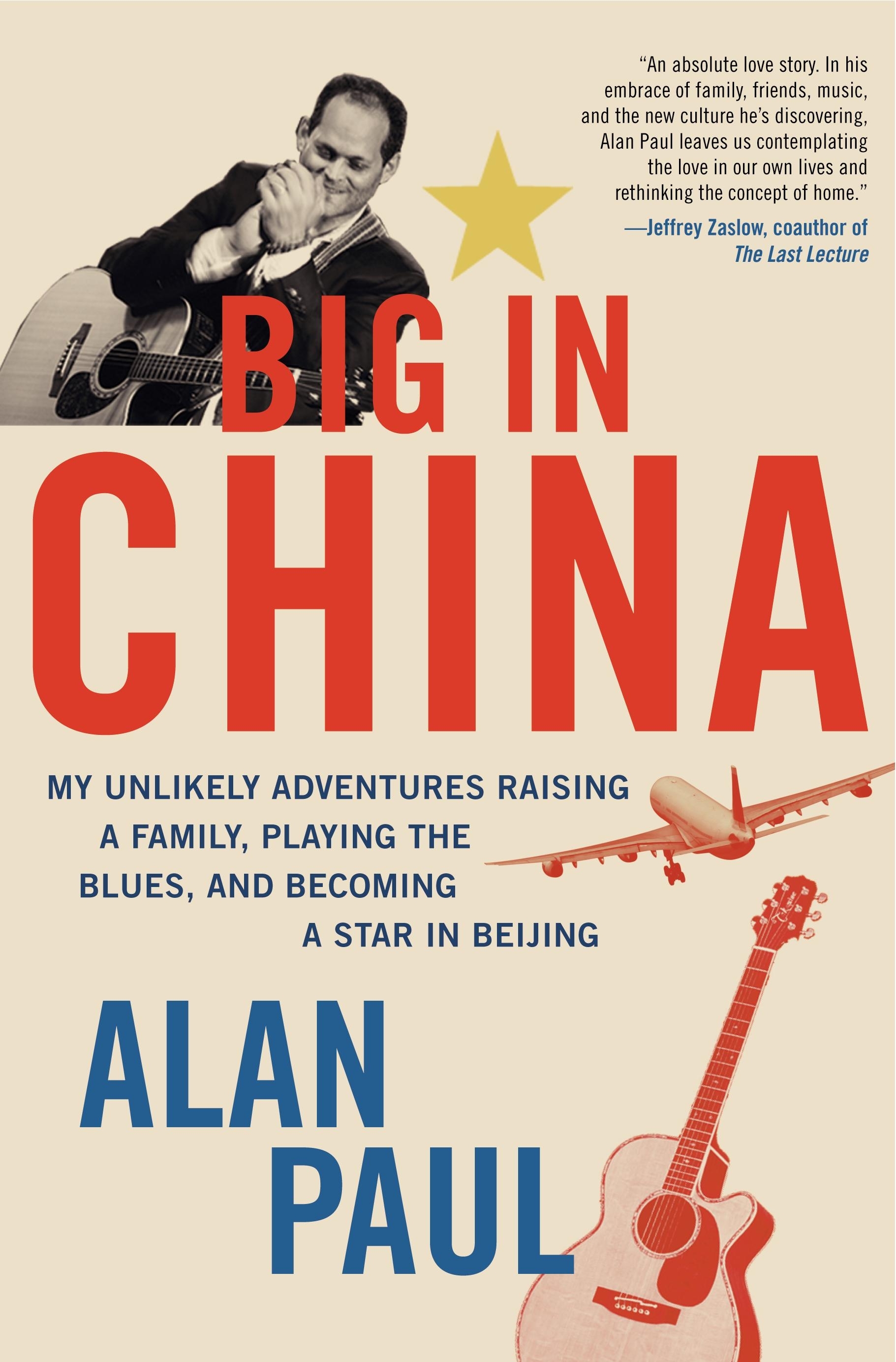 Signed copies of Big in China for just $22, shipping included – US only. For shipping outside the country, please email me directly. Click here to order:
Or buy directly from Amazon:


The Big in China movie deal is ongoing and very much alive. Thank you for all your interest. It remains in active development at Paramount, with a script rewrite underway. Ivan Reitman is attached as both producer and director.
Big in China is a memoir of my three-and-a-half years in Beijing, raising three American kids and forming a blues band, Woodie Alan, with three fantastic Chinese musicians and one other American. We toured the country, recorded a CD, which caught the ear of ZZ Top's Billy Gibbons, and were voted Beijing Band of the Year.
My family moved to Beijing in 2005 when my wife Rebecca was named the Wall Street Journal China Bureau Chief, a job I pushed her to pursue, much to her surprise. She did not think I would be willing to quit my jobs as a senior writer for Guitar World and Slam magazines, give up life in our lovely town of Maplewood, NJ and move around the world with three young children – then ages 2, 4 and 7 – to further her career. But I craved adventure and something told me that the opportunities would not just be for Rebecca.
This was just a gut feeling. I had no real idea what I would do in Beijing. With a profound sense of freedom and rebirth in my new home on the other side of the world, I threw myself into keeping a blog, which became a focus of my reinvention, re-sparking my love of writing.
Months later, I was writing The Expat Life column for the Wall Street Journal Online. Interacting with correspondents from around the world, I began to realize that the stories had broader resonance. The National Society of Newspaper columnists named me 2008 Online Columnist of the Year.  Click here to read all my columns.
Big in China documents all of this, and how the band, formed on a lark after I met Woodie Wu, a young Chinese guitarist with a tattoo of Texas guitar icon Stevie Ray Vaughan, brought me more deeply inside Chinese culture than anything else could have. It was also a profound personal transformation; after 15 years interviewing musicians like Eric Clapton, Gregg Allman, James Hetfield and B.B. King, I was now the performer, climbing onto large stages to spread the gospel of the music that has always been so important to my life.
Big In China also captures some of the other amazing characters I met, including Yechen, my cerebral Chinese language teacher who struggled to find his place in contemporary China, eventually becoming a Taoist monk on a remote holy mountain.
The book chronicles the impact living in China had on my entire family and on my relationship with Rebecca. As we approached and passed our 40th birthdays and marked almost 20 years as a couple, we drew closer and helped each other grow. Rather than running away from intimacy as we both grew, we embraced the changes together.
The book presents a raw, honest look at an American living in a foreign land with his family and trying to experience everything it offers and to capture everything swirling around him.
I welcome feedback so drop me a line by clicking on the "contact me" button or writing alanpaul@pobox.com. I look forward to hearing from you.
谢谢.