Performing "I Don't Care" at the 2008 Xiamen Beach Festival, as described in the prologue of Big in China::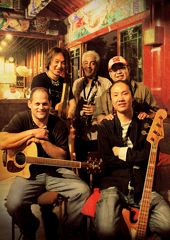 "Best Chinese blues band I ever heard. Who knew?"   -Billy F. Gibbons, ZZ Top
"This great mix of Western and Eastern music proves that blues is a universal language."                –Joe Bonamassa
"Pleasantly smoking CD…good tunes and good musicians clearly enjoying making great music together." –Charlie Musselwhite
"Simply amazing." -Col. Bruce Hampton
"The essence of world music: stone cold American blues with subtle Chinese overtones and killer slide guitar."         -Brad Tolinski, Guitar World
"A can't-miss Beijing phenomenon." -City Weekend
"You can hear the emotional commitment in every note of Woodie Wu's playing. It is the sound of someone determined to find his own voice and destined to do so." -Warren Haynes
Woodie Alan is a collaboration between three Chinese and two American musicians. The result is a powerful amalgamation of sound. After just over a year together, the quintet was named 2008 Beijing Band of the Year by City Weekend magazine, after winning the English language magazine's Reader's Poll. That was just the beginning of the story.
The band toured throughout China, bringing their Beijing Blues to Xiamen, Hangzhou, Suzhou, Nanjing, Changsha and Shenzhen. Though blues music is not well known in the country, Woodie Alan has received rapturous welcomes everywhere they have gone. The band headlined the Xiamen Beach Festival in front of 5,000 people in that beautiful coastal city and performed on some of the country's leading radio stations in the media center of Changsha, Hunan province. The radio appearances and intensive media coverage led to three consecutive sold-out performances. In front of highly charge, deeply appreciative fans.
"Woodie Alan has really pushed forward the development of blues in China by playing hundreds of well-received shows," Guitar China wrote on its widely read website. The site's principals were so impressed that they signed the group to their record label, releasing the debut CD, Beijing Blues. The CD features eight originals, including the band's signature song and title track, "Beijing Blues," as well as two tunes written and sung in Chinese by bassist Zhang Yong. The songs by both Zhang and Paul are not standard blues fare, evoking the Allman Brothers Band, Bob Dylan, Govt Mule and many others, while sounding like no one but themselves. The disc also includes unique takes of Bob Dylan's "You're Gonna Make Me Lonesome When You Go" and the American classic "Will The Circle Be Unbroken."
"We won't cover anything if we can't make it our own and I can't sing a song unless the lyrics feel as if I could have written them," says singer/guitarist/songwriter Alan Paul. "We try to reinterpret everything with our own distinct stamp."
The band's namesakes are the American Paul and Chinese guitarist and dobro master Woodie Wu.
"I never would have guessed that the blues collaborator I sought for years was waiting for me in Beijing," says Paul.
American saxophonist Dave Loevinger and a powerful Chinese rhythm section of Lu Wei (drums) and Zhang Yong (bass) complete the band.