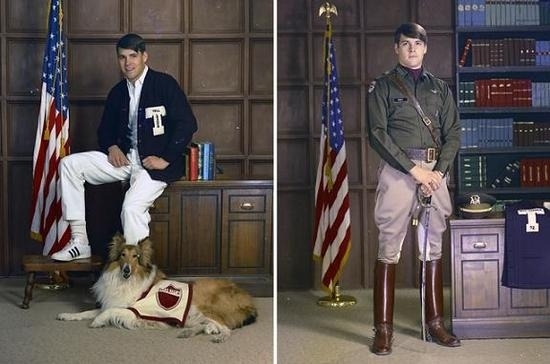 Yesterday I was reading Andrew Sullivan's Daily Dish, a constant source of interest, amusement and erudition and saw the above pictures of Gov. Rick Perry in his Texas A&M days. I was immediately reminded of both W and Animal House's legendary villain Douglas Neidermeyer. (Picture above taken from the Dish.)
I had been thinking about Animal House recently and how long it has been since I 've seen it and this pushed me over the edge. I needed this on my DVR. Lo and behold, it was actually airing last night on one of the 10,000 HBO's I pay for but never watch. I watched. It was fantastic – even funnier and more on point than I recalled, and just filled with classic lines. I am very proud that someone associated with this classic is working on the Big in China movie – Ivan Reitman, who is optioning my book to produce and direct, produced Animal House.
Here's the classic Neidermeyer clip… BTW, when I checked out the Dish this morning I saw that another reader had made the Perry/Neidermeyer connection. No surprise. I think those Perry pictures just show how much AH got right.
http://alanpaul.net/wp-content/uploads/2014/03/alan-imus-300x158.jpg
0
0
AlanPaul
http://alanpaul.net/wp-content/uploads/2014/03/alan-imus-300x158.jpg
AlanPaul
2011-08-17 13:17:42
2011-08-17 14:11:00
Rick Perry = Doug Niedermeyer….The best things in life are free