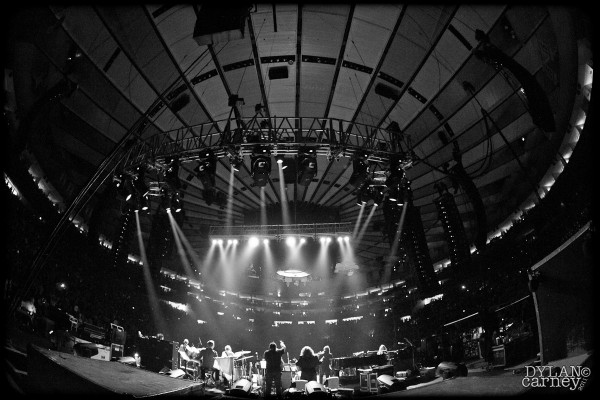 Over the last year as Furthur, Bob Weir and Phil Lesh's latest venture into the music of the Dead, took form and took off, I was completely encased in my own book world and not really getting out to shows. Friends who care have been raving and it looked and sounded great on Youtube. I finally made it to see them last night, at Madison Square Garden and was duly impressed.
I'm working on a Guitar World Furthur feature and I'm going to save most of my thoughts for that piece, but in short, they really have it going on. The three younger musicians Bob and Phil have brought on board are superb, clearly grounded in the Dead catalog, but not stuck there. They are nailing the songs and taking them… further. It's hard to avoid that obvious line, because it's so obviously true.
Guitarist John Kadlecik nails the Jerry licks with a perfect tone and touch and then often veers off into different territory, only to land back in the comfort zone. Drummer Joe Russo is a limber monster and keyboardist Jeff Chimenti has been around the block with these guys a few times now, and his strengths are well known to anyone paying attention.
The decision to have two background singers is also pretty significant. It really tightens things up. They had some very nice spotlighted moments, but it's often easy to forget they are there except the vocals sound so good. And that's probably pretty representative of the entire approach. Phil and Bob look they're in church up there, completely engrossed in the music and focused on the moment and seeing where it takes them. It's pretty impressive all the way around. Much more to come before long.
Ex Phil Phriend Larry Campbell sat in for much of the night on guitar, fiddle and vocals added a lot, fitting in beautifully. His wife, singer Teresa Williams also joined for several tunes and clearly relished being on the big stage with this great band. She sounded fantastic adding harmonies, but I felt like she over-sang on her spotlight tune "Keep Your Lamps Trimmed And Burning."
It was also really good to be back in the Garden. The renovations look great and the seats are much roomier and more comfortable. Now end the NBA lockout! I want to be in there for a Knicks game ASAP.
SETLIST, TAKEN FROM THE GREAT PHILZONE SITE.
Set 1:
Sugar Magnolia>
Scarlet Begonias>
Ramble On Rose
^ Tennessee Jed>
# Uncle John's Band>
% Eyes Of The World>
# So Many Roads
# Box Of Rain
Set 2:
% Shakedown Street>
% The Other One>
% St Stephen>
Unbroken Chain>
The Wheel…>
Days Between>
*# Keep Your Lamps Trimmed And Burning>
% Fire On The Mountain>
% Sunshine Daydream
Donor rap
encore:
^ Attics Of My Life
^ w/Larry Campbell guitar/vocals & Teresa Williams vocals
# w/Larry Campbell fiddle
% w/Larry Campbell guitar
* w/Teresa Williams vocal

http://alanpaul.net/wp-content/uploads/2014/03/alan-imus-300x158.jpg
0
0
AlanPaul
http://alanpaul.net/wp-content/uploads/2014/03/alan-imus-300x158.jpg
AlanPaul
2011-11-11 18:39:11
2013-09-18 13:34:04
Furthur at MSG – 11-10-11