Today is the release date of Jim Yardley's Brave Dragons: A Chinese Basketball Team, an American Coach, and Two Cultures Clashing, a book  I have been thoroughly enjoying. Jim, the Pulitzer Prize winning New York Times Bureau Chief, was a friend  and neighbor  in Beijing and I would certainly be interested in any book he wrote, but Brave Dragons is of particular interest to me; it is about Chinese basketball, a subject close to my heart and which I covered pretty extensively for Slam, the Wall Street Journal, Sports Illustrated, Sports Business Journal, NBC, NBC.com and others. Even better, the team Jim followed for a year was the wacky Brave Dragons from the grimy coal city of Taiyuan.
I visited Taiyuan and spent a day or two with the Dragons to do a story on NYC hoops legend God Shammgod, who found himself stranded there back in 2006. I wrote about it then on my blog, complete with pretty classic pictures of Shamm in McDonald's and elsewhere. Reading Brave Dragons inspired me to dig up the Slam story on Shamm in Taiyuan and post it here. More on Jim and his book to come –  you can order by clicking any of the many links on this page. In the meantime, enjoy one of my favorite pieces from China.
God's Green Earth
Former star God Shammgod thought the NBA would be the next step on his journey. Instead, we found him in China.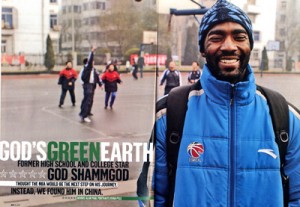 Dirk Nowitzki, Yao Ming, Manu Ginobli, Tony Parker, Steve Nash. These are just a few of the many international players who have distinguished themselves playing in America. We've also begun to 
witness a bit of the inverse, players leaving or skipping the NBA to ball overseas. Josh Childress and Brandon Jennings are two of the more prominent names of late. Childress flew to Greece from the ATL, while Jennings used the Italian league as a launching pad to the NBA. A number of college players, who ma
de their name by shining in the NCAA tourney, bide their time overseas praying it will lead them back to America and the NBA. Khalid El-Amin, Allan Ray and Dee Brown are a few examples. And then there's God Shammgod, a product of Providence College, who helped propel his team to the '97 Elite Eight. Shamm has some of the sickest handle of any baller out there, who can electrify a crowd on a given night. Alan Paul caught him with him in Taiyuan for Slam issue 108.
It is not surprising to find God philosophical, serene and more than a little wise. It is, however, unexpected to find him in a setting that many would consider hell—a rundown hotel in Taiyuan, the capital of Shanxi, China. But that is where God Shammgod could be found this past fall and winter, playing in the China Basketball Association.
Taiyuan is gray, non-descript, sprawling and home to much heavy industry. Routinely rated as one of the world's most polluted cities, a gray haze hangs over everything and no one visits there unless they have to. It is also home to the second-worst team in the China Basketball Association, the Shanxi Yujun.
In short, the team is a dysfunctional mess. They went through four coaches this season, all of them receiving direct or phoned-in instructions from the owner. Against particularly tough opponents, those orders often included keeping the team's best player on the bench rather than wearing him out in a hopeless cause. Shammgod was that star player and the concept drives him nuts. "One game, I had 37 points in 19 minutes and then came out for the rest of the night," he says.
Shamm lives and breathes hoops, spending most of his time in China watching downloaded NBA games or clips, or talking on the phone to old friends like Chauncey Billups. They have remained tight since playing in the '95 McDonald's All-American Game alongside the likes of Kevin Garnett, Stephon Marbury, Shareef Abdur-Rahim and Tractor Traylor. "We considered ourselves the best high school class ever and vowed to remain friends forever," Shamm says. "And most of us have."
Shamm, as he prefers to be called, made his name as a sophomore at Providence College when he, Austin Croshere and Jamel Thomas led the 10th-seeded Friars on a memorable run to the Elite Eight, which included slaying heavily favored Duke before finally falling in OT to eventual champs Arizona.
That performance was enough to prompt Shamm to enter the '97 Draft. He says his hometown Knicks implied they would select him 25th, but instead they chose big man John Thomas.
Shammgod went to the Wiz in the second round, made the team and appeared in 20 games before getting cut the following year. He thought he'd be back in the L before long but instead has undertaken an international tour that has brought him to Poland, China, Saudi Arabia and back to China, where he found himself playing for a horrible team in a mediocre league.
"This is the worst basketball experience of my life, but I feel okay," Shammgod says, sitting on his hotel room bed, laptop open by his side. "It's just good that I had to deal with this when I'm 29 and not 22, because I would not have handled it then. At the end of the day it is what it is, and you can't control what you can't control."
This is Shamm's second tour of duty in China, but the first one was much more enjoyable. He played for Zhejiang from 2001-04, winning league MVP twice and establishing himself throughout the league as a great player and an easygoing, friendly presence. Hangzhou, Zhejiang, is a lovely city on a lake and he was treated like a star. In '03, Shammgod went to Saudi Arabia, making over a half-million for two years. He was asked back but he was ready to move on and opted for a return to Hangzhou.
Current China Basketball Association procedure, however, requires all new foreign players to attend a summer camp at the US Basketball Academy in Oregon, at the end of which there is a draft. Shamm thought there was a gentleman's agreement for no other team to pick him, but Shanxi did so and he had to decide on the spot to either sign for $22,000/month or face permanent banning from the CBA. When he opted to sign, he couldn't have realized just how bleak the season would become.
"It's hard to deal with being on a team that doesn't know how to win," says Shamm. "But the thing that kills me is they won't let me use the gym by myself. It makes no sense and it hurts because I am focused on being ready to take it to the next level."
Shammgod still hopes for another shot at the NBA. He hasn't been in a camp since '02 when he tried out for the Mavericks, but he still has plenty of game and friends like Billups encourage him that he belongs in the L. Anyone who saw Shamm play at Providence will remember his unbelievable handle, which is still eye-popping. The rap on him was always that at six feet, he was too small and had a questionable jumper. He has hoisted countless Js over the years and now releases the ball with a smooth motion and great consistency. His game still favors distributing and getting to the rim, which he can do at will in the CBA. Shamm also has that extra visual dimension only the best PGs share. He delivers the ball to his teammates where and when they can score easily. He is a classic point, a style that was out of fashion in favor of scoring PGs like Billups and Marbury when he came out of school. His refusal to play in Europe, where the longer season would take even more time away from being with his wife and three kids, has probably hurt his chances to return to the NBA more than anything.
He spends hours sitting in his hotel room IMing and video chatting with his family and friends. There have been times when he's wondered if he should have gone to Europe or played in an American minor league, where an NBA recall would be closer at hand. "The money has been so good overseas that I haven't wanted to play in the CBA [Continental Basketball Association] or the NBDL, where I've got nothing if I don't get called up," says Shamm. "But it's hard sometimes. I'm on NBA.com every day. I see point guards getting two or three assists and it kills me, more so as I get older. But how can you turn down 250 or 500 grand a year for something not guaranteed? I've got three kids and I've got to look at the big picture."
If his family is why he's abroad, it's also why he longs to return home. He has two young children and a schoolteacher wife in the home he built in Monroe, NY, and an 11-year-old son, God Shammgod Jr., in the Bronx.
"My older son is a great little player and he's at a stage where he needs to see me at his games. It's hard because my father wasn't around much when I was my son's age and I didn't want to be like that. Our reasons for not being around are totally different, but still…
"He's cool with it. I'm the one it's killing. We speak every day but I want to be at his games."
One option Shamm has never seriously considered is becoming a professional streetball player, though he says AND 1 has sought his services. "That's not basketball, it's a show," he says. "Real streetball legends like Joe Hammond and Earl Manigault didn't do tricks—they were great ballplayers who were good enough to play in the NBA. I'd rather go get a job than do that."
Most American players in China are here for similar reasons. Each team can have two foreign players, though they can only play a total of five quarters per game. All of them struggle with the culture to some extent or another. In Beijing, Shanghai and Guangdong, they can live a fairly Western lifestyle, unavailable in smaller places like Taiyuan. Shamm eats most of his meals at McDonald's and Pizza Hut, the city's two American restaurants. When he has to eat Chinese, he opts for basics like steamed rice and fresh fruit.
Jason Dixon is the dean of foreign players, an eight-year member of the three-time champion Guangdong Southern Tigers. The friendly big man out of Liberty University speaks some Chinese and is well adjusted to life here, but even he tries to avoid local food. "When I have to eat it, I stick with fried rice and dumplings," he says. "They eat too much weird stuff."
Guangdong is in southern China, which has a well-known taste for dog and other exotic meats. "We have a Muslim guy and he won't eat dog or other stuff, so I follow him at team meals," says Dixon. "If he won't eat it, I won't eat it."
But Dixon, who has a wife and three kids back home in Denver, has no regrets whatsoever about his career path. "It's all about job stability," he says.
It would be easy to look back and say that Shamm would have had better stability and a longer NBA career had he not left school after two years in which he averaged 10.3 ppg and 6.6 apg. He admits to having such thoughts but refuses to second-guess himself.
"There's no way to know what would have been," Shamm says. "Look at my boy Jamel Thomas, who stayed four years, had a great career and barely played a day in the NBA.
"It's crazy, but when I think about college I don't think about basketball. Though I was always pretty good at it and I thought that I went to school just to play sports, when I got out I realized that I had actually enjoyed school itself. The loneliest time in my life was when I left Providence and was living alone in hotels, going around to work out for teams."
In addition to the great '97 March run, Shamm was also famous at Providence as the guy who changed his name to God. He was known as Shammgod Wells, a high school All-American at Manhattan's La Salle Academy (where he played with Ron Artest). Then he went to Providence and became God Shammgod, prompting endless jokes. It's a misunderstanding that has caused him endless annoyance, even pain. "My given name is God Shammgod, but I took my mother's last name when we moved when I was a kid," he explains. "I had been made fun of my whole life and I had a chance to start over. I started calling myself Shammgod Wells. At Providence, they said I had to be listed by my real name unless I legally changed it. I wanted to do it, but that cost $600 I didn't have. So I went back to my real name and everyone thought I considered myself the gift."
Against Guangdong, China's elite team, Shamm sat out the first quarter, glumly watching as young National team pg Chen Jiang Hua shredded the Shanxi backcourt. The score was 43-19 when he checked in to start the second quarter. They still lost by 30 points, but there was a sense of hope when Shamm was in because of the way he elevates his teammates. "Some Americans here feel like they've got to score 50 every night and shoot every time they touch the ball," says Shamm. "My coach will actually say, 'Don't pass to this guy. He can't hit a shot.' But if he's on the court and he's open, I'm going to pass him the ball."
A couple months later Shamm took charge of an away game against Beijing, scoring 46 without ever gunning; he could have had 60 but instead dished almost 20 assists. Though Shamm played most of the game, the coach kept him out for an early fourth quarter stretch that saw the Beijing lead grow from two to 11. He returned with about three minutes to play and led the team on a thrilling comeback.
With under a minute left and his team down two, he stripped his opponent at mid-court and fed a streaking teammate for a two-handed breakaway jam. That should have tied the game but the ref waved it off, calling a bogus traveling violation, the first of three lame calls to go against the visitors in the game's final ticks. It's the kind of blatant homer calls you can expect in China. It left Shamm frustrated but not angry.
"I used to get mad and want to control everything," he says postgame, over a plate of chicken wings at a TGI Friday's in downtown Beijing, miles from the dilapidated arena on the fringes of town. "But I'm 29 and to have any hope of being in the NBA, I can't get sidetracked. I'm working out with Tim Grover (of MJ and Hoops the Gym fame) this summer and until then I'm taking it all in stride, saving money and investing well so I can stay in the States."
http://alanpaul.net/wp-content/uploads/2014/03/alan-imus-300x158.jpg
0
0
AlanPaul
http://alanpaul.net/wp-content/uploads/2014/03/alan-imus-300x158.jpg
AlanPaul
2012-01-31 21:18:57
2012-02-14 13:23:47
God Shammgod and basketball in Taiyuan, China