The Steelers and Broncos meet Sunday in a wildcard game. The last time these two teams met in the Playoffs was the 2005 AFC Championship Game, which may be the most memorable football game I've ever watched. That's because I watched it at 4 am in a Beijing sports bar with my friend Eric Rosenblum and some other Pittsburgh lunatics.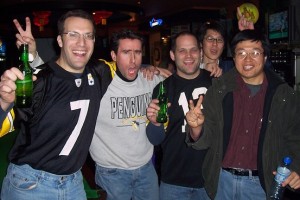 I recalled the experience last year in this WSJ.com column, and it seemed like a good time to roll it back out.
One of the great things about writing the piece is that it got me back in touch with Ping An, the Chinese fellow who then lived in Pittsburgh and had wandered into the bar at halftime and joined our crew. Taking a flyer, I sent a link to the email I had, with no idea if it would bounce back or not, or whether Ping was still in Pittsburgh and lo and behold, he responded and we rekindled our friendship.
When I wrote this, it was purely theoretical:

I'm sure some day Ping An will take his kids to Xi'an for Chinese New Year, even if they spend their entire lives in Pittsburgh. Some roots are just that deep.
He wrote back:
I am now father of two young boys(one 2 and the other 10 months)…Like you mentioned in your article it would be an very interesting experience for my two boys when I bring them to China.
Ping An, his wife and son came to my Pittsburgh book reading last April. A friendship made over football and beer in an early Beijing morning.
http://alanpaul.net/wp-content/uploads/2014/03/alan-imus-300x158.jpg
0
0
AlanPaul
http://alanpaul.net/wp-content/uploads/2014/03/alan-imus-300x158.jpg
AlanPaul
2012-01-05 14:49:28
2012-01-05 14:49:28
Watching the Steelers in Beijing