RIP Jeffrey Zaslow – updated with eulogies and links to his columns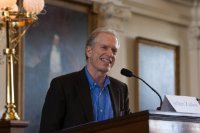 I was devastated to hear yesterday about the death of Jeffrey Zaslow, the great Wall Street Journal columnist and reporter and the author of many best-selling non-fiction books – a remarkable four in the last two years. I never met Jeff, but we exchanged a lot of emails over the past couple of years. When I was putting together a list of potential blurbers for Big in China, it occurred to me that Jeff might be a good get. I asked someone at the Journal to contact him to feel out his interest and he said he would be happy to give the book a read and to chat with me directly.
I was thrilled by this and even more so when he said he loved the book and would be happy to provide a quote. I was initially intrigued by what he wrote, because it did not really comport to anything I was thinking about my own book:
"An absolute love story. In his embrace of family, friends, music and the new culture he's discovering, Alan Paul leaves us contemplating the love in our own lives, and rethinking the concept of home."     – Jeffrey Zaslow
Harper liked this so much that they put it on the cover of Big in China. I wish that we had all realized something that Jeff inherently got – the book's potential appeal is the way I write about relationships. It' s not about China, or a guy fronting a band, or anything else. I had some rough idea about this, but could not quite articulate it – but Jeff automatically, immediately saw and understood.
That is not in any way a surprise, because writing about relationships and their centrality to life with honest, clear emotions was central to his own work. It's what connected all of his WSJ Moving On columns, his great front page stories for the paper and all his books
, including The LAST LECTURE and his most recent efforts, Gabby: A Story of Courage and Hope and  The Magic Room: A Story About the Love We Wish for Our Daughters.
Jeff simply had an innate, well-honed ability to tap into a story's emotional essence and to write about it in straight-forward manner that connected immediately to people. It's something I really admired because I have also always strived to write with an emotional directness and I learned a tremendous amount reading his work. His passing, in a car accident, is a great loss to his many, many readers and, most of all, of course, to his wife and three daughters. I join the masses of grieving readers and friends in sending them my condolences and best wishes.
The Wall Street Journal paid loving tribute to Jeff here. Take a minute to read through the comments section as well and you will see how many people received personal emails back from Jeff. He and I had regular emails exchanges since I first contacted him about Big in China and he was never less than gracious. I'm proud to have some tenuous connection to Jeff, who was really an absolute mensch – a role model in life as well as in writing. Of course I now wish I had reached out to him more frequently.
Some of Jeff's best WSJ columns are featured here on his own site.
POST-FUNERAL UPDATES:
Becky traveled to W. Bloomfield, Michigan for Jeff's funeral yesterday. She described it as both inspiring and devastatingly sad. Here are a few more reminiscences. All available and developing information just reinforces the extent to which Jeff was a role model in life and writing.
•A reminiscence that's about as raw as it gets from Jeff's former Chicago Sun-Times colleague Neil Steinberg.
•Life's Frailty, and the Gestures That Go a Long Way – NYT column by Tara Parker-Pope, a former WSJ colleague.
http://alanpaul.net/wp-content/uploads/2014/03/alan-imus-300x158.jpg
0
0
AlanPaul
http://alanpaul.net/wp-content/uploads/2014/03/alan-imus-300x158.jpg
AlanPaul
2012-02-11 21:22:19
2012-02-15 16:00:00
RIP Jeffrey Zaslow – updated with eulogies and links to his columns