Time to appreciate Chris Bosh – an interview
Basketball Thoughts
Chris Bosh explains how his view of the League has changed and much more.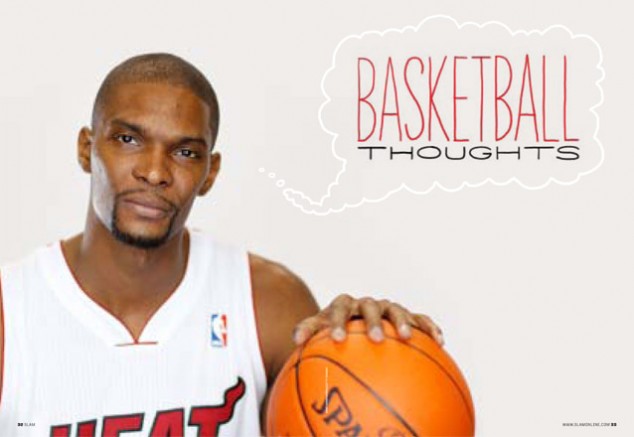 Seeing how the Heat have struggled since Chris Bosh's injury, it seemed like a ripe time to look back at my interview from earlier this year. Originally run in Slam.
**
In the eyes of fickle NBA fans, Chris Bosh went from being the beloved underdog to a hated favorite. In a revealing interview, the future NBA Champ (yeah, we said it) explains how his view of the League has changed, and how hard he works at getting better.
by Alan Paul
Dropping into a plush chair, Chris Bosh unwinds his long, lean legs and smiles. It's a bit surreal sitting with him in a New Jersey hotel room, 14 hours after watching him lead a Dwyane- and LeBron-less Heat team to a triple-OT victory over the Hawks on national TV. When the game ended at midnight, I stumbled to bed. Bosh boarded a plane in Atlanta, flew up here, checked into his hotel and slept a few hours. The Nets will be waiting tomorrow night, but now he has a rare moment in this year's compressed schedule to breathe and reflect.
"Lucky shot," Bosh says with a shrug, regarding the buzzer-beating, tying three-point bomb that sent the game into OT. But the twinkle in his eyes and the slight smile on the edge of his lips reveal that Bosh enjoyed his moment in the spotlight. His 33-point, 14-rebound, 5-assist performance was the kind of game he put up regularly during his first seven years as the Raptors' undisputed man. His final year there, he averaged 24 ppg and 10.8 rpg before setting off for Miami as James' and Wade's running partner.
The minute he signed with the Heat last summer, Bosh's public reputation was flipped on its head. The fourth pick in the great '03 Draft and an All-Star every year since his third season, Bosh suddenly became overlooked, even mocked for being willing to accept third billing in his quest for rings. Last season, Bosh seemed a bit rocked by this change, pulling back from the spotlight. Now he is settling down into his role. Newly married, his wife expecting their first child, Bosh seems comfortable in his own skin and eager for another crack at his first ring this spring.
"Chris has been more aggressive this year in terms of both his play and his role on the team, taking on more vocal leadership," says Heat assistant Bob McAdoo. "He's very willing to step up and just very focused on winning."
SLAM: You took last year's Finals loss so hard that you could barely walk to the locker room afterward.
Chris Bosh: Yeah, I was almost in shock. I would have laughed if you had asked me the night before if we might lose. I thought we were in the perfect situation down 3-2 with two home games. There was no way we were going to lose! When it hit me that after all the things we went through we were going to lose—those few moments watching them roping off the court, the game ending and the Mavs celebrating—were like a slow death. All I could think was, This isn't how it's supposed to go.
I tried to congratulate Tyson [Chandler], who's a good friend, and couldn't even talk. He was talking to me and I was literally moving my lips with nothing coming out. I just walked off and took a knee and everything went by in a flash. It was just very painful.
SLAM: Did that pain fuel your off-season workouts?
CB: Absolutely. Every Finals come down to a handful of possessions. I watched every game six-to-eight times and saw I had weaknesses that were exploited, and I vowed that would not happen again. I'm not going to get that far and have people doing things to me and be unable to respond. I'm going to be physically and mentally stronger.
SLAM: Wasn't it hard to watch those games again?
CB: No. It was much harder going through it all and coming up short. I watched with a remote in hand and I rewound and fast forwarded, froze… I kept going back and forth. I don't want to run from the truth, and the film doesn't lie. I'm my own biggest critic, and the only way I'm going to improve is to see what I was doing wrong.
SLAM: So what were those weaknesses?
CB: It's really an attitude thing, and the goal is just being more aggressive, driving to the basket more. It's fuel when you're working out and are exhausted and tempted to do a light day after two really hard ones. Then I think, I'm not the champ. I don't deserve to take a day off.
SLAM: The late great Dennis Johnson told us that his 0-14 Game 7 in '78 propelled him. He said, "Success is a great thing, but sometimes failure is, too."
CB: Absolutely! Everyone talks about success, but what happens before? There's always something you have to overcome. Life is not going to be sweet all the time. Failure either breaks people or it makes them succeed. You can't be afraid to get back up and try again, and you really can't do that unless you acknowledge the failure.
SLAM: Did you anticipate the extent to which you guys would be public enemies?
CB: Absolutely not [laughs]. I made a basketball decision because I just wanted to win. I didn't expect the backlash, and I don't think any of us did. You can't worry about what people say, but… People always harp on athletes being selfish individualists, and then LeBron makes a decision to join with us and he's attacked because "the great ones win them by themselves." That's not true. Even the greatest had 10 other guys who were part of a unit and got it done together. We try to tune all that out and just stay focused on basketball.
SLAM: Is that easier now that you understand that every town you arrive in, the media is out in full force, the stands are full, the team is amped up…
CB: Yes. At first it was like, Man these guys really don't like us [laughs]. I just couldn't imagine what was going on. Now I don't care. The other night I missed a shot and this guy heckled me: "Bosh, you're a choke artist." I laughed and gave him a thumbs up. Last year, it would have really bothered me. [Coach] McAdoo is always telling me to just follow my instincts and play basketball.
SLAM: That must have been a bit hard last year coming to such a different offense.
CB: It is different—I don't have the ball in my hands all the time [laughs]. That did make it more difficult at first, but I took down that barrier and quit worrying. If you want to win, you have to sacrifice and do what makes the team work most efficiently.
SLAM: You also pulled back your public persona, not tweeting so much or doing the fun YouTube videos. Was that a result of all the scrutiny?
CB: To some extent. I don't miss it. I value privacy a little bit more than I used to. I was doing those things because I just wanted to have fun and show another side of me. Honestly, all of the negative attention we received last year sort of jaded me from the spotlight. I mean, all of a sudden I suck, I'm the butt of all the jokes… and here's what I found most disturbing: These retired guys from the NBA—this fraternity that we were supposed to be part of—were leading the charge about our alleged failings. They should have been encouraging younger guys.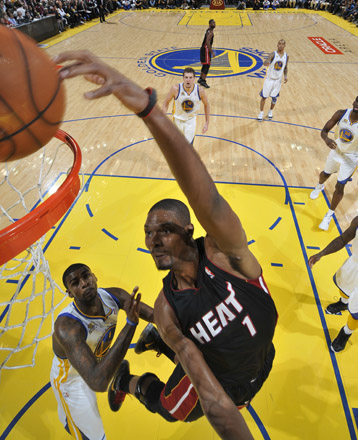 SLAM: Did all that bring you guys closer together?
CB: Absolutely. All this noise from the outside is what it is. We can't do anything about it, but we're going to lean on one another and help each other through it. We just have to play basketball and keep patting each other on the back. It encourages me to look out for young players even more. An old teammate told me early, "Look out for your guys. This is an exclusive fraternity." I've always believed that, which is why it hurt so much to be attacked by guys we once considered our heroes.
After last season, I wanted to take on a little bit more of a leadership role. I'm getting older and things are coming to me more and I have to take responsibility for that. Experience has taught me a lot, and I don't want to let that fall by the wayside.
SLAM: One of the downsides of being a top-5 pick is you're usually going to a bad team, as you did. There you were, a skinny kid weighing…
CB: A solid 210! [Laughs long and hard.]
SLAM: And they trade Antonio Davis and you have to play center. Welcome to the NBA! Was being thrown in the fire positive or negative?
CB: [Laughs]. At the time it was negative, but in the long run it's been positive. I learned very quickly that the NBA is a very rough place, physically and mentally. There's no mercy. If you lost by 40 last night, the schedule still goes on; get on the plane and get ready for the next game. One of the hardest things for me as a rookie was watching Georgia Tech go to the Final Four. I remember telling my friends I wish I had stayed in school and they didn't understand: "You've got all this money and everything you want." But it wasn't about the money. It was about how I felt right then.
It was just tough. It was the worst. We were losing every night, which was new for me, and I was getting physically and mentally beat up. I was 19 with no friends in the city, there was no one under 26 on the team and I had to learn how to be a grown man on my own. You think you're grown in college but you're not, because everything is kind of controlled. You lose the camaraderie and suddenly find yourself alone in an apartment just feeling lost. I would find myself in a hotel room or home after practice just wondering, What do I do now?
SLAM: That's a lot of pressure to put on a kid's shoulders. Do you envy the guys on your team now who have the shelter of you three and no pressure to star?
CB: No. Look, there were hard days but I never felt sorry for myself. This is what you ask for; it's what I dreamed of as a kid playing in the park. This is the spot you want to be in, and if you want to be successful, you are going to have to deal with pressure.
It's a luxury to play. I get to play basketball for a living. I'm a lucky guy and I'm thankful for everything I have and what I get to do. I realize how many people would give their left foot to just play one game in the NBA. This is the NBA! I want to bring that childlike approach every night—just go out there and have fun. I want to play like a kid, for fun but with intensity. Play to win.
http://alanpaul.net/wp-content/uploads/2014/03/alan-imus-300x158.jpg
0
0
AlanPaul
http://alanpaul.net/wp-content/uploads/2014/03/alan-imus-300x158.jpg
AlanPaul
2012-05-21 15:14:46
2012-05-21 15:14:46
Time to appreciate Chris Bosh – an interview