10 Years Ago the Beijing Olympics started and I was in the middle of them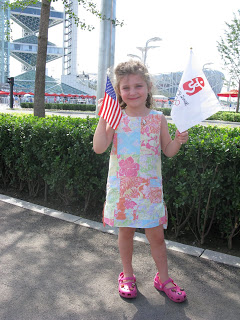 Wow, it's been a decade!….
I was in the middle of the Beijing Olympics in a most profound way, writing the Destination Beijing blog for NBC.com. Sadly, the material is all long gone from the site, and I only saved a small amount of my work. Much of it is gone into
the digital ether.
Looking back through my blog takes me back to a hyperactive time. I certainly was busy, crisscrossing Beijing to cover the games, attend events, file back at the NBC office in the International Broadcast Center, run out to play high-priced black tie gigs like this, running over to appear on CCTV.
It was a really remarkable run, and a fitting culmination to our time in Beijing. As I wrote in Big in China, the Olympics dominated so much of our time there. They were such a huge, looming abstract presence that it felt almost surreal when they actually were under way. This Expat Life column captures that feeling quite well.
One of the most remarkable moments came after I spent a long, exciting but exhausting night running all over the city covering the opening ceremony, starting at the gate of the Bird's Nest, then working my way out, reporting in a live blog how the remarkable event was being viewed in Beijing itself. I dragged myself into the Broadcast Center at 8 am, because I was catching a bus to a shooting event, which would award the Games' first gold medal. I walked in to see the live N
BC feed – the televised event was just beginning in the US. I watched for a while, almost believing it was live, despite my intense immersion the previous night. Then I turned away and almost bumped into Bob Costas, who was walking out of the studio after an all night work day. That all still spins my head a bit.
I still feel a bit guilty that we sent Jacob and Eli away during the Games – they came back here with my brother and spent two weeks with various relatives before my in-laws brought them back – though it was a reasonable, and probably correct, decision. Becky and I were both working 'round the clock at the games, with intense, erratic schedules. Anna stayed and played with friends, and we did manage to take her to one event together – women's gymnastics. Here's my report about that.
It was also amazing to be covering the Games along with Rebecca. We have always had parallel tack careers, doing very similar work (journalism) that never really intersected. To finally find ourselves covering something together was just fun; the fact that it was women's weightlifting was just bizarre.
http://alanpaul.net/wp-content/uploads/2018/08/IMG_2476.jpg
320
240
AlanPaul
http://alanpaul.net/wp-content/uploads/2014/03/alan-imus-300x158.jpg
AlanPaul
2018-08-08 21:27:35
2023-05-24 12:48:59
10 Years Ago the Beijing Olympics started and I was in the middle of them