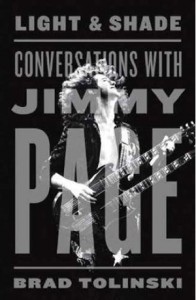 Guitar World Editor Brad Tolinski, my longtime friend and colleague  has a great new book out, Light and Shade: Conversations with Jimmy Page. It is a must-have for any and all fans of Led Zeppelin. If you are one, go get it. If you know one, go get it for them for Chanukah, Chistmas, Kwanzaa or Election Day.
At the heart of the book are a series of extensive interviews with Page. No one has spoken with the guitarist more often than Brad and the conversations are deep, rich and largely musically focused.
It's a great book, which is off to a great start and  I'm very happy for Brad, who I consider one of the unsung geniuses of rock journalism, consistently putting out great articles that manage to go deep while remaining relevant and off the moment. Few people in music journalism have been able to manage this juggling act with half his skill for half the time.
I have learned a lot from Brad, who has also been incredibly supportive of me and my work for over 20 years. I'm proud of the relationship, which has outlived by far most editorial collaborations.
http://alanpaul.net/wp-content/uploads/2014/03/alan-imus-300x158.jpg
0
0
AlanPaul
http://alanpaul.net/wp-content/uploads/2014/03/alan-imus-300x158.jpg
AlanPaul
2012-10-24 19:46:01
2012-10-24 19:47:15
Great new Led Zeppelin book