Fishing with Capt. Mickey, aka Dean Ween
Mickey Melchiondo aka Dean Ween of New Hope, PA has been my bud for about 20 years. It's not like we talk all the time, but our friendship has endured for a long time. It was all based on the simple fact that I loved his music with Ween. In  94, when the great Chocolate & Cheese came out, Guitar World Editor Brad Tolinski and I became obsessed with it, started putting it on every evening around 7 pm as we were still toiling away, growing increasingly punch drunk. Then we  started putting them into the magazine as much as we could.
My friend Eli Attie had already been nagging me about Ween for a couple of years but I just couldn't follow his advice and get into them. Once I got it, I got it bad. I spoke to Mickey on the phone a few times, and the very first Ween show I went to, at Tramps in NYC, I ended up swigging Jack Daniels out of a bottle with P-Funk guitarist Blackbyrd McKnight and stage diving. 
A few years later, when Ween's seminal 12 Golden Country Greats came out I was living in Ann Arbor and I took the train to Chicago to see the country tour with Art Rummler. We were so inspired that we drove back to Detroit together to see them again.
There's a lot of water under thebridge since then, and their music has meant a lot to me. It's hard to explain why, but I never would have had the guts to form a blues band in China, call it Woodie Alan and take to stages in Beijing if not for the inspiration of Ween's brown sound. All of which is to say I was more than happy to hit the water with Mickey last year for the following story, which ran in the Guitar Aficionado summer issue. Mickey's a damn good captain. If you have a hankering for some Jersey shore deep sea fishing, drop him a line at his Facebook page.
Here's the story:
Mickey Melchiondo stands in the bow of his boat, yanks back on the fishing rod, sinks a hook deep into a bluefish, watches the line run for a moment, spits a cigarette out of his mouth and lets out a cackle as he hands over the bending rod.
"Here you go dude! Have fun – you've got a hook into the best pound for pound fighting machine in the ocean."
The handoff complete, Mickey slips around towards the rear, taking over the helm of the bobbing Archangel.
A half hour ago we were yanking Flukes off the bottom of the Atlantic with the Asbury Park skyline glistening on the shore. With several flopping around our cooler, Melchiondo gunned the engine towards the open sea to go after the big fish. Soon, one big, tough-fighting bluefish after another is being pulled in, each met with a giant smile plastered across Melchiondo's face.
Capt. Mickey seems far removed from his alter ego, Dean Ween, guitarist and co-leader of Ween, a band he formed with Gene Ween (Aaron Freeman) when they were both 14. In the intervening years, the band evolved from a great idea into a great band. As anyone who has seen them live or listened seriously to their 14 albums knows, Deaner is an accomplished, inspired guitarist, attacking his red Strat with violent intent. He approaches fishing in a similar manner – as the giant bluefish spitting blood all over my shirt and the boat's deck can attest.
"Fishing and guitar are the two things I've done consistently throughout my life," Mickey says. "Being on the road with a rock band is such a grind, so I've always looked forward to going fishing, where I could spend six hours in a different mental space. It's the most healthy thing I do in my life."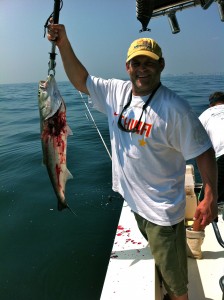 We're off the boat now, back to some good unhealthy living, washing down pork roll-egg-and-cheese sandwiches and gravy-covered fries with Buds at an Irish bar next to the marina. With Ween touring less in recent years, Mickey explains, he had reason to ponder what else he might do with his time.
"What better gig in life could there be than being a guitarist in a band?" he asks. "Then I realized that I could actually turn fishing from a hobby into a profession and have a second gig that was just as cool."
Several years ago, Mickey enrolled in a mariner's school and began studying hard to get his captain's license, which he would need to talk paying customers out.
"Every day, I took my charts to the library and set up my slide rule and plotted things out," he says with a laugh. "This is fun but I take it seriously."
Which doesn't mean that there isn't a certain Ween-ness about fishing on the Archangel. Mickey logs every trip on his company's Facebook page, where one recent entry read, "Out of all of the trips I've run this one really stands out. Out of the four people on the boat today, 3 of us are covered in human blood. That's really all I can say about that."
He laughs when asked about that day of fishing. "Can't go there," he says. "But I'll say that's one of the things I love about fishing and how it's similar to touring; every day is different and you never know what it's going to be like."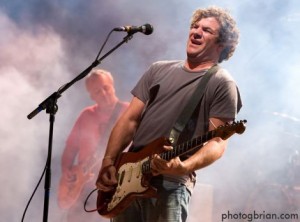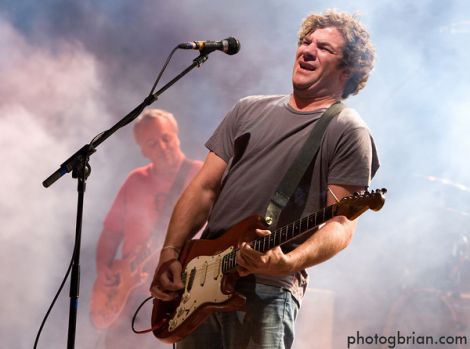 Mickey's Guide Service began three years ago and his initial clients were mainly Ween fans who realized that for a few hundred dollars they could spend half a day with Deaner. The base has expanded, as Mickey's reputation as a serious but fun-loving captain spreads. He's still approaching it with the joy of an amateur.
"Turning something you love from a hobby into a job can be dangerous, as I know from the band," Mickey says. "But you can still get the joy out. When we're on stage and the music is good, I don't even realize there's anyone standing in front of me, because I'm just lost in it. I get into that same level of intensity from fishing and that's a beautiful thing."
http://alanpaul.net/wp-content/uploads/2014/03/alan-imus-300x158.jpg
0
0
AlanPaul
http://alanpaul.net/wp-content/uploads/2014/03/alan-imus-300x158.jpg
AlanPaul
2012-10-26 01:03:49
2012-10-26 01:08:25
Fishing with Capt. Mickey, aka Dean Ween