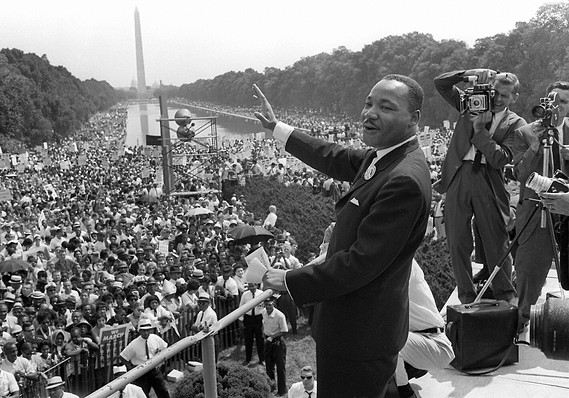 Please pause to remember Martin Luther King, Jr. (January 15, 1929 – April 4, 1968) today.
Today is the 30th time that we as a nation have taken a day off to officially celebrate Dr. Martin Luther King Jr. anyone my age or older remembers what a struggle it was to get that law passed – eventually signed by President Reagan, who had opposed it.
Let us take a moment to really honor him. If you want to perform some type of service today, click here – quickly. 
Dr. King was, of course,  murdered in Memphis. I think it's important to remember that he was there marching in support of striking garbage haulers. I'm also sure many of those striking men could have and would have done a lot of other things had they had the opportunity to do so.
Gregg Allman wrote the song "God Rest His Soul" for Dr. King but it was never on one of his studio releases. He's said that he never intended to release it and just wrote it as a personal tribute, but he also sold the song for way too cheap to producer Steve Alaimo when he needed money to get back to Los Angeles. Alaimo also bought "Melissa," which ABB manager Phil Walden eventually bought back 50 percent of… Anyhow, I think it's a great tribute to a great man. The version featured below was on One More Try, a great anthology I worked on and wrote the liner notes for and which is sadly out of print.
MLK's haunting final speech, "I Have Been to the Mountaintop" is below that. Unbelievable. Take a moment to listen. His self prophecy is beyond words and understanding.
MLK's haunting final speech, "I Have Been to the Mountaintop":

http://alanpaul.net/wp-content/uploads/2016/01/MW-BS804_mlk_20_20140117092054_MG.jpg
398
569
AlanPaul
http://alanpaul.net/wp-content/uploads/2014/03/alan-imus-300x158.jpg
AlanPaul
2016-01-18 14:10:28
2017-07-01 20:01:40
Honoring Dr. King with Gregg Allman's haunting "God Rest His Soul"