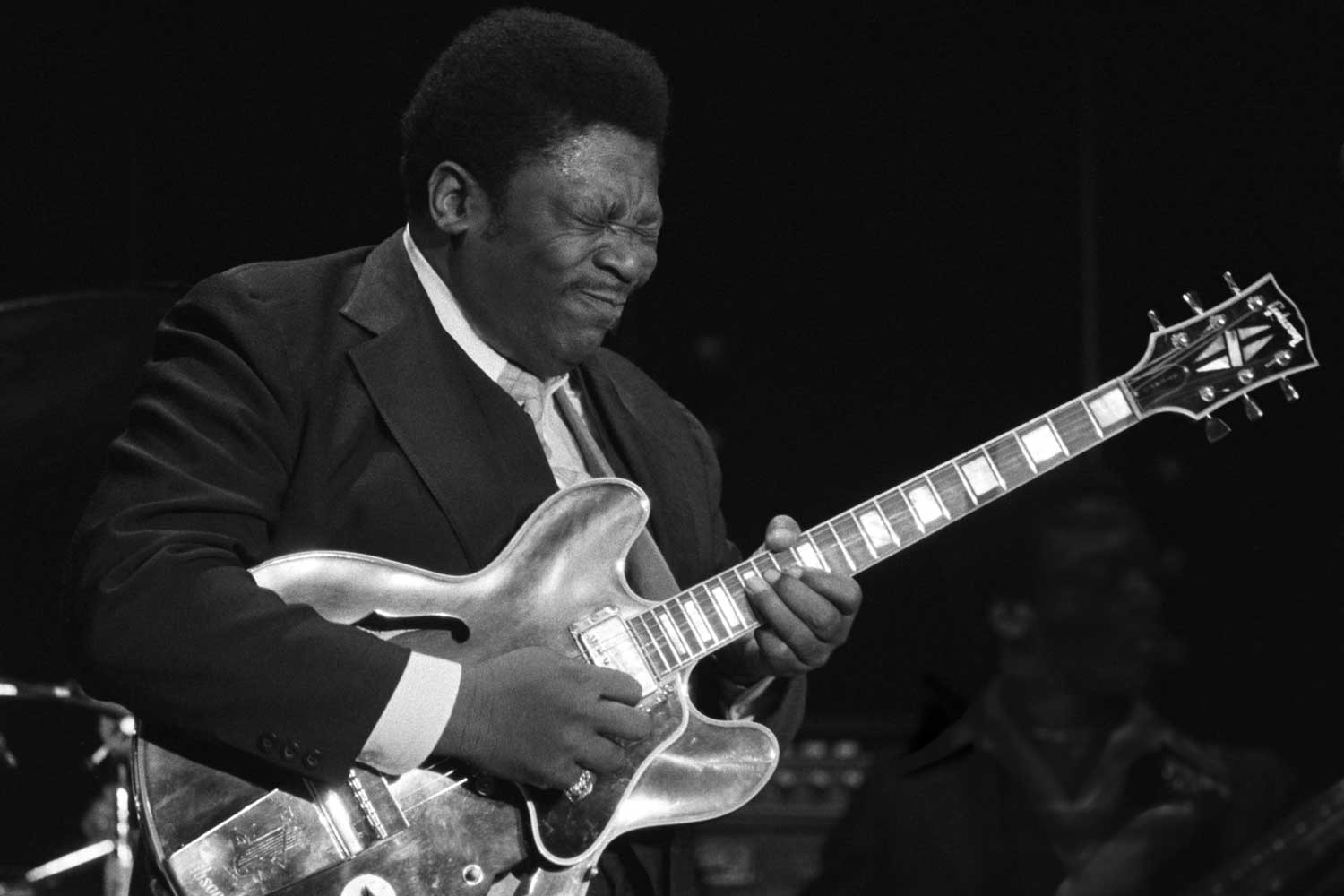 I collected these lists of everyone's five favorite blues albums of all time for a Guitar World story in approx. 1997. As you can see, some people took the request for 5 seriously…some just couldn't limit themselves…and some just ignored it. I think it's a fun list, and I'm especially proud to have included the great Otis Rush, as well as Lonnie Brooks and Dave Meyers.
Warren Haynes
1. Albert King, Live Wire/Blues Power (Stax, 1968) "One of the nastiest tones ever recorded. Demonstrates, in my opinion, how Albert was the most influential 'blues' player in 'rock' music."
2. Elmore James, The Sky is Crying: The History of Elmore James (Rhino, 1993) "All of Elmore's recordings on 2 CD's. he was equally intense as a slide player and a vocalist."
3. Willie Dixon, The Chess Box (Chess/MCA, 1988) "A collection of Willie Dixon songs recorded predominantly by Muddy Waters and Howlin' Wolf (my two favorite blues artists) but also features versions by Otis Rush, Little Walter, Sonny Boy Williamson, Little Milton and more. Including it also made it easier to narrow it down to five!"
4. B.B. King, Live At The Regal/Live At Cook County Jail (MCA, 1988) "These two albums now available on one CD capture two different era of B.B.'s career. Both are stellar performances."
5. Junior Wells (with Buddy Guy), Hoodoo Man Blues (Delmark, 1965) "In addition to showing Buddy's influence on Hendrix, the version of 'You Don't Love Me' influenced the Allman Brothers' version, and the version of 'Good Morning Little Schoolgirl' influenced Ten Years After's rock version."
Joe Perry (Aerosmith)
1. John Mayall and the Bluesbreakers, A Hard Road (Deram, 1967)
2. Muddy Waters, The Chess Box (Chess/MCA, 1989)
3. Willie Dixon, The Chess Box (Chess/MCA, 1988)
4. Robert Johnson, King of the Delta Blues Singers (Columbia, 1961)
Jimmie Vaughan
1. Freddie King Sings (1961, Modern Blues, 1989)
2. B.B. King, Greatest Hits (Modern, out of print)
3. Albert Collins, Don't Lose Your Cool (Alligator, 1983)
4. Folk Festival of the Blues--repackaged and rereleased as American Folk Festival of the Blues (Evidence, 1997), featuring Sonny Boy Williamson, Willie Dixon, Howlin' Wolf and Muddy Waters, with a house band that included Buddy Guy and Otis Spann.
5. Junior Wells (with Buddy Guy), It's My Life, Baby! (Vanguard, 1969)
6. Albert King, Traveling to California. (Polydor, 1967)
Gregg Allman
B.B. King, Live at the Regal [MCA, 1965]
"It's like one big long song, a giant medley. You look at the vinyl version and there's no bands on it, because he never stopped. He just slammed it. The second big record for me was James Brown, Live At the Apollo [Polygram, 1963] and that was the same thing. Those records are what got me into doing it so meticulously. I'm real meticulous about the way things are arranged and the order of the songs, and not having too much time between songs. The little things are important because you want to come out and get the audience in the palm of your hand right away: "1-2-3-4, bang! I gotcha!" That's what you gotta do. You can't be namby-pamby; you can't be milquetoast with the audience because there's a lot of good music out there and those people could be listening to any of it."
Steve Vai
1. Any album by John Lee Hooker "He is the blues personified."
2. Any album by Alberta Hunter "Blues is organic in her voice."
3. Robert Johnson, The Complete Recordings (Columbia, 1990) "He didn't mean maybe. He knew nothing else."
4. Any album by Buddy Guy "Rebellious to authentic parameters. He broke, and still breaks, a lot of rules."
5. Eric Clapton, From The Cradle (Reprise, 1994) "The closest thing to the original roots of blues without insulting its integrity."
Ronnie Earl
1. Jr. Wells, Southside Blues Jam (Delmark, 1970)
2. Magic Sam, Live at Ann Arbor & Chicago (Delmark, 1990)
3. Guitar Slim, Sufferin' Mind (Specialty, 1969)
4. Buddy Guy, A Man & The Blues (Vanguard, 1968)
5. Jimmie Vaughan, Strange Pleasure (Epic, 1994)
6. Miles Davis, Kind of Blue (Columbia, 1959)
7. Kenny Burrell, Midnight Blue (Blue Note, 1963)
8. Robert Johnson, King of the Delta Blues Singers (Columbia, 1961)
9. T-Bone Walker, T-Bone Blues (Atlantic Jazz, 1989)
10. Otis Rush, 1956-58 The Cobra Recordings (Paula, 1991)
Otis Rush
Most of the great Chicago bluesman's choices were singles, reflecting the way he first heard the music. 1. Muddy Waters, "Still A Fool"
2. Albert King, "Crosscut Saw"
3. B.B. King, "Sweet Sixteen"
4. Eric Clapton, From the Cradle (Reprise, 1994)
5. Earl Hooker, "Blue Guitar"
6. T-Bone Walker, "Stormy Monday"
7. Stevie Ray Vaughan, Texas Flood (Epic, 1984)
8. Elmore James, "The Sky Is Crying"
9. Lonnie Brooks, Turn on the Night (Alligator, 1981)
10. Freddie King, "Hide-Away"
11. The Rolling Stones, Bridges to Babylon (Virgin, 1997) "The guitar on that is real nice work. My boy Keith Richards can play."
12. Joe Louis Walker, Great Guitars (Verve, 1997)
Joe Louis Walker
1. Son House, Father of the Delta Blues: The Complete 1965 Sessions (Columbia, 1965)
2. B.B. King, Live at the Regal (MCA, 1965)
3. Mississippi Fred McDowell, I Do Not Play No Rock 'n Roll (Capitol, 1996)
4. Junior Wells (with Buddy Guy), Hoodoo Man Blues (Delmark, 1965)
5. Earl Hooker, Two Bugs and A Roach (Arhoolie, 1968)
John Scofield
1. Chicago: The Blues Today, Volume 2 (Vanguard, 1966) "The first blues record I ever had in the sixties. It has Otis Rush, Homesick James, Junior Wells and others. Incredible!"
2. Howlin' Wolf, Howlin' Wolf/Moanin' in the Moonlight (Chess/MCA, 1964) "Classic music, great songs. I just found out that Freddie King plays guitar on some of it."
3. Albert King, Born Under A Bad Sign (Stax, 1967) "What can you say about this that hasn't been said already? A great combination of Albert's music and the Stax production/band.
4. B.B. King, Live at The Regal (MCA, 1965) "Blues guitar begins and ends here."
5. Professor Longhair, Rock 'n Roll Gumbo (Dancing Cat, 1985) "It's not the heat – it's the beat! Fess is more than great and Clarence 'Gatemouth' Brown plays fantastic violin and guitar. I played this on a public bus in Leningrad and the locals there flipped out! They said it sounded like Elvis!"
Dave Myers
As a member of the Aces, one of Chicago's top blues backing bands throughout the Fifties and Sixties, Myers played guitar and bass on hundreds of classic recordings. His favorite people to play with were:
1. Little Walter
2. Junior Wells
3. Sunnyland Slim
4. Roosevelt Sykes
5. Robert Jr. Lockwood
Lonnie Brooks
"I can't name albums because I love literally everything ever recorded by: 1. Lightnin' Hopkins 2. John Lee Hooker 3. Howlin' Wolf 4. Muddy Waters 5. Jimmy Reed 6. Albert King 7. B.B. King 8. Bobby "Blue" Bland 9. Otis Rush 10. Elmore James 11. Hound Dog Taylor 12. Junior Wells
David Grissom
1. Magic Sam, West Side Soul (Delmark, 1968)
2. B.B. King, Live at The Regal (MCA, 1965)
3. Robert Johnson, King of the Delta Blues Singers (Columbia, 1961
4. Muddy Waters, The Chess Box (Chess/MCA, 1989)
5. Albert King, The Ultimate Collection (Rhino, 1992)
Izzy Stradlin
1. Muddy Waters, Hard Again (CBS/Blue Sky, 1989)
2. Howlin' Wolf, The Chess Box CD 1 (Chess/MCA, 1992)
3. Howlin' Wolf, The Chess Box CD 2 (Chess/MCA, 1992)
4. Howlin' Wolf, The Chess Box CD 3 (Chess/MCA, 1992)
http://alanpaul.net/wp-content/uploads/2014/09/bbking_Slider.jpg
1000
1500
AlanPaul
http://alanpaul.net/wp-content/uploads/2014/03/alan-imus-300x158.jpg
AlanPaul
2011-11-23 20:12:48
2019-02-06 21:58:07
Greatest Blues albums ever, as chosen by Haynes, Perry and other guitar greats