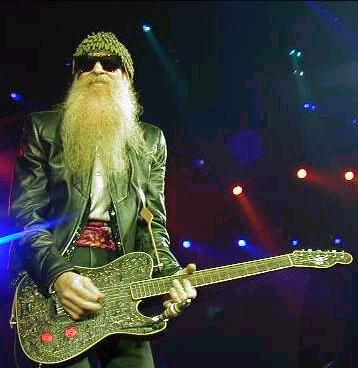 As Billy Gibbons prepares for a rare club gig this Weds. night at B.B. King's in Manhattan:
"With this fine work, Alan Paul accomplishes the admirable feat of delving the depths of the Allman Brothers, a great aggregation of talent and artistry. He puts together the sweeping picture of how these gifted individuals with their special Southern stylishness created something utterly unique to the world. Rock on."
—Billy F Gibbons, ZZ Top
By the way, no one has ever seen these photos, by the great Kirk West, One Way Out photo editor.
Billy was an obvious guy to ask for an advance quote for One Way Out: The Inside History of the Allman Brothers Band. He loves the Allman Brothers; he and Duane played gigs together; and admired on another's playing – and  guitars. Billy even wrote an foreword for Randy Poe's excellent Skydog: The Duane Allman Story.
I've known Billy for decades and have interviewed him many times. He graciously gave me a great quote about Beijing Blues after being genuinely tickled to hear about my experiences in China: "Best Chinese blues I've ever heard. Who knew?"
I sent Billy an advance copy of One Way Out, emailed a bit with him and his publicist and then got radio silence. With deadline approaching, I reached out again and let him know. He emailed me back and I explained what I was looking for. That night, my phone rang at 12:04 am. I was deeply asleep and had forgotten to turn my ringer off – which I almost never do.
I answered groggily and heard this: "Gibbons. Sorry for the late hour of this ring. I'd love to discuss your fantastic book now if it's ok."
Well, of course it was ok! I stumbled upstairs to my office and we chatted for about 15 minutes. I was really touched by how much Billy liked the book and some of the questions he asked.  Then he said, "Ok, this chat was very helpful. I'll have something to you tomorrow. And on a personal note: congratulations on a fantastic piece of work."
Yes, that meant a lot to me. The next day I got another email from Billy, with the quote at the top of this page.
ALL PHOTOS BY KIRK WEST AND NEVER PUBLISHED
http://alanpaul.net/wp-content/uploads/2011/08/Billy-Gibbons.jpeg
368
358
AlanPaul
http://alanpaul.net/wp-content/uploads/2014/03/alan-imus-300x158.jpg
AlanPaul
2013-12-17 01:44:39
2017-07-03 12:06:17
Billy Gibbons Reads One Way Out