Guitars That Jam – Blakesberg Available Now
My friend Jay Blakesberg has a great new book Guitars That Jam: Portraits of the World's Most Storied Rock Guitars. It features a Forweord by Warren Haynes and pictures and the stories behind. Here is a sampling of the goodies therein.
There are a few limited editions left. Only 150 were made. The limited edition is signed by both Jay and Warren, comes in a beautiful hand-made clamshell box and also comes with a signed 8×10 print. More info on them at www.rockoutbooks.com.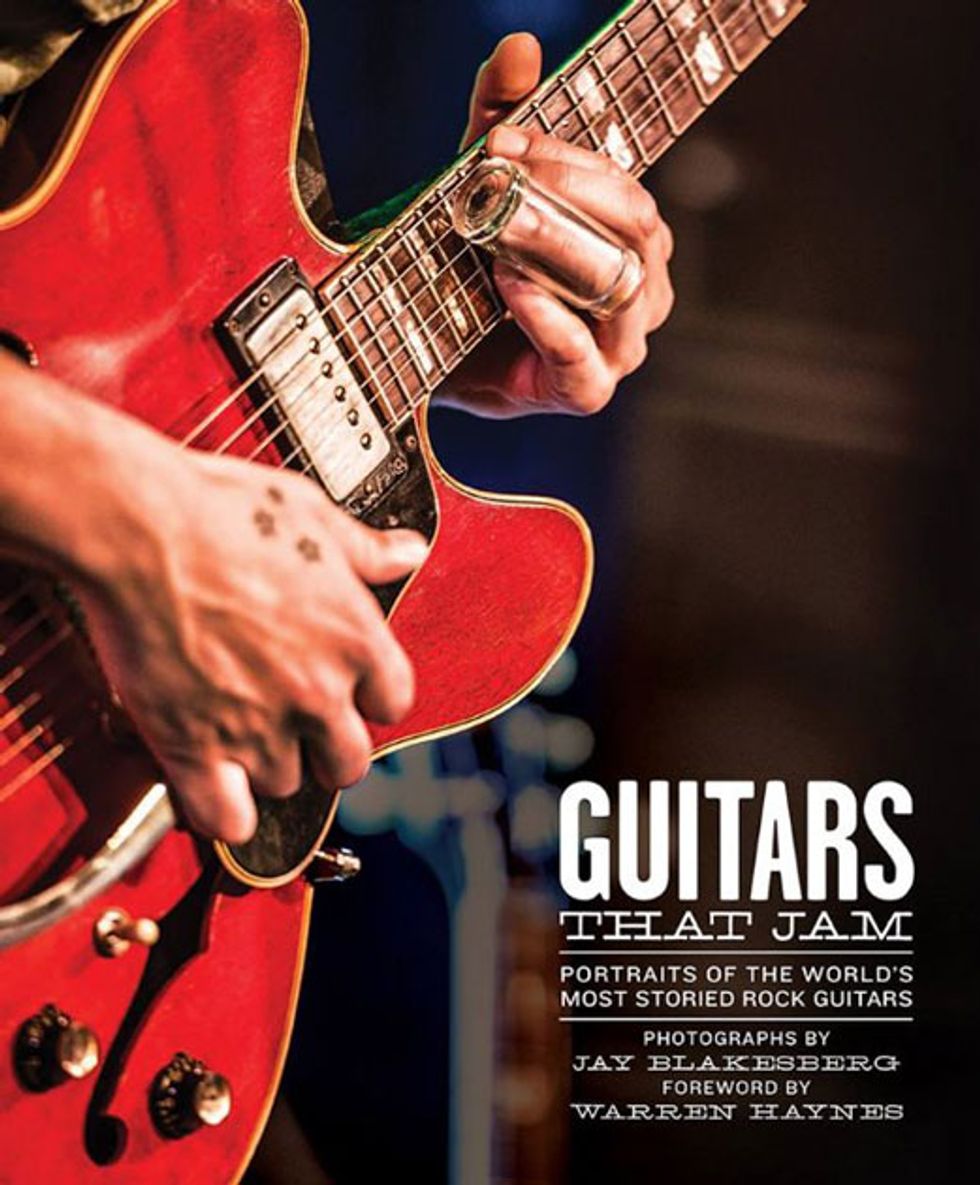 JERRY GARCIA'S 1973 D. IRWIN, CUSTOM "WOLF"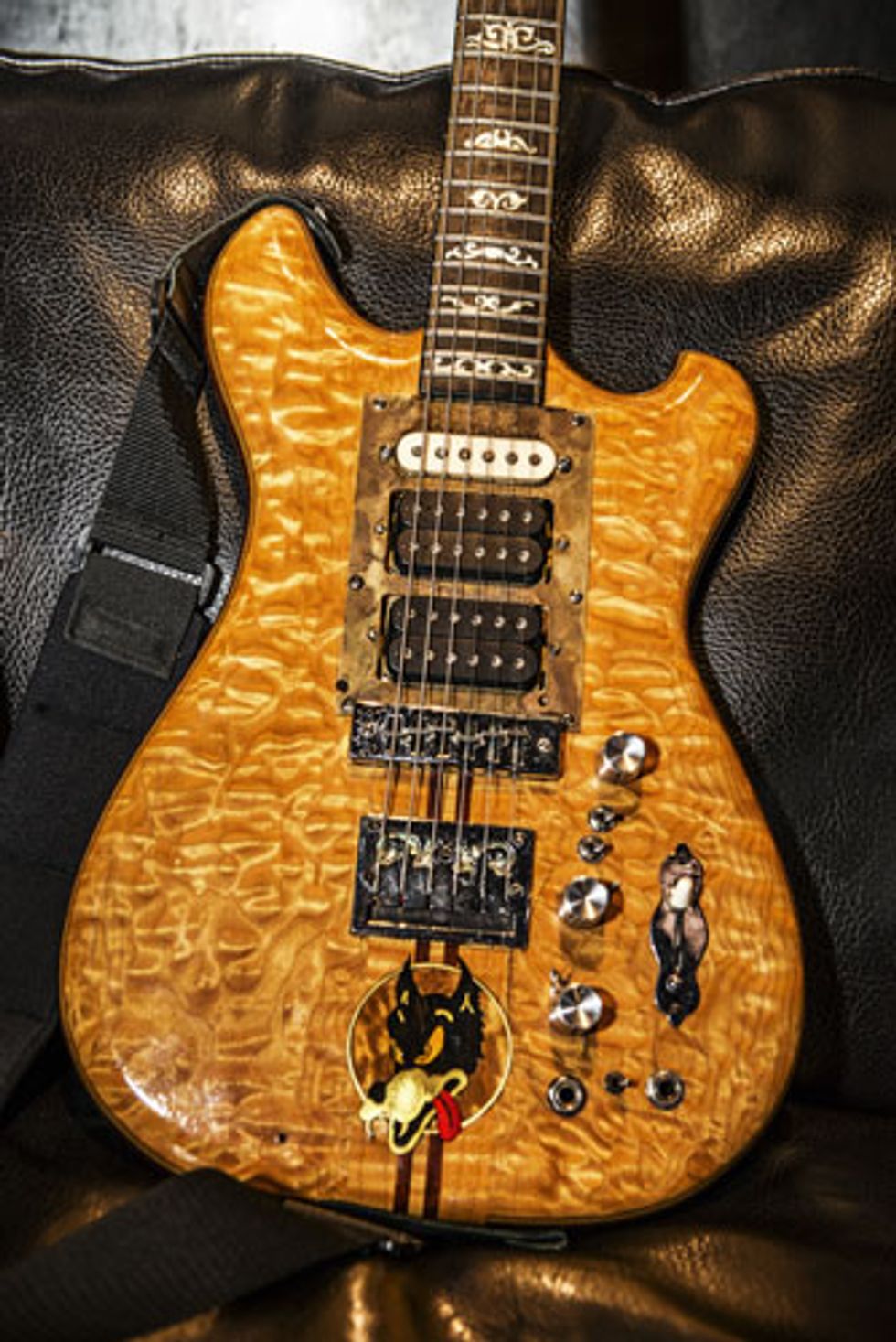 If Tom Anderson's recollection is correct, at the beginning of the
Wake of the Flood
sessions Garcia was presented with the custom guitar that would become his primary axe for the next couple of years (and intermittently for many more years). Garcia's new axe had been crafted by a luthier named Doug Irwin, who, Rick Turner says, "came to work with me when we set up the chicken-shack factory [in Cotati]. He trained with me and eventually started making the guitars for Garcia and then split off and did his thing."
Rick Turner hired [Irwin] for a half-time job at Alembic; he spent a year or more there, learning the ropes from Turner and Frank Fuller and devoting his free time to building his own electric guitar. One day, toward the end of 1972, Garcia was in Alembic's Brady Street store and spied the first guitar Irwin had made for Alembic. "He bought the guitar right on the spot [for $850], and asked me to make him another guitar," Irwin recalled in an interview.
"So I built the next guitar for him," Irwin recalled in the same interview, "which I had actually started building at the time he ordered it; it was made out of purpleheart [also known as amaranth, a South American wood] and curly maple. It had an ebony fingerboard and mother-of-pearl inlays. This is the one that became the 'Wolf.'"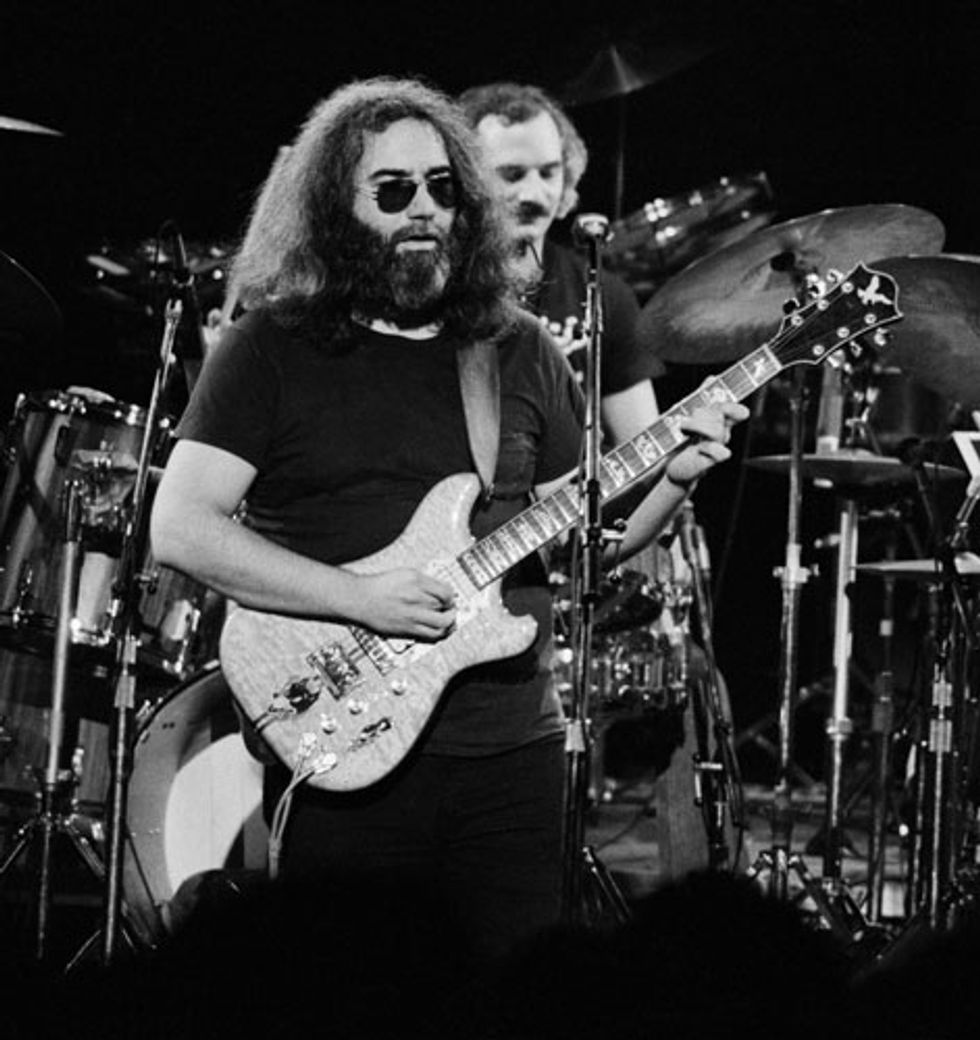 Grateful Dead, Capitol Theater, Passaic, NJ, November 24, 1978
The guitar didn't receive its "Wolf" moniker until later. Garcia had put a decal of a bloodthirsty cartoon wolf below the tailpiece, and after bringing it in to Irwin for refinishing between tours one year, "I knew the decal was going to be gone, so I just redid the wolf as an inlay," Irwin said. "In fact," Garcia recalled in 1978, "it was a week or so before I even noticed what he had done!" Garcia first played the Irwin guitar on the October '73 tour.
Beginning with the fall 1977 tour, Garcia stopped playing Travis Bean guitars and went back to the Irwin "Wolf," which a little earlier had been retooled to include the effect loop and unity-gain buffer that had worked so well in the TB-500. Garcia never expressed any particular dissatisfaction with the Beans; perhaps he just liked the woodier feel of the Irwin axe. It was at this time, too, that Doug Irwin inlaid the "Big Bad Wolf" (as Jerry called it) on the spot where an identical sticker had been.—Excerpted from Grateful Dead Gear, by Blair Jackson
NEIL YOUNG'S 1953 GIBSON LES PAUL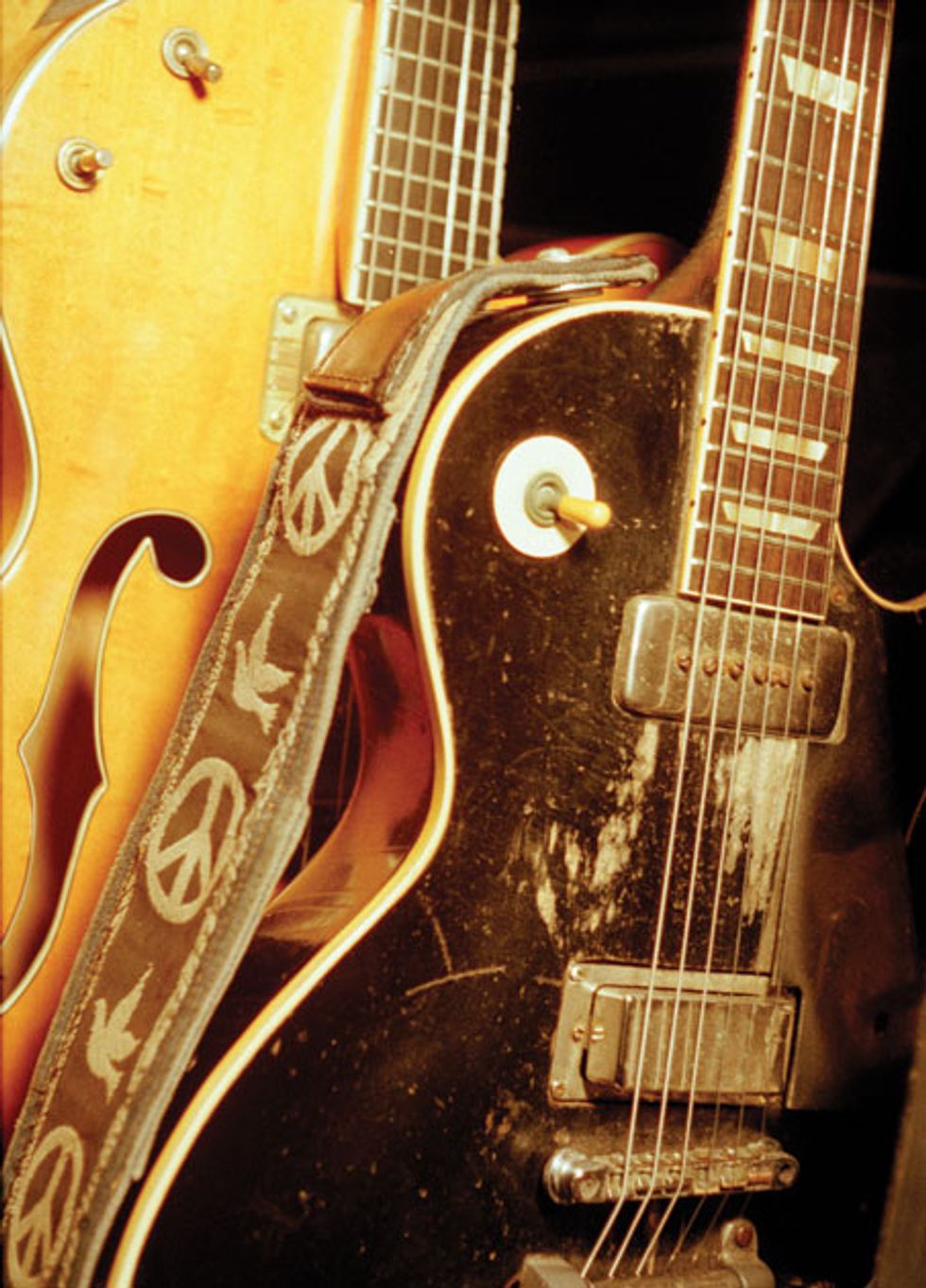 This is Neil's main electric guitar. It's a 1953 Les Paul goldtop that's been painted black—in 1953 they only made gold Les Pauls. It's got a mahogany neck and a mahogany back with a maple cap on the top.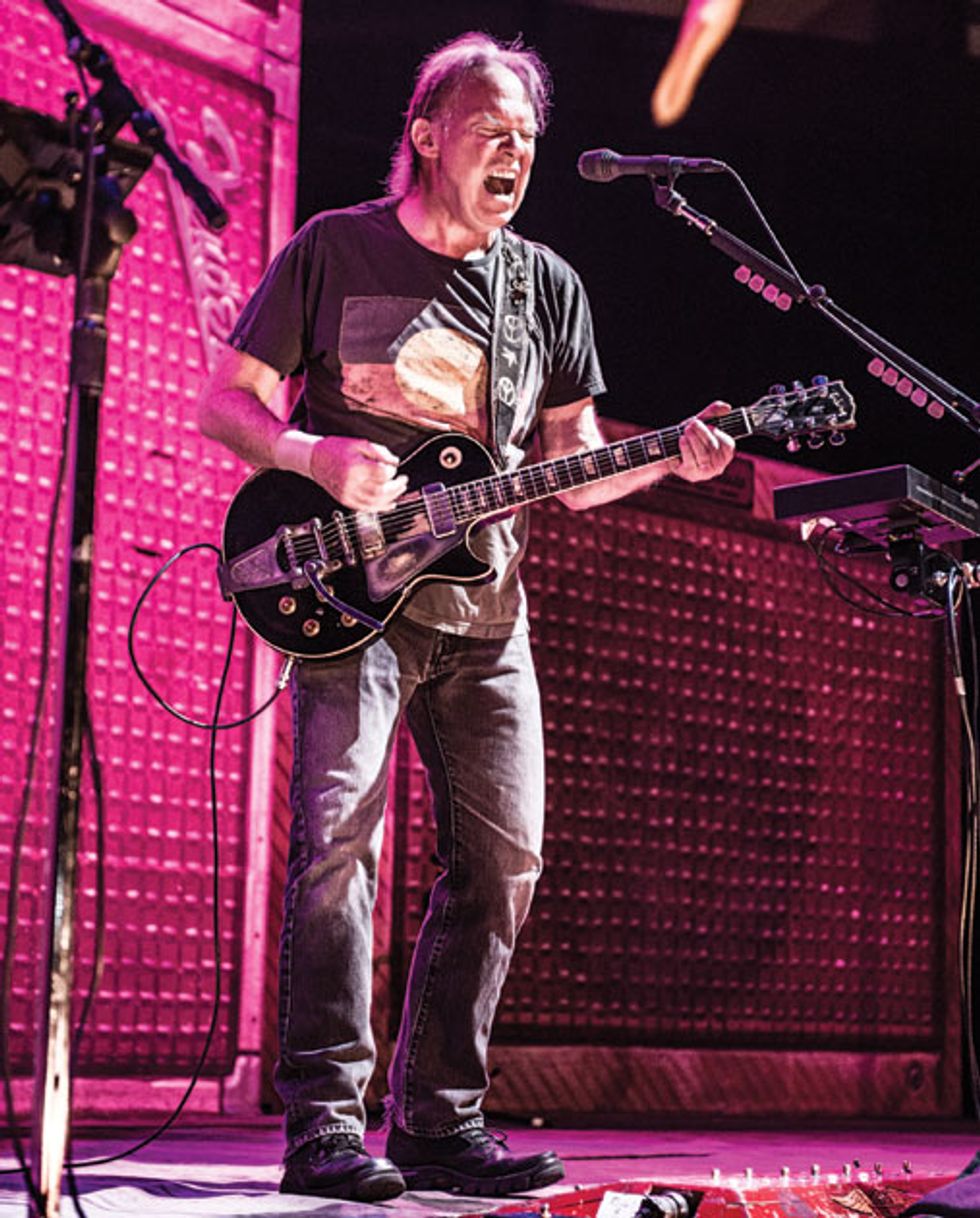 Neil Young & Crazy Horse, Key Arena, Seattle, WA, November 10, 2012
Originally, the '53 Les Pauls came with what's called a "trapeze bridge." The strings came from underneath the bridge because the neck wasn't tipped back far enough in '52 and '53, which made the guitar pretty much unusable. In '54, they got rid of that bridge because they tipped the neck back to its present position, but the thing with having less of a neck angle is that you can have a lower bridge, which works much better for a Bigsby, which Neil has used extensively. So this has a Gibson Tune-o-matic bridge on it, and it has a Bigsby B7 vibrato on it.
Originally, this guitar was made with two P-90 single-coil pickups. In the early '70s, Neil took it to a luthier to have some modifications done. When he came back to pick up the guitar, they'd gone out of business. Neil tracked down the guitar, but the bridge pickup was gone. So they put in a late '50s Gretsch pickup, a DeArmond pickup with adjustable magnets for the poles. It's a special Gretsch pickup, and it's only in the bridge position. The neck pickup was still the P-90, but they put a silver cover on it. I started working for Neil in '73, so this was the condition I found the guitar in, with the DeArmond pickup and the Bigsby and the Tune-o-matic.
"Neil has even talked into it, screamed into it, and you can hear it coming out of his amplifier."
After a year I put a Gibson Firebird pickup—a small, two-coil humbucking pickup—in the bridge position. The Firebird is a very unusual pickup noted for its particularly bright tone. This particular pickup is remarkably microphonic. If you tap on the guitar, you can hear it. Neil has even talked into it, screamed into it, and you can hear it coming out of his amplifier. It's that microphonic, which contributes to the unique sound he gets.
I found the remnants of a switch in the middle of the four knobs. No switch was there, and what it did I don't know. So, what I ended up doing was put a miniswitch in that hole and routed the bridge pickup directly to the jack, bypassing both the volume and the tone control on that pickup. After I did that, Neil said, "It's like it goes to 11 now." You'd be surprised how much energy and tone gets absorbed by the volume and tone control. It's a remarkable guitar. It has extremely low action and plays really great. —Excerpted from interview with guitar tech Larry Cragg
BOB WEIR'S 1959 GIBSON ES-335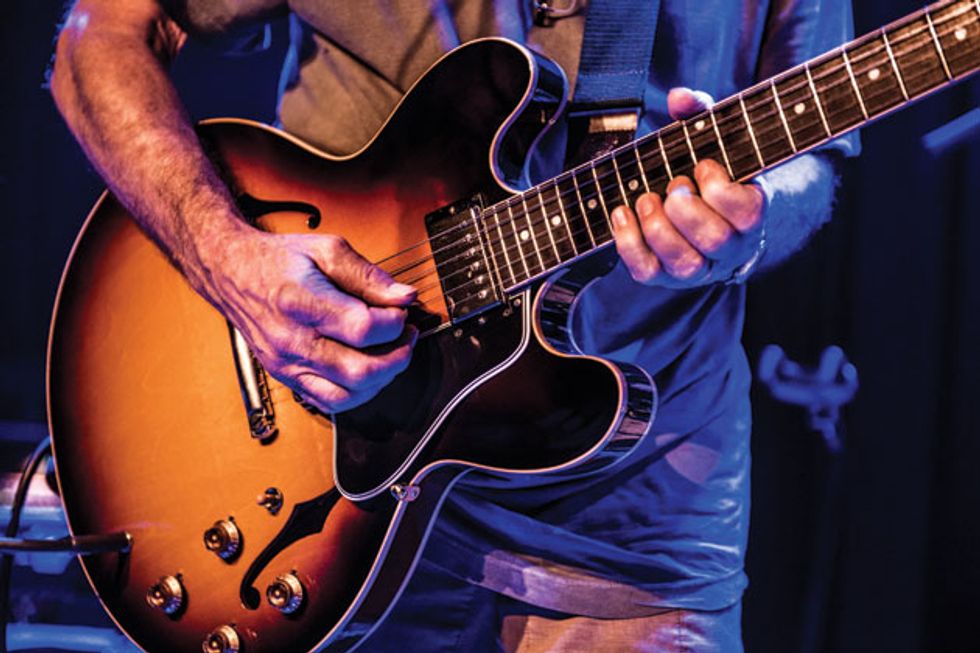 It was my first time in Nashville—I think it was around 1970—and I went to
Gruhn Guitars there—great guitar shop. I was just nosing around, playing a few guitars, and one of the guys in there was watching me—and he said, "You ought to look at this guitar." He pulled it off of a rack, and I played it and fell in love with it. It was 350 bucks. Back then that was a lot of money—it was a couple months' rent—but I had to have it. It's worth a couple hundred times that now—it still has all the original parts. It's pretty much the holy grail of thin-body guitars.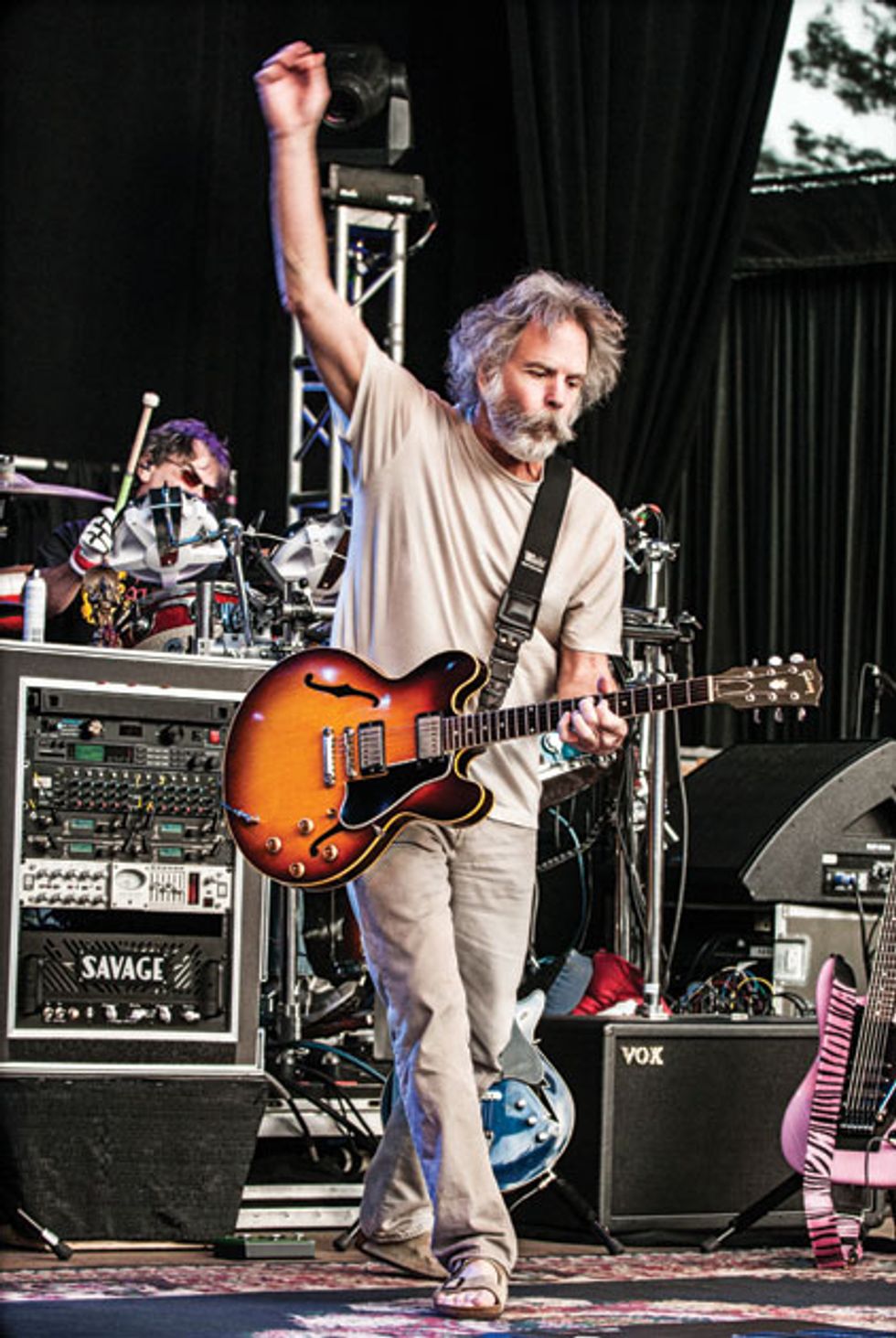 Furthur, Bill Graham Civic Auditorium, San Francisco, CA, December 30, 2011
I was immediately drawn to the feel of it. I also liked the way it sounded, but I loved the feel—loved the neck, which is relatively slim for a Gibson. Sonically I can do just about anything. It's not going to sound like a single-coil guitar—it's definitely a Gibson—but that said, it can get bright, real bright. In fact, I generally play it pretty bright. It has wonderful balance. The tone isn't real tubby. Sometimes Gibsons have a sort of tubby tone, but not so with this particular guitar. And it works well both in the studio and live—it's good no matter where you plug it in.
http://alanpaul.net/wp-content/uploads/2015/09/j31.jpg
568
720
AlanPaul
http://alanpaul.net/wp-content/uploads/2014/03/alan-imus-300x158.jpg
AlanPaul
2015-05-20 11:03:37
2017-08-10 20:43:44
Guitars That Jam – Blakesberg Available Now