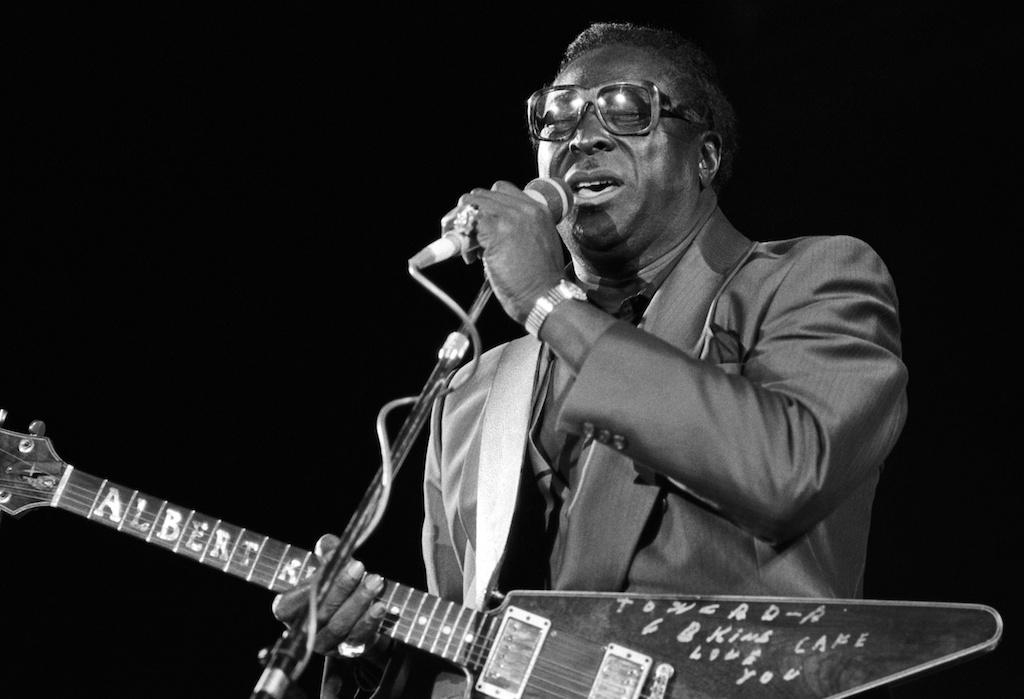 I wrote a lot of entries for a couple of Music Guides many eons ago. I am going to start sharing some here, starting with one of my all-time favorite guitarists. If this interests you, please check out my interview with Albert here – it was one of my first interviews for Guitar World and it remains one of my proudest moments.
Albert King
Born April 25, 1923, Indianola, Mississippi, died December 21, 1992, Memphis, Tennessee
Never as well-known as his like-named contemporary, B.B. King, Albert King was nonetheless almost as big of an influence. In fact, more rock guitarists – notably Jimi Hendrix, Cream-era Eric Clapton and Stevie Ray Vaughan – have copped directly from Albert than any other bluesman. Standing an imposing six-foot-five, 250-pounds, the former bulldozer driver played with brute force, bending the strings on his upside down Gibson Flying V with a ferocity that could be downright frightening. King made his first recordings in the early Fifties and cut some fantastic sides for Bobbin and King Records from 1959-63, but he really hit his stride when he signed with Stax Records in 1966 and began working with Booker T and the MG's and the Memphis Horns. His collaborations with them worked as well as they did because for all his toughness, King's music swung, a fact well-documented on the excellent live albums where he recaptures the Stax albums' drive backed by a horn-less quartet. He was also a fantastic, if not particularly flexible singer.
WHAT TO BUY FIRST: King's Stax debut, Born Under a Bad Sign (Atlantic, 1967, Al Jackson) **** 1/2 is an undisputed classic. The two-CD compilation; The Ultimate Collection (Rhino, 1992) ***** offers a fine career overview. Any of the three live albums recorded at San Francisco's Fillmore West Auditorium in 1968, all produced by Al Jackson, capture the full power of Albert King live: Live Wire/Blues Power (Stax, 1968) ***** Wednesday Night in San Francisco (Stax, 1990) **** and Thursday Night in San Francisco **** (Stax, 1990).
WHAT TO GET NEXT: Let's Have a Natural Ball (Modern Blues, 1989) **** collects King's late-fifites, early-Sixties sides, where he was backed by a hard-charging horn section. I'll Play the Blues For You (Stax, 1972) **** includes the killer title track as well as "Little Brother," perhaps King's most tender moment. Soul-blues never got much better than this. In Session –with Stevie Ray Vaughan (Fantasy, 1999) **** is a great document of a historic meeting of pupil and teacher. Includes studio dialogue and a host of great tunes.
WHAT TO AVOID: Red House (Castle Records, 1991) ** is a misguided, probably well-intentioned attempt by producers Joe Walsh and Alan Douglas to help the great bluesman by modernizing his sound. Ugh. Somebody got really excited when they discovered long-missing tapes of Albert King jamming with John Mayall and a band highlighted by soul jazz greats. Then Fantasy released The Lost Session (Stax, 1986) ** and it became painfully clear why the tapes got shoved into the warehouse in the first place.
THE REST: Jammed Together: Albert King, Steve Cropper, Pops Staples (Stax, 1969) ***, Years Gone By (Stax, 1969) ****, Lovejoy (Stax, 1970) ***1/2, I Wanna Get Funky] (Stax, 1973) ***, The Pinch (Stax, 1977) **1/2, New Orleans Heat (Tomato, 1979) ***1/2, Montreaux Festival (Stax, 1979) ***, Blues for Elvis (Stax, 1981) **, Crosscut Saw: Albert King in San Francisco (Stax, 1983/1992) ***1/2, I'm in a Phone Booth Baby (Stax, 1984) ***, Blues at Sunrise (Stax, 1988) ****.
PROTEGES: Otis Rush, Eric Clapton, Jimi Hendrix, Stevie Ray Vaughan, Buddy Guy, Billy Gibbons, Joe Louis Walker, Kenny Wayne Shepherd
MENTORS: B.B. King, Jimmy Reed, T-Bone Walker
http://alanpaul.net/wp-content/uploads/2014/04/albert_king_16-copy-2.jpg
699
1024
AlanPaul
http://alanpaul.net/wp-content/uploads/2014/03/alan-imus-300x158.jpg
AlanPaul
2017-04-20 14:30:26
2023-05-24 12:50:44
Albert King Career Overview