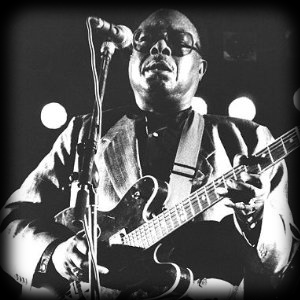 Jimmy Rogers was a seminal guitar player -whether or not you've ever heard of him. I never did a massive interview with him, which is endlessly annoying, because I was supposed to do so several times. Circa 1995, I spoke with him several times and even set up a photo shoot with Danny Clinch, who took great pics, which I'd love to see. We at Guitar World put off doing the feature when we found out that he was working on an star-studded new album. We figured we'd do the story when that happened, said to be in a year or so. Sadly, Jimmy died in 1997 and the album, Blues Blues Blues– featuring Clapton, Richards, Page, Plant, Taj Mahal, Buddy Guy and many others, never came out until 1999. Do the math.
I wrote this short story for Guitar World circa 96. RIP Jimmy.
••••
As Muddy Waters's lead guitarist from 1947-54, Jimmy Rogers helped pioneer Chicago Blues. He then went on to score a dozen hits as a solo artist, penning blues standards like "That's Alright." 'Walking By Myself" and "The Last Time." Still, for many years, Rogers languished in obscurity, despite praise by the likes of Eric Clapton, who once called him "one of the all-time great guitar heroes," and recorded two Rogers tunes on From the Cradle. His prime solo material out of print, his royalties tied up in legal purgatory, Rogers continued to make excellent, unsung albums for small indie labels, without ever quite receiving his due. Until now.
The guitarist recently signed with Atlantic Records, for which he is currently recording a star-studded album, thus far featuring Clapton, Taj Mahal, Stephen Stills and fellow blues legend Lowell Fulson. Several other high-profile rockers may come aboard shortly. Just as significantly, Rogers has finally begun receiving the royalties due him from his own work as well as from From The Cradle and Gary Moore's Still Got The Blues, which featured "Walkin' By Myself."
"It's been a long time coming and it's all welcome," says Rogers from his Chicago home. "Making this Atlantic album is real nice—and so is cashing the royalty checks. So many of my beloved associates have passed on, so I just feel fortunate that mother nature let me stick around, to be here when the checks finally started rolling in."
*
Want to learn a little more about Jimmy? Check out the following.
My friend Ted Drozdowski wrote a great piece for Gibson. The headline sums up Rogers' importance – Did Guitarist Jimmy Rogers Invent Chicago Blues?
Jas Obrecht did a good interview for Guitar Player in 1996, which you can find here.
http://alanpaul.net/wp-content/uploads/2014/03/alan-imus-300x158.jpg
0
0
AlanPaul
http://alanpaul.net/wp-content/uploads/2014/03/alan-imus-300x158.jpg
AlanPaul
2016-01-06 23:59:26
2017-08-10 16:44:43
Jimmy Rogers, 1924-1997